Chicago Mayor To Replace Police Review Board With More Independent Watchdog
@reuters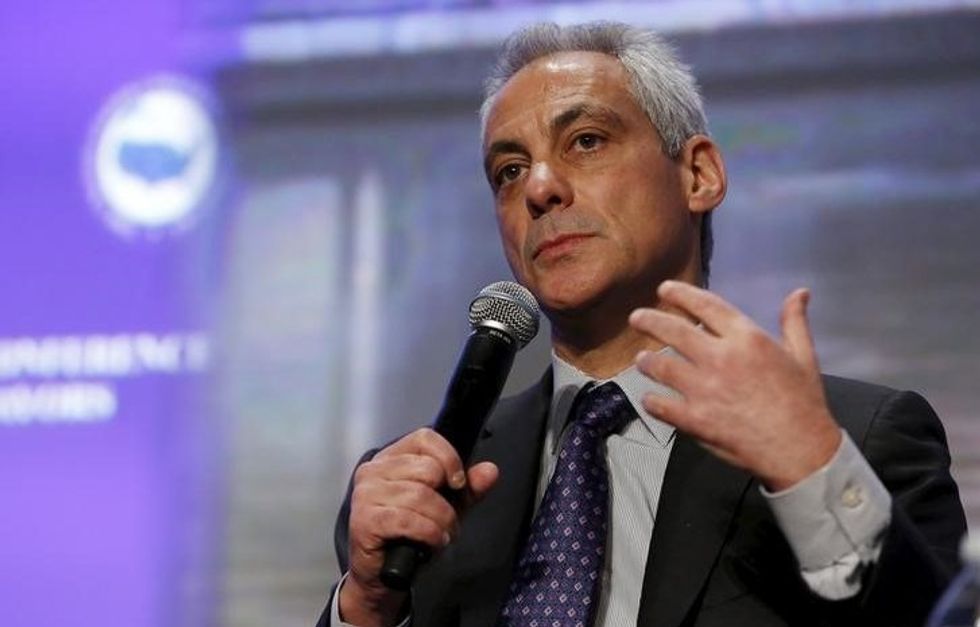 Chicago Mayor Rahm Emanuel plans to scrap a police review board and replace it with a more independent and better-funded watchdog to investigate police shootings and other misconduct cases, he wrote in a newspaper column.
The decision to abolish the Independent Police Review Authority (IPRA) comes a month after a task force released a scathing report recommending a new board to help mend strained relations between Chicago's police force and the city's minority communities.
The task force report said IPRA was underfunded and staffed by former law enforcement officials whose findings were routinely reversed by the body's leaders.
"It is clear that a totally new agency is required to rebuild trust in investigations of officer-involved shootings and the most serious allegations of police misconduct," Emanuel wrote in an article posted late on Friday on the Chicago Sun-Times' website.
Emanuel has been besieged by calls for his resignation since the city, after months of delay, released a video of a white officer fatally shooting a black teenager in October 2014. In the footage, the teen appears to be retreating from the policeman just before he was killed.
Protests have erupted in a number of U.S. cities in the past two years over police-involved killings of African-Americans and other minorities.
IPRA was formed in 2007 to respond to community concerns about police accountability. Critics have long questioned the length of time the body takes to make rulings, and the frequency with which it finds justification for police actions in cases of alleged misconduct.
In the Sun-Times piece, Emanuel offered few details, but wrote that his administration would present a more comprehensive reform plan at a city council meeting on June 22.
The cash-strapped city is struggling with unfunded pension liabilities and major budget cuts for schools, so it is not clear how Emanuel would obtain additional resources for police oversight.
The officer in the 2014 shooting, Jason Van Dyke, 38, was suspended without pay after he was charged in the slaying of Laquan McDonald, 17. Van Dyke, who pleaded not guilty to a murder charge, is on bail awaiting trial. The city paid $5 million to McDonald's family who had been considering filing a wrongful death lawsuit.
Reporting by Justin Madden; Editing by Frank McGurty and Matthew Lewis
Photo: Chicago Mayor Rahm Emanuel participates in a panel discussion on Reducing Violence and Strengthening Policy and Community Trust at the U.S. Conference of Mayors in Washington January 20, 2016.   REUTERS/Gary Cameron