Chicago Mayoral Race Mirrors Schism Challenging Democratic Party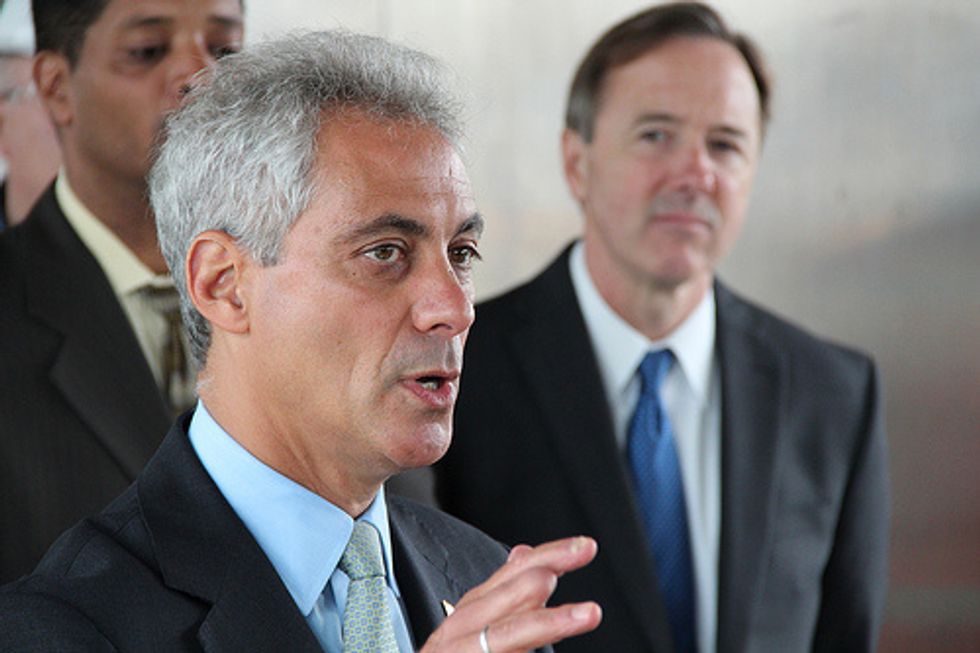 By Tim Jones and Elizabeth Campbell, Bloomberg News (TNS)
CHICAGO — The Democratic Party is riven over how loud a voice to give its progressive wing. Chicago is that struggle's new frontline.
Mayor Rahm Emanuel, who has dared to anger his party's organized-labor allies, is being challenged in the city's first mayoral runoff by Jesus "Chuy" Garcia, a Cook County commissioner who forced it with backing from the Chicago Teachers Union.
"This is a fight about the soul of Chicago and whether Chicago is going to be a city for working people," Garcia said in an interview.
On April 7, voters may make Garcia the next Bill de Blasio, the New York mayor who vanquished establishment favorite Christine Quinn in 2013. Another possible analogue: Zephyr Teachout, the law professor who forced New York Gov. Andrew Cuomo to steer left before she won just a third of the vote in September's Democratic primary.
For Emanuel, it's an awkward time to be an Illinois Democrat with enemies in labor. Republican Governor Bruce Rauner, a friend and former business associate, is attacking unions as a catalyst of the state's financial crisis. The governor wants to let municipalities create zones in which union membership is optional in businesses or public jobs with collective-bargaining agreements.
In neighboring Wisconsin, Governor Scott Walker, a potential presidential candidate, is expected to sign legislation letting employees in union workplaces opt out of membership and dues.
Emanuel's dilemma echoes that of Hillary Clinton, widely expected to run for the Democratic presidential nomination. She met in December with the darling of the party's left wing, Massachusetts Senator Elizabeth Warren, The New York Times reported. She was soliciting policy ideas and possibly co-opting a potential challenger.
"These are the tensions that exist between the progressives and the centrists in the Democratic Party," said Alan Gitelson, a political scientist at Loyola University Chicago.
Emanuel's tense relations with elements of his own party date to his days as a White House aide helping President Bill Clinton pass the North American Free Trade Agreement, which unions opposed.
Two decades later, Emanuel has been unafraid to challenge organized labor as mayor of a debt-ridden city. He pushed pension-benefit cuts on employees, fought 30,000 unionized teachers in a rancorous strike and, in 2013, closed 50 schools.
Chicago's election, while nonpartisan, is fought between Democrats in a place that the party has dominated for decades.
Labor is split. The teachers union, whose 30,000 members must live in the city, backed Garcia after its president, Karen Lewis, a fierce Emanuel critic, decided not to run after a cancer diagnosis.
Bricklayers, plumbers and electricians are among the unions backing Emanuel. Don Finn, business manager for the International Brotherhood of Electrical Workers Local 134, called him "the construction mayor." Still, those workers aren't required to live in the city, so their impact is harder to measure.
Emanuel's critics have portrayed the campaign as a referendum on "two Chicagos" — a prosperous downtown where corporate leaders support the mayor, and minority neighborhoods that bore the brunt of the school closings and a 12 percent increase in shooting incidents last year.
Emanuel rejects the argument and notes the passage of a $13 minimum-wage measure during his first term. He also defends closing what he called underperforming and underused schools.
"I didn't make the tough decisions just because I enjoy it," Emanuel said at a South Side senior center the day after the Feb. 24 election. "I made the tough decisions because I wanted to see jobs come back.'
The struggle's backdrop is financial stress. Moody's Investors Service underscored the threat of insolvency when on Feb. 27 it cut Chicago's credit rating to within two steps of junk because of mounting pension liabilities. The Baa2 rating is the lowest among the 90 biggest U.S cities, excluding Detroit.
"It takes away the idea that you'll be able to wait to get into office to come up with a plan," said Laurence Msall, president of the Civic Federation, a nonprofit government- finance research group.
The third-most-populous U.S. city has $20 billion in unfunded retirement obligations and must pay $600 million into its retirement funds next year. Chicago can't alter pensions without state legislative approval.
When asked Feb. 25 about the crisis, Emanuel pointed to agreements he had already brokered for two of the four funds. Lawmakers in June approved the restructuring for about 60,000 municipal employees, who will pay more and get fewer benefits.
Other unions sued, and the litigation was put on hold until the Illinois Supreme Court rules on a separate challenge to a state pension overhaul.
Last week, Emanuel said he would use the pact with laborers and municipal employees as a model for police and fire funds.
During a Feb. 25 interview on a public-affairs television program, Garcia wouldn't commit to tax increases to resolve the pension crisis. He has criticized the school closings, saying in December that he's considering whether some can be reopened. Last week, he softened that position.
"We're strapped for resources," Garcia said. "I don't want to get into making commitments that will be very difficult to honor."
Neither campaign is taking labor for granted. Emanuel made sure to greet neon-vested water-department workers across the street from the senior center he visited.
Less than 24 hours after polls closed, Garcia's campaign issued its first news release, condemning what it called discrimination against pregnant teachers.
Photo: ctaweb via Flickr