Chicago Voters Split On Luring Obama Presidential Library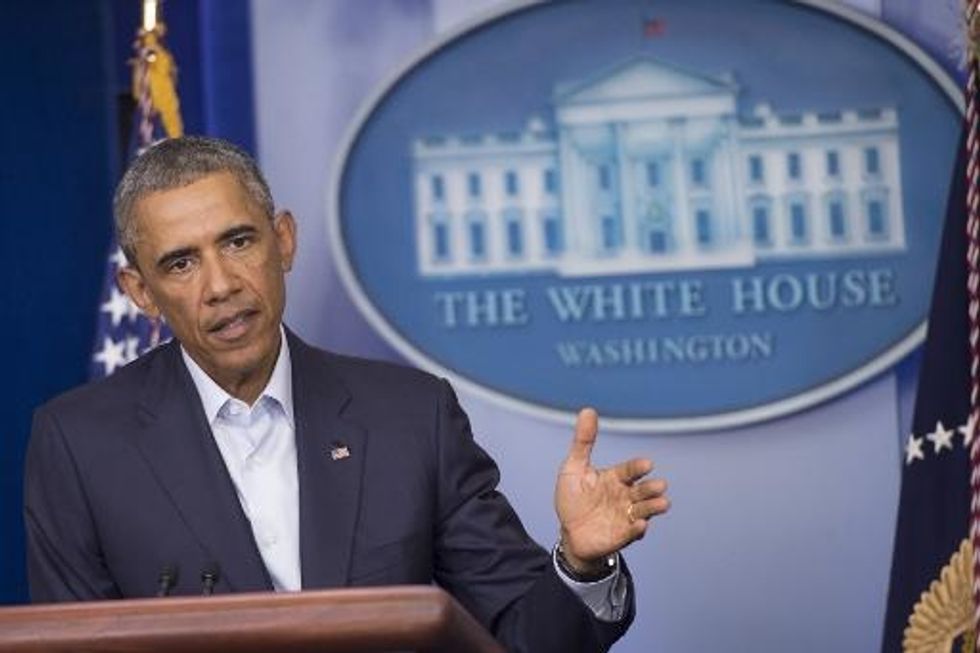 By Kim Geiger, Chicago Tribune
CHICAGO — Voters in the city that launched President Barack Obama's political career are split over whether to put tax dollars into luring his presidential library to Chicago.
Less than half of those surveyed in a Chicago Tribune poll — 47 percent — said they favored the idea of using tax money to attract or build the library, while 45 percent said they opposed it and 8 percent were undecided. There was a gap along racial lines: 61 percent of black voters polled were in support and 60 percent of white voters opposed.
The survey was taken as the Barack Obama Foundation considers at least five bids to locate the library in Chicago against proposals to build it elsewhere, including New York and Hawaii.
Earlier this year, Mayor Rahm Emanuel and Illinois House Speaker Michael Madigan pushed to commit $100 million toward financing the library if it is built in Chicago. Madigan argued that offering the money was "clearly a good investment for the future."
The idea hasn't made it very far. A House panel voted in April to advance the plan but drew criticism for offering tax dollars when the state is in dire financial straits.
Among those who support the plan, Obama's place in history as the country's first black president is a key selling point, the Tribune found in interviews with poll respondents.
"This is a historic location," said Lance Wrightsell, 68, a real estate broker and former Chicago police officer who lives in Kenwood.
Others said bringing the library to Chicago could help stimulate the local economy.
"I think it will attract people, and that's also jobs for people," said Daryl Daniels, 30, a security worker who lives on the Northwest Side.
Some poll respondents who opposed the plan expressed frustration with Obama and Democratic leaders in Illinois. But even some Obama supporters said they don't think the city or the state are in the financial position to spend money on the library.
Dan Weese, 49, an architect who lives in Lincoln Park, said he would be happy to see the Obama library in Chicago, but not if it means more borrowing.
"I think it would be a terrific thing," Weese said. "I just feel like we are so over our heads in terms of getting out from under our current debt. If it was federal money, that's one thing. But I think local money steered toward this, I just can't see that it should be a huge priority."
Opponents also tended to dismiss claims that the library would be an economic boon for Chicago.
"How many people are going to go to it?" said Kevin Dwyer, 49, a police officer who lives in Beverly. "It isn't really the first vacation destination for any families that I know of."
Older voters were less likely to support the idea of taxpayer funding than younger voters. Among those ages 18-35, 54 percent backed the concept. That number was just 41 percent among those 65 and older. Men were split at 48 percent on either side of the question, while 47 percent of woman backed the idea and 43 percent were opposed.
The survey was conducted by APC Research Inc., which interviewed 800 registered city voters by cellphone and landline from Aug. 6-12. The poll has a margin of error of 3.5 percentage points.
The concept of a presidential library dates back to 1939, when President Franklin D. Roosevelt handed his papers and other historical materials over to the National Archives and pledged part of his estate in Hyde Park, N.Y., for a library and museum. He formed a nonprofit to raise money for the construction, setting a precedent that presidential libraries should be built with private money and administered by the National Archives.
In recent years, presidential library foundations have been required to create a private endowment to offset operating costs borne by the federal government. The George W. Bush Foundation raised more than $500 million to build his library and cover the endowment, which had to equal 20 percent of the construction cost. Obama is the first president who will need an endowment equal to 60 percent, under a law passed in 2008.
Experts estimate that construction of the Obama library could cost up to $500 million.
In pushing for the $100 million incentive, Madigan noted that the state spent nearly as much on the Abraham Lincoln Presidential Library and Museum in downtown Springfield.
The Chicago proposals face competition from Columbia University in New York, Obama's alma mater, and the University of Hawaii, representing the state where Obama was born and spent part of his childhood. Emanuel has said that Chicago will not "rely on the president's affinity for the city of Chicago" to guarantee that the library is built here.
The foundation plans to narrow the field down to finalists before the end of the year. The Obamas are expected to announce the site in early 2015. Construction would not begin until Obama leaves office in early 2017.
Poll respondent Thelma Robinson said she backs the use of tax dollars to lure the library to Chicago, but not because of Obama's history with the city.
"We need a national library here too," said Robinson, a retiree who lives on the South Side. "Since we are paying taxes for everything else, might as well pay for that too."
AFP Photo/Saul Loeb