Chief Justice Halts Disclosure Of 'Dark Money' Donors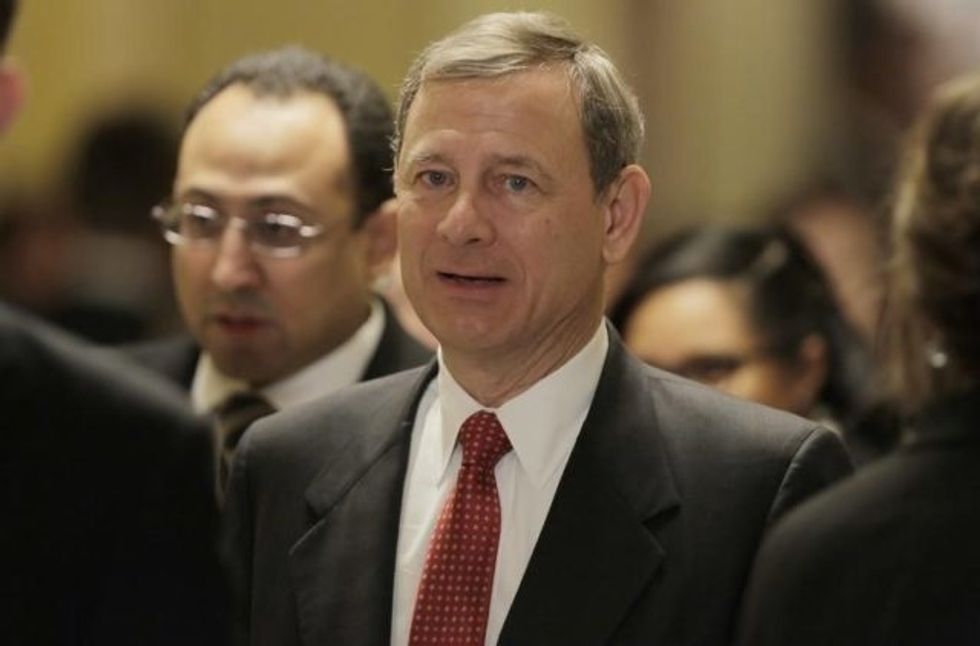 Reprinted with permission from DCReport.
Chief Justice John Roberts halted a federal judge's order that invalidated a Federal Election Commission regulation that has allowed donors to dark-money groups to be anonymous.
The ruling by U.S. District Court Chief Judge Beryl Howell was supposed to take effect Monday. A three-judge D.C. Circuit panel turned down the same arguments for a stay.
The FEC regulation in dispute requires disclosure only when a donor designates his or her money for a specific independent expenditure, but does not require donors' identities to be made public under other conditions, including when they seek to support or oppose an individual candidate.
Citizens for Responsibility and Ethics in Washington sued the FEC after Karl Rove's Crossroads GPS failed to disclose the names of contributors behind its effort to defeat Sen. Sherrod Brown (D-Ohio) in 2012.
It's not clear whether Roberts' order is a short-term measure intended to allow further consideration of the issue by the justices or whether it will remain in place during the fall midterm elections.
The Year of the Woman
A record 256 women are running for the House and Senate this year, but that may not translate into a record number of women in office. It is possible that the number of women could actually decline or remain about the same in Congress and in governors' offices.
The best chances for women to make history are in the House, where Democratic women won primaries at a higher rate than any other group, male or female. Women of color make up one-third of all House candidates, also a record.
Most of the female candidates running in the House are in districts that favor the other party, either running for open seats or challenging incumbents.
Currently, women hold 84 of the 435 seats in the House. The large number of Democratic female nominees in the House reflects the energy of the women's marches against Trump and the historic gender gap among voters who elected him.
There are 22 women running in Senate contests this year, up from the previous record 18 in 2012. Eleven of those are favored to win.
Voters' Resources

Represent.Us – A bipartisan anticorruption site with information on current laws, policies, national and local resources to help make a difference in political financing.

U.S. House of Representatives Financial Disclosure Database – Use this site to view the financial disclosure statements for U.S. representatives and candidates.

U.S. Senate Financial Disclosures – This site provides the financial reports for senators, former senators and candidates from January 2012 to present. Senator reports are available until six years after the senator leaves office; candidate reports are available for one year after running.
Florida Felons May Get a Voting Reprieve
A ballot amendment in the November election could restore voting rights to 1.5 million felons in Florida, more than 10% of the state's voting-age citizens.
The amendment would give all former felons, except for convicted murderers and sex offenders, the right to vote once they complete all terms of their sentence. To pass, at least 60% of the state's voters must support it.
Nearly all states restrict felons' right to vote, a practice that began in America's colonial period. Only Maine and Vermont allow felons to vote while in prison. Two other states, Iowa and Kentucky, automatically and permanently ban felons from voting.
Felon voting restrictions didn't affect a significant number of people until the 1970s and 1980s with the rise of mass incarceration.