Chief Justice Rejects Trump Demand On Asylum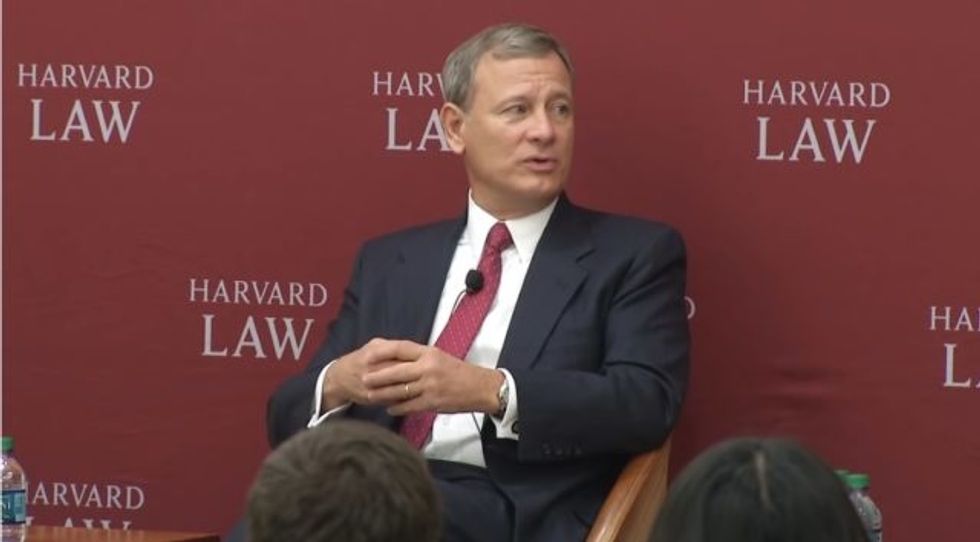 Reprinted with permission from AlterNet.
Despite claims to be in favor of 'law and order,' the Trump administration has been essentially trying to change American asylum law by fiat. But on Friday, the Supreme Court blocked the administration's attempt to jumpstart its cruel policies, which were previously blocked by a federal judge in California.
To block President Donald Trump's policy, Chief Justice John Robert abandoned his fellow conservatives and joined with the court's four liberals, proving that he is willing to oppose the president, at least on some key issues of executive power.
The case involved the administration's attempt to revamp American asylum policy to automatically deny the claims of asylum-seekers who cross the border between authorized ports of entry. Many asylum-seekers have done just that because the Trump administration has forced them to wait for weeks or months at official entry points.
But U.S. District Judge Jon Tigar in California blocked the policy in November, finding that it contradicted the point of the asylum law. The legislation is designed to protect people who have been victimized by their own governments, and placing further barriers and boundaries on them even when their lives may be in danger is a heartless policy. More to the point, from the judge's perspective, it's not what Congress intended.
"The administration's quarrel here is really with the longstanding and fundamental policy decision Congress made four decades ago and consistently and explicitly reaffirmed over the years, even as it enacted other significant restrictions on asylum eligibility and procedures," the ACLU explained.
Trump attacked Tigar after the ruling, calling him an "Obama judge." In a rare public rebuke, Roberts fired back.
There are no "Obama judges or Trump judges, Bush judges or Clinton judges," Roberts said in response to a question from AP. He added that the "independent judiciary is something we should all be thankful for."
And on Friday, Roberts showed that he's not only willing to stand up to Trump in occasional, oblique statements. He joined with the court's liberals to strike down the administration's request to lift Judge Tigar's injunction, which would have let Trump resume his callous asylum policy.
Roberts showed that he will oppose Trump's power grabs with the force of the Supreme Court — when he thinks that law is against the president.
Cody Fenwick is a reporter and editor. Follow him on Twitter @codytfenwick.