Children Among 130 Dead In Taliban Attack On Pakistan School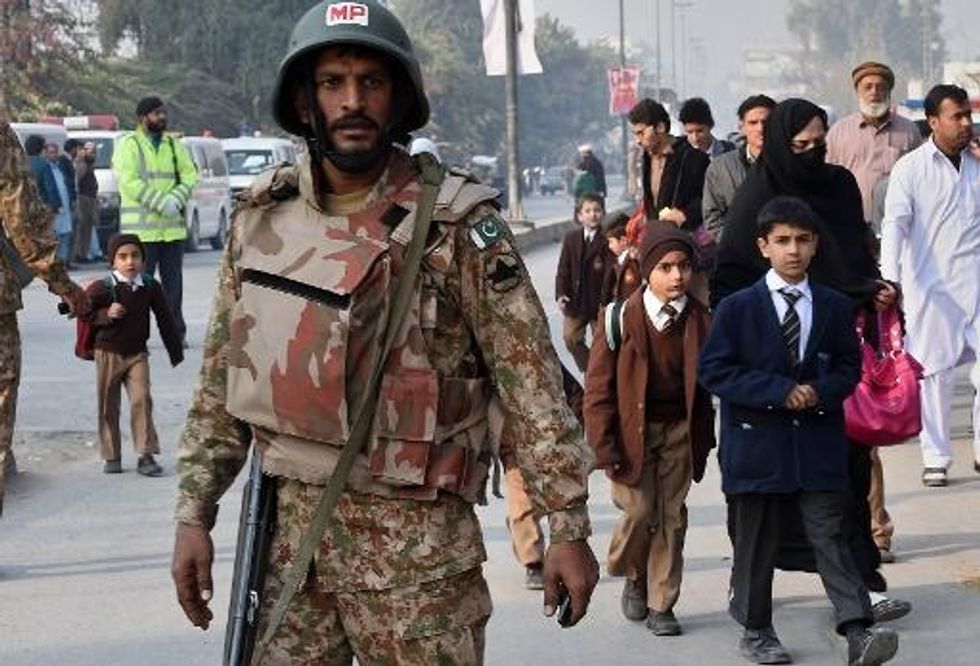 By Zulfiqar Ali and Shashank Bengali, Los Angeles Times (TNS)
PESHAWAR, Pakistan — Pakistani Taliban militants stormed an army-run school Tuesday, killing at least 130 people, including scores of children, many of whom were shot in the head. Hundreds of teachers and students were held hostage during an hours-long gun battle with security forces.
Gunmen wearing the uniforms of security forces, some strapped with suicide vests, went from classroom to classroom at the sprawling school in this northeastern Pakistan city, firing at children as some students cowered under their desks, witnesses said.
Pakistani soldiers and police commandos killed six assailants and escorted several students and teachers to safety, officials said. By nightfall, seven hours after the siege began, an unknown number of hostages were believed to still be trapped in the school compound.
An army spokesman said security forces had cleared all but one of the school buildings, but that improvised bombs planted by the attackers were creating hazards.
Mushtaq Ghani, the information minister for Khyber Pakhtunkhwa province, of which Peshawar is the capital, said that 130 people had been killed, most of them students, making it one of the deadliest terror attacks in troubled Pakistan in years. Earlier reports said 84 children were killed, along with teachers and one member of the security forces.
Dozens of others were wounded, some critically, said hospital officials, who pleaded with the public for blood donations.
Children in school uniforms fled the besieged campus, some escorted by Pakistani security forces. Television images showed bloodied students being loaded into ambulances and carried through hospital corridors packed with anguished relatives of the dead and wounded.
Prime Minister Nawaz Sharif, who flew to Peshawar to oversee the military operation, said Pakistan was at war with terrorism.
"Such attacks are expected in the wake of a war and the country should not lose its strength," Sharif said.
Eight to 10 gunmen wearing the uniforms of security forces entered the Army Public School around 11 a.m. and broke into an auditorium where ninth- and 10th-grade students were listening to a lecture, Khyber Pakhtunkhwa Chief Executive Pervez Khattak told reporters outside Lady Reading Hospital, where many of the injured were being treated.
One attacker blew himself up while two others were killed by security forces, he said. Several gunmen were reportedly holed up in the school principal's office as the military operation continued, he said.
Tenth-grader Shah Rukh Khan said he was in the auditorium when armed men barged into the hall and opened fire.
"I immediately hid beneath the desk and they continued firing," he said.
A teenage student who was rescued by security forces said he saw a gunman of about 25 years old firing indiscriminately at students. The student, who requested anonymity, said he saw several injured classmates as he was escorted to safety.
"One of my classmates was dead," he said.
Some of the injured were taken to Combined Military Hospital ten minutes away, while others were brought to Lady Reading.
"Many are in the operation theater and are now in critical condition, undergoing treatment," said Ejaz Khan, a Lady Reading official.
A spokesman for the Pakistani Taliban claimed responsibility for the attack and said it was retaliation for the Pakistani military's months-long offensive in northeastern Pakistan's tribal areas, an action that officials say has killed hundreds of militants.
Most of the school's approximately 700 students, ranging from kindergartners through 10-graders, are children of army personnel. Some teachers are the wives of army officers.
A Taliban spokesman, Muhammad Khorsani, told Pakistan's Express Tribune newspaper: "We will target every institution linked to the army unless they stop operations and the extrajudicial killing of our detainees."
The Pakistani Taliban, also known as Tehreek-e-Taliban Pakistan, or TTP, is a loose federation of militant groups seeking to overthrow Pakistan's civilian government and establish Islamic law in the country. The TTP, which is ideologically allied with the Taliban in Afghanistan but operationally a separate organization, has carried out brazen attacks against civilians before, but this was by far the biggest and deadliest operation it has ever launched against children.
Waging a violent campaign against education for girls, which it deems un-Islamic, Taliban gunmen have attacked hundreds of Pakistani schools — most famously shooting teenage student activist Malala Yousafzai in the head in October 2012. She was awarded the Nobel Peace Prize earlier this year.
In September 2013, two suicide bombers linked to the insurgent group killed 127 people and injured more than 250 at a church in Peshawar, the deadliest attack ever on Pakistan's Christian minority.
Pakistani Defense Minister Khawaja Asif denounced the school attack in a statement. "Terrorists wanted to spread pain and destabilize the country but they would not be allowed to succeed in their evil designs," Asif said.
The Pakistani military has claimed success in its offensive in the tribal region of North Waziristan, which has coincided with a stepped up campaign of U.S. drone strikes. But analysts say many Pakistani Taliban militants escaped to neighboring areas, including Khyber Pakhtunkhwa.
"The attack on the Army Public School clearly shows that the TTP has been able to maintain its operational network, particularly in Khyber Pakhtunkhwa, which has emerged as a hub of militant activity," said Sameer Patil, a security analyst with Gateway House, a think tank in Mumbai, India.
"The news from Pakistan is deeply shocking," tweeted British Prime Minister David Cameron. "It's horrifying that children are being killed simply for going to school."
AFP Photo