Chinese Environmentalists Accuse 1,000 Companies Of Polluting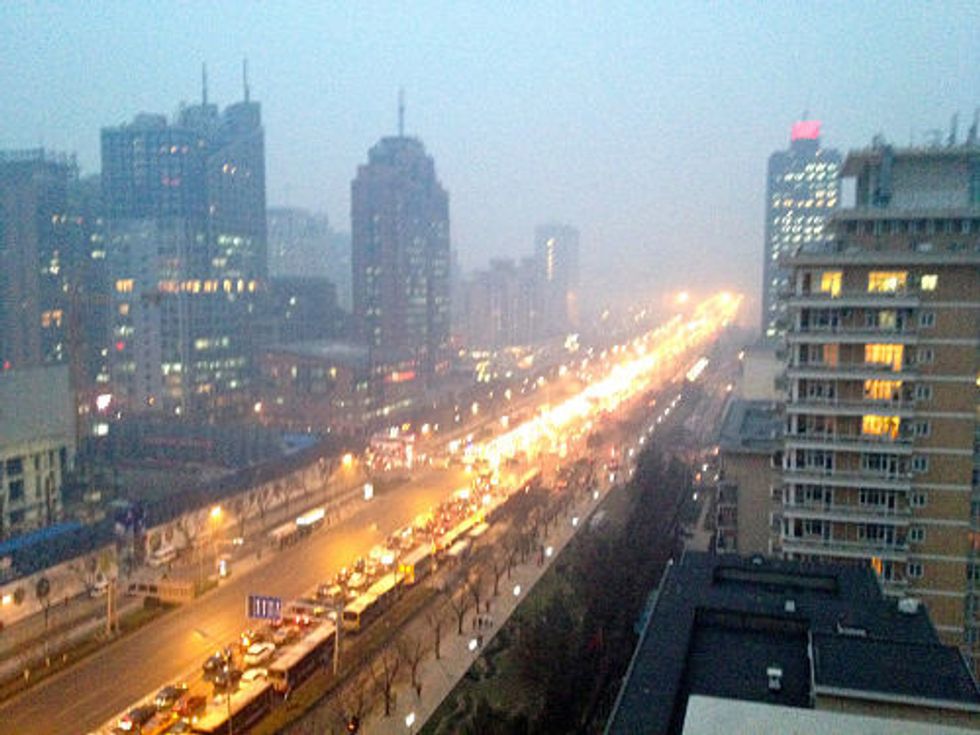 By Stuart Leavenworth, McClatchy Foreign Staff (TNS)
BEIJING — Environmental groups in China issued a report Tuesday detailing more than 1,000 companies that they say regularly exceed emissions standards, an attempt to "name and shame" Chinese industries that contribute to the country's notorious air pollution.
Some of the industries "are in repeated violation of discharge standards and so have become a serious source of risk," according to the report, which was released by the nonprofit Institute of Public and Environmental Affairs and two other nongovernmental organizations.
Alleged violators include highly profitable publicly traded companies in China, including Kingboard Chemical Holdings Ltd., Aluminum Corp. of China and SinoChem Cokechem Co., a subsidiary of SinoChem International.
On any given day, much of eastern China is smothered in gases and particulates from factories and plants that health officials say contribute to tens of thousands of deaths yearly. By putting a spotlight on publicly traded companies that they say contribute to the smog, Chinese environmentalists hope shareholders will pressure corporate executives to speed up the installation of pollution controls and conversion to cleaner fuels.
Ma Jun, the director of the Institute of Public and Environmental Affairs, said Beijing's recent pollution-control efforts during the Asia-Pacific Economic Cooperation conference showed that bluer skies were possible. The quick reduction in smog demonstrated that China's air pollution could be reduced much more quickly than the 30 or 50 years some experts have predicted, he told a news conference.
"Although the APEC blue was short, it gives us great hope," Ma said.
China's foremost environmentalist, Ma has been marshaling data since 2006 to pinpoint the nation's biggest pollution problems — a daunting task, given the size of China's economy and the lack of government oversight. In recent years, local and provincial governments have made increasing amounts of emissions data available online. That's aided Chinese pollution watchdogs in the same way that, starting in the 1980s, "right to know" laws helped U.S. environmentalists.
Last year, Ma's institute and two provincial environmental groups, Green Jiangnan and Green Hunan, issued their first "Green Stocks Investigative Report." Tuesday's was their second report.
The new report goes into detail about the scale of the alleged emissions violations, the impact on communities and the sources of investment in the companies, including some from Wall Street firms.
Kingboard Chemical operates a factory in Hebei province south of Beijing with a long history of problems. The company has also been accused of "deliberately discharging in secret, discharging in breach of set limits and fabricating online monitoring data," according to a news release issued with the report.
Kingboard, which makes laminates, circuit boards and other products, has about 60 factories in China and Thailand.
Two big investors in Kingboard are Fidelity Management and JPMorgan Chase & Co. An Oct. 3 article in Barron's profiled one of Fidelity's star financial advisers who was urging investors to buy Kingboard stock.
Attempts by McClatchy to obtain comment from the company's headquarters in Hong Kong were unsuccessful Tuesday.
Ma said investors should think twice before investing in Chinese companies that violated pollution standards. New environmental laws will go into effect in 2015 that expose violators to higher fines from the government. Such companies also could face court actions or increasing "not-in-my-backyard" resistance from affected communities.
One big question, however, is how strongly Chinese regulators will enforce the new environmental laws, given government mandates that provinces achieve certain growth targets each year. Earlier this year, the Ministry of Environmental Protection dispatched an inspection team to Kingboard's coal-to-chemicals factory in Xingtai, a city in Hebei province. The factory was allegedly trying to avoid detection by increasing its emissions at night.
According to an account posted on the ministry's website, private security officers blocked inspectors from entering the factory. Kingboard went on to record a net profit of about $200 million, a 51 percent increase over the same period last year.
Tuesday's report was released on a day when Beijing was far from being "APEC blue." Levels of fine particulates topped 400 micrograms per cubic meter, 16 times the level that the World Health Organization considers safe. Skyscrapers remained shrouded in a cloud of soot.
According to Ma, the biggest source of China's air pollution is industrial, as opposed to emissions from the growing numbers of cars and trucks.
"There's a regional characteristic of this haze," he said. "It is not a problem of one city or one region, but a huge problem."
___
(McClatchy special correspondent Tiantian Zhang contributed to this report.)