Chris Brown Forced To Wear Orange Jail Suit To Court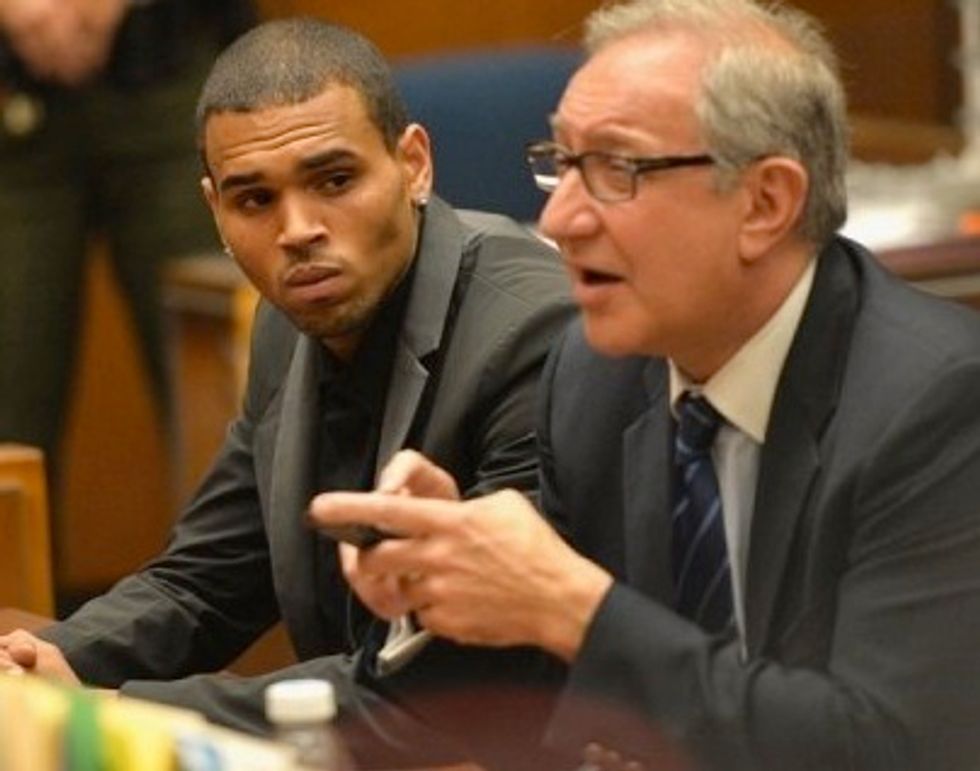 By Richard Winton, Los Angeles Times
LOS ANGELES — Singer Chris Brown appeared in court Monday in jail-issued shirt and pants.
Before cameras rolled during the hearing, in which a judge ordered the R&B singer held without bail until April 23, Brown's attorney, Mark Geragos, argued his client should be able to wear a business suit.
Brown was in custody after being kicked out of court-ordered rehab in connection with a 2009 conviction for beating singer Rihanna.
"This will end up being filmed and shown around the world," Geragos said, noting Brown has an assault trial next month in Washington, D.C.
Los Angeles Superior Court Judge James R. Brandlin agreed Brown's handcuffs could be removed in court, but he stopped short of allowing the change of clothes.
Geragos then asked that the session not be videotaped. But the judge and prosecutor both noted the image of Brown in orange jail clothing would not prejudice his Washington case because it is scheduled to be heard only by a judge.
The Grammy-winning singer was arrested Friday at a Malibu rehab, where he was undergoing court-ordered treatment for anger and mental health issues.
The judge ordered Brown's arrest after he was ejected from the program because of internal rule violations, including allegedly making a threatening comment, failing to take a drug test and touching a female undergoing treatment at the center.
"It is clear from reading the incident report from the program, the program was concerned about the defendant's noncompliance and inability to follow the program's rules," Brandlin said.
If Brandlin finds Brown violated his probation, Brandlin could send him to prison for up to four years.
Brandlin said he was particularly troubled by Brown's alleged statement during the "morning reflection meeting." While reading from a card, Brown allegedly added, "I am good at using guns and knives."
Geragos likened the comment to Brown saying, "I'm going to ask my higher power to take away my troubles." Geragos told the court Brown passed two drug screenings and the touching of the female amounted to "rubbing elbows."
Brown's ejection marks the second time he has been kicked out of a rehab center. During family counseling in November, Brown walked out and threw a rock through his mother's car window.
That led the judge to order a lengthy stay at another rehab, to complete 24 hours a week of community labor and to undergo periodic drug tests.
On Monday, Brandlin also rejected Geragos' request that Brown be released because of his pending trial April 17 in Washington, D.C., where he faces a misdemeanor assault charge. He was accused of hitting a man trying to take a picture of him outside the W Hotel.
The judge also denied Geragos' request to have Brown enter another program. Prosecutor Mary Murray had argued that given Brown's repeated opportunities, he was not deserving of another chance.
AFP Photo/Alberto E. Rodriguez