WATCH: Chris McDaniel Attempts To Explain Break-In Controversy, Stumbles Painfully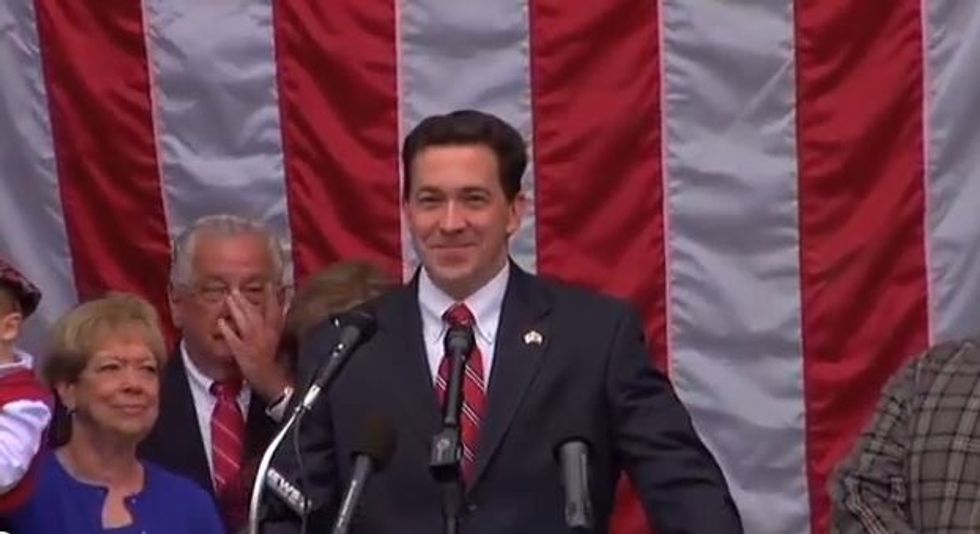 Mississippi Senate candidate Chris McDaniel (R) was peppered with questions this week about his campaign's relationship with a right-wing blogger who illegally photographed incumbent Senator Thad Cochran's bedridden wife after breaking into her nursing home.
One can assume the interview did not go as planned for the McDaniel camp.
McDaniel sat down with radio host Paul Gallo and discussed, among other topics, his campaign's non-involvement with the accused blogger, Clayton Kelly. There are no explicit ties between the McDaniel campaign and Kelly, but questions remain about inconsistencies in their attempt to distance themselves from the blogger.
First, there was the apology phone call placed by McDaniel's campaign manager, Melanie Sojourner. Prior to the story breaking on a large scale, Sojourner called the Cochran campaign to condemn Kelly's actions. At the time the call was placed, it had not been reported that Cochran's wife was Kelly's target, which raised questions about why Sojourner was already reacting to the crime.
"There was some stuff several months ago where this guy was doing some insane stuff online. We found out about it," Sojourner said in the voicemail, "and Chris and I immediately sicced a bunch of volunteers trying to find out who was the source of just a lot of ugly rumors and nasty stuff and we wanted it squashed."
To make matters worse, McDaniel gave a different account of what his campaign knew about Kelly's action when he was pressed on the issue by The Hill's Alexandra Jaffe. "I don't guess I've been awake long enough to see what's happened," McDaniel told The Hill. 
So, it's fair to see why there is some confusion — at the very least — about what the McDaniel campaign knew about this illegal break-in and when they knew it. 
McDaniel's radio interview Tuesday only further muddied the waters.
"I can explain it," a noticeably uncomfortable McDaniel said repeatedly, as Gallo pressed him with questions about the inconsistencies. "In April, we received some sort of notice that there was a video floating around about Kay and Thad," he said. "I've never laid eyes on the video, but what I was sure of is that that was not anything that our campaign was going to be about."
"You can't absolutely positively tell me it's not somebody from your staff and you just don't know it," Gallo begged McDaniel.
"It's really simple. There's nothing here. It's just a fiction you guys are creating," McDaniel responded.
Finally, it blunt terms, McDaniel told Gallo: "Our people have nothing to do with this."
If McDaniel had made this clear the first time he was asked about the video, his campaign may have avoided this entire snafu. But now, with all of these glaring inconsistencies, McDaniel has more than just his opponent questioning what he knew about this crime and just what the remainder of his campaign is "going to be about."

Want more Tea Party news? Sign up for our free daily email newsletter. 
Screenshot via YouTube