Christie Becomes Republicans' Best Bet For 2016
@AFP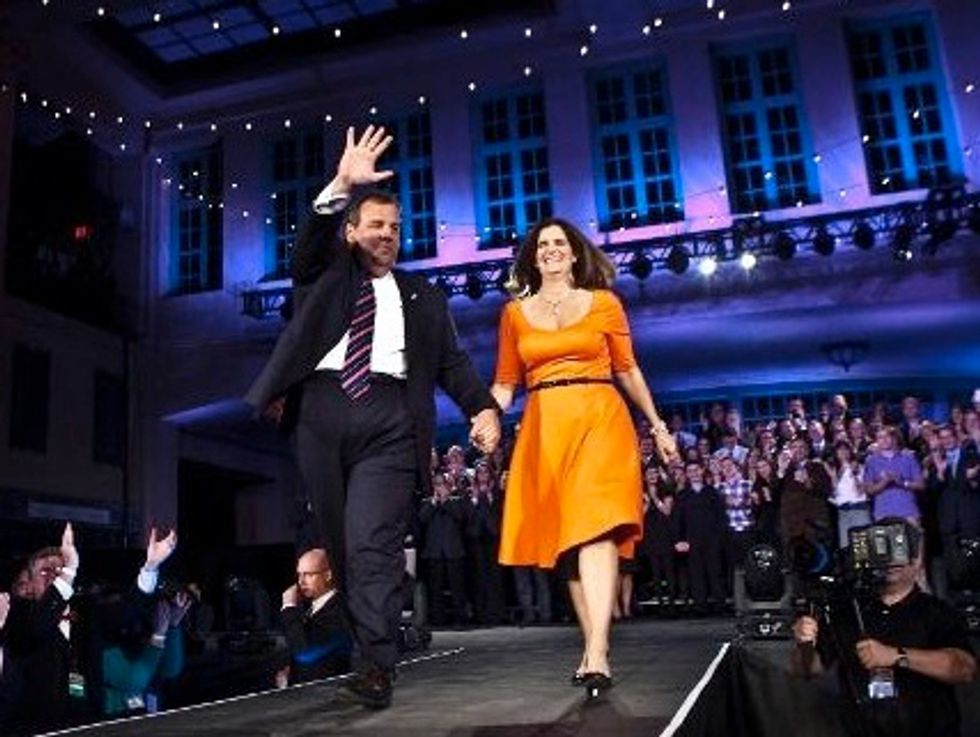 New York City (AFP) – New Jersey's Governor Chris Christie won overwhelming re-election on Tuesday, propelling him to the top of a list of Republican White House hopefuls for 2016.
Christie, 51, who has led his majority Democratic state since January 2010, won "decisively" against Democrat rival Barbara Buono, according to The New York Times.
The father of four with a larger-than-life personality fared better than Buono among women, blacks and Hispanics — groups which Republicans typically have an uphill battle winning over.
Christie's cross-party appeal comes with Republicans deeply divided, unpopular and appearing severely weakened by the recent budget crisis forced by its far right Tea Party faction.
"Congratulations to Governor Christie on his impressive re-election victory tonight," said Reince Priebus, chairman of the Republican National Committee in a statement.
Priebus said Christie's "significant support" among minority voters was a testament to his leadership and an inclusive campaign, engaging with black, Hispanic and Asian voters.
"New Jersey residents know he's a man they can trust, and I'm confident he will continue to deliver results for the Garden State in his second term," Priebus added.
Christie's win will cement his status as a favorite to win the Republican nomination for the White House in 2016 given his pragmatism, charisma and ability to command cross-party support.
A Quinnipiac University poll had said 94 percent of Republicans, 64 percent of independents and even 30 percent of Democrats in New Jersey supported him for a second term as governor.
Sixty-one percent said they would vote for Christie compared to 33 percent for Buono in the traditionally Democrat state that suffered terribly from last year's Hurricane Sandy.
Mitt Romney, the Republican presidential candidate who ran and lost against Barack Obama in 2012, has spoken out for Christie.
"Chris could easily become our nominee and save our party and help get this nation on the right track again," he told NBC's "Meet the Press" on Sunday.
"They don't come better than Chris Christie," added the multi-millionaire former candidate.
Until recently, the moderate Christie — known for his no nonsense manner, his energy and his empathy and his plus-sized waistline — was always evasive about how far his ambitions go.
But there is a political overtone to virtually all his decisions.
In February when he had a lap-band fitted in a bid to lose weight, he announced it was to safeguard his long-term health.
"White House 2016" murmured the commentators.
Shortly after Hurricane Sandy, he strode the ravaged coastline of New Jersey alongside President Obama shortly before the commander-in-chief's re-election.
Republican hardliners were furious but his popularity only climbed.
In January 2013, he slammed the Republican-led House of Representatives for taking weeks to vote through desperately needed relief for the victims of Sandy.
And in late May Christie was back at Obama's side showing off the progress in reconstruction on the New Jersey coast.
Some wanted him to run in 2012 but Christie, who had only been elected governor in 2009, declined. He still went onto become one of the leading speakers at the Republican National Convention in 2012.
According to "Double Down," a book published this week, Romney considered but decided against making Christie his running mate for vice president because of his temper, weight and spending.
A White House run next?
Christie is nothing if not pragmatic.
He is against abortion but rarely speaks out on the issue.
He opposed same sex marriage, but on October 21 withdrew a legal challenge after the first weddings went ahead as ruled by a judge.
He also signed a law strengthening arms control in New Jersey after a massacre at Sandy Hook elementary school in nearby Connecticut killed 20 children and six adults last December.
And this weekend he readily admitted his re-election could be construed as a stepping stone towards the White House in 2016.
"I'm not planning for it; I just think it's inevitable," he told T.V. network NBC when asked if a victory could be seen an opportunity to spread a message to voters beyond his own State.
"People look at elections and they try to discern things about what they mean at that moment and what they mean for the future," Christie added.
"I think that what people are going to see is so unusual for what our party has created in the last couple years, that invariably people are going to draw lessons from it and I hope that they do."
AFP/Kena Betancur