Christie Cultivating Ties On New Hampshire Trips, Observers say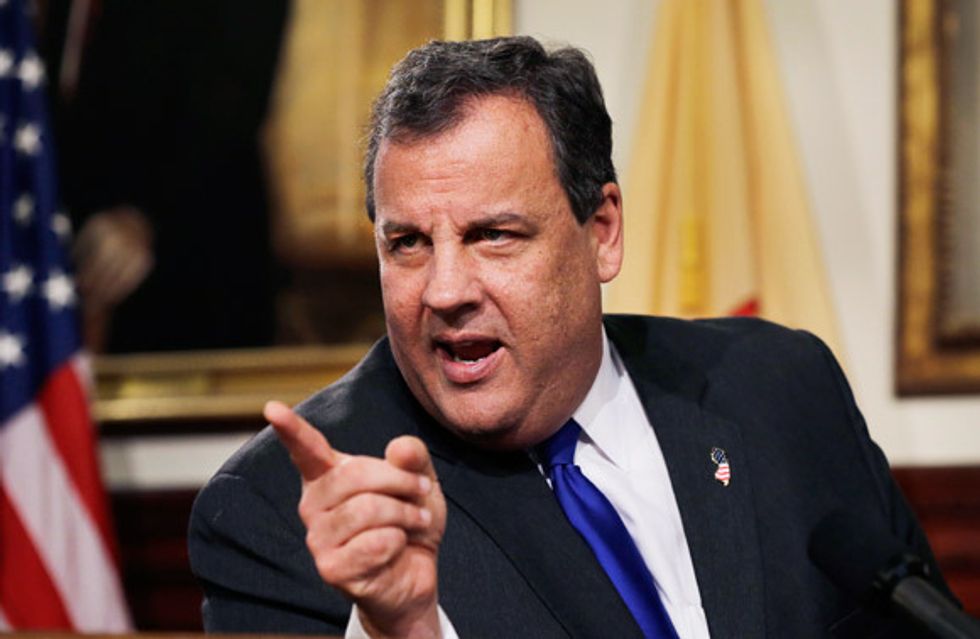 By Melissa Hayes, The Record (Hackensack, N.J.)
TRENTON, N.J. — New Jersey Gov. Chris Christie said Republicans have a chance to win the New Hampshire governor's office, a marked contrast from his comments about the New York race, which drew criticism last week.
As with his recent trip to Iowa, Christie's visit to an early presidential-voting state stirred rumors that he is laying the groundwork for a bid in 2016. A New Hampshire political analyst and several residents say they believe Christie will run and it's important for him to be building relationships early.
"When he's up here he's going to be meeting a lot of crucial people, he's most likely going to be keeping contact with them and if he decides to run for president, those people are going to be very valuable," said Neil Levesque, executive director of the New Hampshire Institute of Politics and Political Library at St. Anselm College.
Protesters were outside Northeast Delta Dental Stadium in Manchester, where Christie was headlining a fundraiser for the New Hampshire GOP on Thursday night. Granite State Retirement Security Campaign members said they opposed his cuts to New Jersey's pension contributions and were concerned about comments he made about Social Security.
Earlier in the day the Democratic National Committee released a baseball-themed Web ad attacking Christie's economic record, and communications director Mo Elleithee was in New Hampshire to highlight New Jersey's high unemployment rate and taxes.
"We're not going to let him use an event like this to try to pull a fast one on people and sell a bill of goods about some phantom fiscal comeback story," Elleithee said. "It doesn't exist."
As chairman of the Republican Governors Association, Christie has been campaigning and raising money in a year when there are 36 races.
It's unusual for the group to back a candidate in a contested primary, but Christie endorsed Walt Havenstein in a June 20 visit to the Granite State, saying he has the best chance of beating Democratic Gov. Maggie Hassan. Last week, he backed Tom Foley, whom he endorsed in a 2010 campaign, in a contested Connecticut GOP gubernatorial primary.
At the Foley event Christie said he would not campaign for Rob Astorino, a Republican running for governor of New York, unless the race tightened. Astorino accused Christie of being too close to Democratic Gov. Andrew Cuomo.
But Christie said Republicans can win New Hampshire, even though Havenstein was 26 points behind in a recent poll.
"New Hampshire is a state that has even registration of Republicans and Democrats and has, as we do in New Jersey, a plurality of undeclareds," Christie said. "So it's a much different demographic state than a lot of states."
Christie pledged his support in a campaign stop at the Nashua headquarters of BAE Systems, a defense contractor where Havenstein worked as a top executive before leaving in 2009.
"The RGA will be engaged here because we believe that Walt is an outstanding candidate with a real chance to win and that when he wins, he'll make all of us proud, having made the investment in him," Christie said.
Christie said he didn't know when he would return to New Hampshire.
He has trips planned to Maine, Alabama, Mississippi, Oklahoma, and Kansas in August.
Levesque said it's never too early to begin building support here and noted that Sen. Rand Paul of Kentucky has hired a seasoned New Hampshire political operative as he mulls a presidential bid and that party activists are already lining up behind candidates.
"Who Christie talks to, who is hanging around with him, who responds well with him right down to who is in the car with him — that kind of thing will buzz right through the New Hampshire activist level," he said.
Photo: Peter Stevens via Flickr
Interested in U.S. politics? Sign up for our daily email newsletter!