Christie Hammers Home Message, Nails Down Support Of Home Depot Cofounder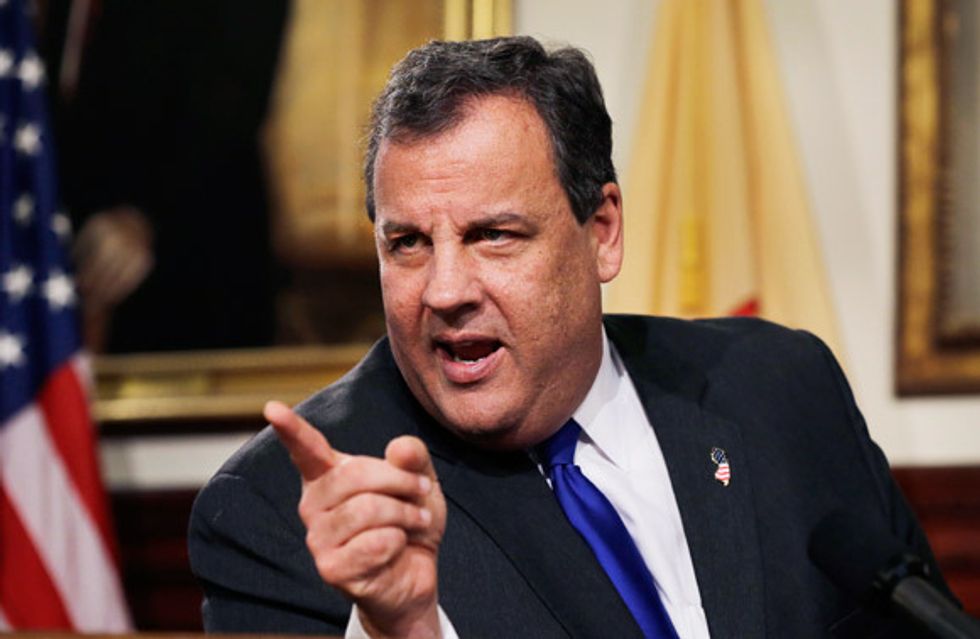 By Maddie Hanna, The Philadelphia Inquirer (TNS)
TRENTON, N.J. — As New Jersey Gov. Chris Christie nears a decision on whether to run for president, he faces a likely crowded Republican primary field —  and competition for wealthy donors.
One billionaire, however, has made his allegiance to Christie clear.
"The American people are ready for the truth. I think one thing the governor demonstrates loud and clear is candor," Ken Langone, a cofounder of Home Depot, said in a recent interview. "He has no trouble standing by his decisions and explaining why he made those decisions."
The governor, who is scheduled to join other potential Republican presidential candidates this weekend in Iowa, has said his 2016 decision won't be rushed by rivals.
Former Florida Gov. Jeb Bush and 2012 Republican presidential nominee Mitt Romney — who are perceived as competing with Christie for donors — have signaled possible bids, setting off speculation as to whether the New Jersey governor could raise enough money.
Langone — who said last week that he would host a dinner for Christie "sometime toward the end of the month" — has dismissed that idea.
"I am going to work my ass off to make sure Chris Christie never needs money," he said in a Politico story last week.
Wealthy political backers like Langone have gained "undue and disproportionate influence on our elections," said Fred Wertheimer, founder and president of Democracy 21, a nonprofit that advocates campaign-finance reform. "They become extremely important to presidential candidates."
But while Langone may be able to convene donors on Christie's behalf, "it's not like one person can go out and put his or her finger on everybody," former Mississippi Gov. Haley Barbour said.
"People who have the capacity to give away a thousand dollars or more, in many cases a lot more, make up their own minds," said Barbour, who met Langone in 1993 when Langone was finance chairman for New York City Mayor Rudy Giuliani.
Still, Barbour said, Langone is "clearly an asset. And a big one."
Langone, a former New York Stock Exchange director who runs a New York investment bank, Invemed Associates, has long been a Christie backer. In 2011, he convened a group of supporters — among them former Secretary of State Henry Kissinger — to urge Christie to run for president.
When Christie opted not to enter the 2012 race, Langone threw his support to Romney.
But he remained enthusiastic about Christie. Days after the George Washington Bridge scandal broke last January, Langone hosted the governor and donors at his house in Palm Beach, Fla.
A prolific donor to political and philanthropic causes, Langone said his fund-raising for national campaigns ramped up in 1988, when he was asked to help raise money in New York for the campaign of President George H.W. Bush.
"I love America, and I want America to be great," he said of his fund-raising.
He said he doesn't ask politicians who receive his donations to support his business interests: "I can take care of myself. I don't need the government."
Asked about donations he's made over the years to a political action committee created by Home Depot's board of directors — $80,000, according to data compiled by the Center for Responsive Politics — Langone said the committee was "designed to address onerous regulations that stifle us from growing and hiring people."
Langone acknowledges efforts to influence — and reward — politicians on other causes. After New York Sen. Chuck Schumer helped secure federal money for New York University Langone Medical Center after Hurricane Sandy, Langone raised money for the Democratic lawmaker.
"Here was an opportunity for us to support somebody who did for his constituents what he was elected to do," Langone said. "There's nothing in that for me personally."
The leader of a group of Republicans who endorsed Democratic New York Gov. Andrew Cuomo's re-election, Langone said he backs Cuomo largely because the governor supports charter schools.
"I have no trouble aggressively soliciting politicians to help us fix the public school system, which is broken in America right now," Langone said.
Christie has supported school-choice policies. In his "State of the State" address last week, he again advocated for a bill to enable certain low-income children to attend nonpublic or out-of-district schools, a measure that has failed to advance in the Democratic-controlled Legislature.
The governor has been quieter lately on another topic where Langone is vocal: immigration reform.
Describing a scenario with children born in the United States to undocumented immigrants, Langone said, "What do you do, send the parents back and say, put the kids in a foster home? … You've got to figure out a way to deal with the reality."
Langone has also made his views known on hydraulic fracturing, which he favors; entitlement programs, which he says need to be reformed ("It's absolutely absurd for a man of my means to get a $2,400 check from the government every month"); and the debate over income inequality.
Regarding the inequality debate, Langone told Politico last year: "If you go back to 1933, with different words, this is what Hitler was saying in Germany. You don't survive as a society if you encourage and thrive on envy or jealousy."
The remarks drew criticism, and Langone issued a statement: "If my choice of words was inappropriate — and they well may have been that — I extend my profound apologies to anyone and everyone who I may have offended."
Langone said he doesn't expect Christie to share his views. "This ideological litmus test is a nightmare," he said.
But he said Christie "has the capacity to listen and reflect on what he hears and adjust his thinking. Now, all you can do is hope you get a day in court with somebody."
Langone said the dinner he will host for Christie this month would not be a fund-raiser: "He's running for nothing. How can I raise money for him?"
Instead, "I want people to meet him, get to know him, be able to probe his mind, how he feels about things," Langone said.
Stan Hubbard, a billionaire Minnesota broadcast executive who attended Langone's event for Christie in Florida last year, described Langone as "a very persuasive person" who "gets people together by picking up the phone and calling his friends."
Hubbard, who met Langone 20 years ago through a business deal, said he and Langone have stayed in touch, and "we mention Christie from time to time."
"We mention Gov. (Scott) Walker. We mention Jeb Bush. He hasn't kept in touch just about Chris Christie," Hubbard said.
Langone "really believes" in Christie," he said. "We'll see what happens."
Photo: Peter Stevens via Flickr