Christie Pitches Social Security Overhaul During New Hampshire Visit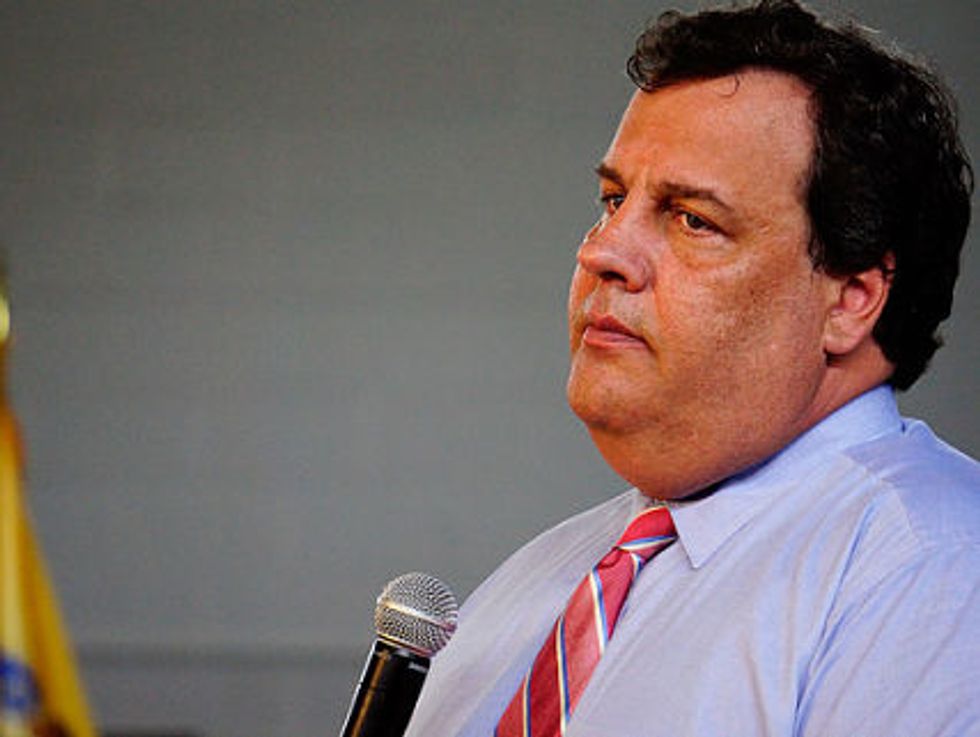 By Melissa Hayes, The Record (Hackensack, N.J.) (TNS)
TRENTON, N.J. — New Jersey Gov. Chris Christie spent his first day in New Hampshire pitching overhauls to Social Security and federal health care, visiting a pizzeria and courting Republicans during what appeared to be a campaign trip in all but name.
Christie, who said Tuesday that he will likely announce his presidential intentions in May or June, will spend four days this week in the Granite State, which hosts the first presidential primary. Later this week, 19 Republicans — including three declared presidential candidates and others like Christie who are considering a run — will be in New Hampshire for a state GOP summit.
Christie worked Tuesday to set himself apart from his GOP rivals, detailing a 12-point plan that includes reducing Social Security benefits for retirees earning more than $80,000 and eliminating them for those earning more than $200,000. During his remarks at the New Hampshire Institute of Politics at St. Anselm College, Christie also called for increasing the retirement age for Social Security to 69 and to 64 for early retirement. And he wants to gradually increase the eligibility age for Medicare to 67 by 2040. It now is at 65.
The speech was one of several Christie said he would deliver in the coming months on topics that include national security and energy — the latter of which he spoke about during trade missions to Mexico and Canada last year.
Christie took shots at President Barack Obama for putting the country on a "perilous course" and he railed against Congress for not taking steps to address the "unrestrained growth of government spending on entitlements."
"Washington refuses to acknowledge that we have a crisis on our hands. We need to force them to acknowledge the crisis and fix it," Christie said. "And unless we deal with this crisis, the young people of this country will get poorer; the disparity between young and old, the working middle class and the retired will grow even larger. Our economy will grow even weaker. Our debt will skyrocket."
And Christie used his speech to tout his efforts to again overhaul pensions and public employee benefits in New Jersey. He told the audience of his repeated vetoes of Democratic attempts to institute a surcharge on income earned above $1 million.
Christie pitched his benefits proposal — as well as this week's packed schedule — as an effort to inject plain talk into the political debate.
"There's no political upside to this," Christie said. "The only reason I am here to say this is because it is an unavoidable truth."
For Christie, once a popular figure among national Republicans, the stakes are high as his poll numbers have dropped dramatically in recent months and other GOP presidential hopefuls have attracted more attention.
Christie arrived in New Hampshire with his wife, Mary Pat, and an entourage of staff, including Maria Comella, his deputy chief of staff for communications in the governor's office, and Jim Gilroy, the head of his advance team that coordinates his town-hall events across New Jersey. Comella said she and Gilroy are on vacation from their state jobs this week so they can volunteer in New Hampshire.
Christie's top political adviser, Mike DuHaime, is traveling with the governor, as is Bill Palatucci, his close friend and confidant. The governor's events were organized by his political action committee, Leadership Matters for America, and Samantha Smith, the group's communications director, and Matt Mowers, the New Hampshire director, also were with him all day.
At a stop in downtown Manchester, Christie told reporters that potential federal indictments in the George Washington Bridge lane-closure scandal would play no role in his decision whether to run. He said he's still weighing whether it's the best decision for him, his family and the country.
In between public events Tuesday, the governor sat down with local New Hampshire media and did a telephone interview with Hugh Hewitt, a conservative radio talk show host.
On the radio show, Christie called Obama and Democratic presidential candidate Hillary Rodham Clinton, the former secretary of state, "timid" at the helm of world affairs.
"If I run, I would beat her," he said.
Christie also staked out a new policy position on the radio show, vowing to "crack down" on states that have legalized marijuana for recreational purposes. Alaska, Colorado, Oregon, Washington state, and the District of Columbia have all moved to legalize marijuana, but Christie noted it's still illegal under federal law. He has repeatedly said it would not become legal in New Jersey under his tenure, saying it's a "gateway drug" to more serious substances.
Still an undeclared candidate, Christie nonetheless handicapped his own chances at the electoral map. He predicted he would put several swing states in play for the Republicans, including Colorado, New Hampshire, New Mexico and Pennsylvania.
Christie's call for changes to Social Security, Medicaid, Medicare and disability drew immediate criticism from Democrats and advocates of the programs, who said Christie's plans to "means-test" benefits would turn it into a welfare program.
"Today Governor Christie joins a long line of conservative politicians who hope to convince voters they are 'courageous truth-tellers' when in truth their goal is to dismantle the very programs which have kept millions from poverty," Max Richtman, president and CEO of the National Committee to Preserve Social Security and Medicare, said in a statement.
During a stop at Caesario's Pizza in downtown Manchester after his speech, Christie defended his proposal that the wealthy continue paying into Social Security even if they wouldn't be allowed to collect it, saying it doesn't amount to a tax.
"I quite frankly think that my friend Mark Zuckerberg doesn't need to collect Social Security," he said of the Facebook founder. "Warren Buffett doesn't need to collect Social Security, and their lives will not be materially changed by it. But if the system goes broke, seniors who are on the edge of poverty and don't get Social Security, their lives will be drastically changed."
Christie spent the evening at New Hampshire's coast, attending an event hosted by the Rockingham County Republican Committee at The Stone Church, a bar and music venue in Newmarket.
Several attendees said they'd like to hear more from him and some said they plan to attend his town-hall event in the area on Friday.
Many said they came because they had heard about him and wanted to see Christie in person.
"He definitely won my respect, where I didn't have it before," said Heather Durant, a small-business owner in Newmarket.
Durant said she's still undecided on whom she'll support for 2016, but she appreciated getting to talk to Christie directly at the event.
"He definitely got me listening," she said.
Christie wrapped up his first day in New Hampshire with a Seacoast Roundtable hosted by Renee Plummer, vice president of marketing for a commercial real estate development firm and a GOP campaign veteran who worked on Bob Dole's 1996 presidential bid. The roundtable was closed to the media.
Christie plans to hold his first town hall event outside New Jersey in Londonderry on Wednesday. He'll return to the Garden State for a town-hall event in Hasbrouck Heights on Thursday, where he's again expected to push for additional changes to public employee pensions and health benefits. Then on Friday, Christie is back for his second town-hall event in New Hampshire and he'll also participate in the state GOP summit.
(c)2015 The Record (Hackensack, N.J.), Distributed by Tribune Content Agency, LLC
Photo by Bob Jagendorf/Flickr