Christine Ford Negotiating With Senate Republicans Over Testimony
@FAWFULFAN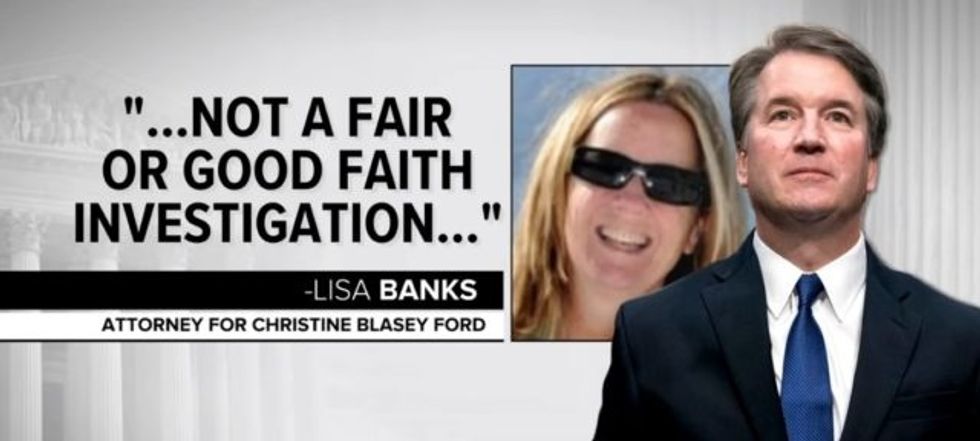 Reprinted with permission from AlterNet.
Since Wednesday, the question of whether Supreme Court nominee Brett Kavanaugh's sexual assault accuser, California psychology professor Christine Blasey Ford, would reach an agreement to testify before the Senate Judiciary Committee has hung in limbo.
Ford wanted an investigation by the FBI, as there was for the Anita Hill allegations during the Clarence Thomas hearings in 1991, before appearing. Republicans, led by Judiciary Chairman Chuck Grassley, have demanded Ford to accede to an expedited schedule whereby she testifies on Monday alongside Kavanaugh, and without extra witnesses which many have called unfair and rushed.
But on Thursday night, in a call with Senate staffers, Ford's legal counsel indicated that she is open to a deal, as long as basic steps are taken to ensure her safety, emotional well-being, and right to be heard.
According to the Washington Post's Seung Min Kim and CNN's Manu Raju, Ford's attorney Debra Katz told staffers for the Judiciary Committee that she is willing to testify in a public hearing provided that it takes place next Thursday rather than Monday, that her safety can be guaranteed, that the GOP abandon their plan of bringing in an outside counsel to question her (which could make the proceedings more hostile and trial-like), and that Kavanaugh testify first so that she does not have to be in the same room with him.
She also wants to subpoena Mark Judge, a friend of Kavanaugh's who was alleged to be present during the assault, and who has in recent days drawn scrutiny for his track record of offensive comments about women.
Per Raju, "Ford attorneys did NOT draw hardly any red lines in the list of requests. Those were mostly asks and appear to be negotiable, sources say. The only red lines: Ensuring her safety and making sure she's NOT in the same room as Kavanaugh."
Ford alleges that at a party in Maryland when she was 15, Kavanaugh, then 17, pulled her into a room, held her down, groped her, tried to undress her, and covered her mouth to silence her when she screamed, all as Judge looked on and laughed.
She has faced death threats and a broad slew of attacks and conspiracy theories from right-wing pundits and activists since coming forward, and is currently in hiding with her family.
Matthew Chapman is a video game designer, science fiction author, and political reporter from Austin, TX. Follow him on Twitter @fawfulfan.