Civil Rights Act's Gains Are Being Undermined, Bill Clinton Says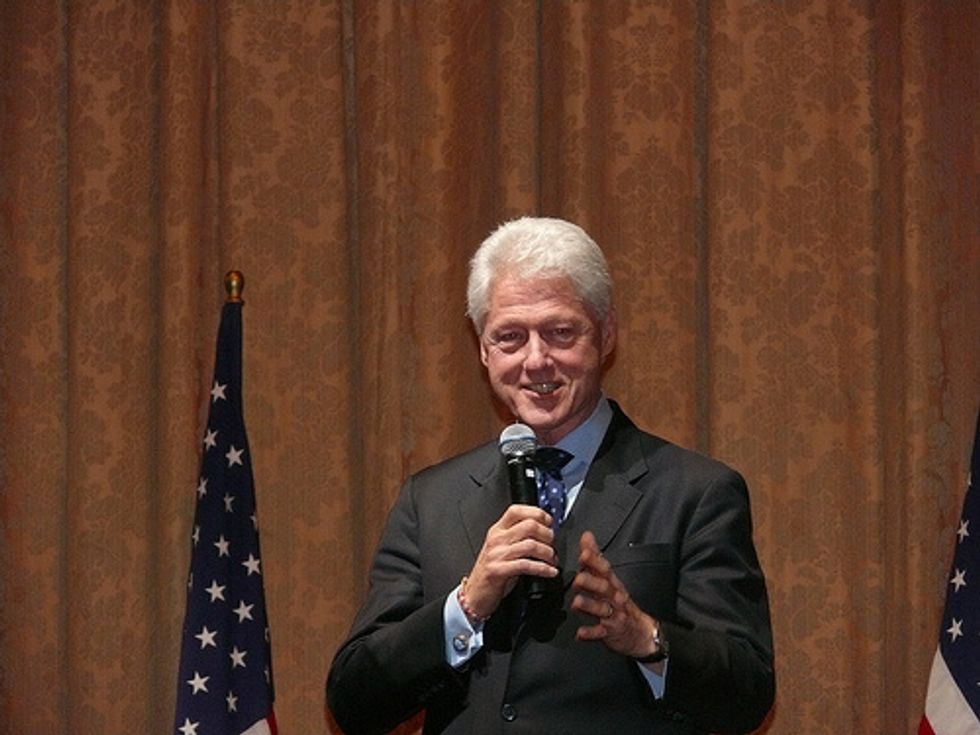 By Chuck Lindell, Austin American-Statesman
AUSTIN, Texas — Even as he praised the Civil Rights Act as a bold step in the quest to build a more perfect union, former President Bill Clinton cautioned Wednesday that the historic law's gains are being threatened by a rising tide in the politics of exclusion.
Closing the second day of the three-day Civil Rights Summit, Clinton lauded the "pivotal, brilliant leadership" of President Lyndon B. Johnson, who ignored cautious advisers and cajoled a balky Congress into passing a law that continues to change the country for the better.
"He sensed opportunity, and he felt an obligation," Clinton told a packed audience at the LBJ Presidential Library.
Johnson's achievement reminded Clinton of another president, Abraham Lincoln, who toiled to push Congress into action on another landmark, the 13th Amendment, which abolished slavery.
Like Lincoln, he said, "Johnson's leadership embodies the power of presidency to redeem the promise of America."
But Clinton warned that the Civil Rights Act of 1964 and the Voting Rights Act of the following year, which sought to improve participation in the political process, are being undermined by voter ID laws and efforts to restrict access to the ballot box.
"Any time you erect a barrier to the political participation that disproportionately affects people based on race, based on physical capacity or income … it undermines the spirit of the Civil Rights Act and the Voting Rights Act," he said to applause.
Clinton also blasted the 2013 U.S. Supreme Court decision that overturned a key section of the Voting Rights Act, which had required states with a history of racial discrimination, including Texas, to seek federal approval for any change that affects voting.
"Here we've been working for 50 years, first to open registration to everyone, and to be responsible to vote, and all of a sudden there are all these new barriers to voting," he said. "We all know what this is: This is a way of restricting the franchise after 50 years of expanding it."
It is ironic, Clinton said, that the country is so deeply divided shortly after the human genome was mapped, revealing that every person is "genetically 99.5 percent the same. Why are we risking the future of this great experiment, the wide horizons that Lyndon Johnson and his colleagues opened to us, while spending 99.5 percent of our time on that half-percent that is different?"
Clinton began his half-hour speech on a more positive vein, noting that his presidency and those of Jimmy Carter and Barack Obama were made possible by the Civil Rights Act.
"We forget sometimes in our busy lives how, in the long sweep of history, that this all happened rather quickly," Clinton said, noting that Johnson was born only 43 years after the Civil War's end. "He was a child of the South who … wielded his enormous political skills and made them work for ordinary people who had been disempowered.
"Fifty years ago, we were two decades past the great victory won by the United States and its allies in World War II, a long and bloody struggle for freedom throughout the world. Yet two decades later, millions of our brothers and sisters — many of whom had themselves fought in that war — were still denied basic freedoms," Clinton said.
Photo: veni markovski via Flickr.com