Clay Aiken Makes It Official: He Will Run For Congress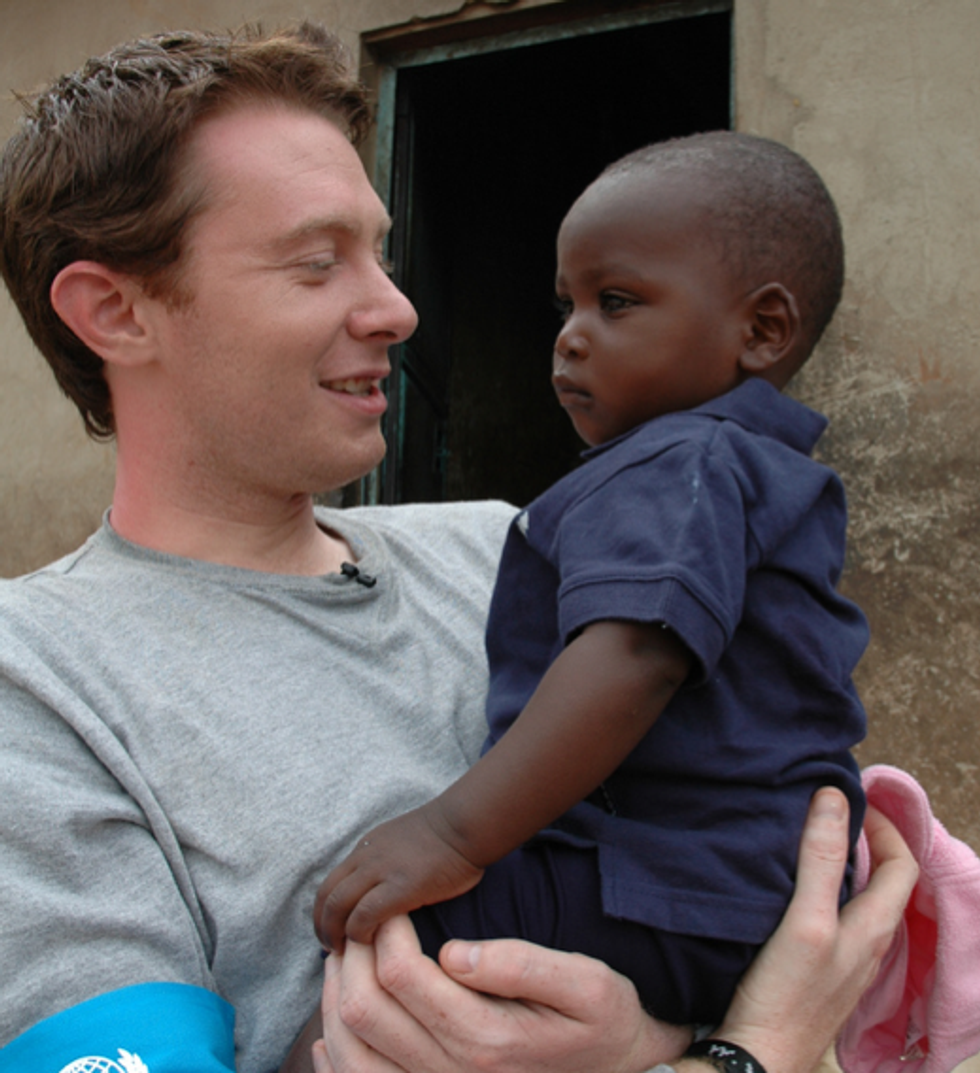 By Craig Jarvis, The News & Observer
RALEIGH, N.C. — Singer Clay Aiken will officially announce his campaign for Congress on Wednesday, injecting a nationally known personality into what has been a quiet Democratic primary to produce a challenger to U.S. Rep. Renee Ellmers.
Aiken's decision has already reshaped the field. Houston Barnes, a young attorney who lives in Durham, plans to announce Wednesday that he is withdrawing from the race and supporting Aiken.
That leaves former state Commerce Secretary Keith Crisco of Asheboro and licensed professional counselor Toni Morris of Fayetteville as Aiken's primary opponents.
In a video that will be posted online Wednesday, and in an interview with The News & Observer on Tuesday in Raleigh, Aiken portrays himself as someone who is not a politician. He emphasizes his personal story — growing up in a home torn apart by domestic violence — and says it inspired him to be a voice for the powerless.
Aiken graduated from the University of North Carolina Charlotte in 2003 with a degree in special education.
He began on that path by teaching special education students in Wake County and — after a detour in the entertainment world — working with UNICEF. After months of exploring a congressional bid, he recently decided to put his entertainment career on hold and run.
"I saw this as the best place I could serve because I think Washington, in general, is dysfunctional," Aiken said. "I think it's high time we put people in Congress who were not beholden to their party and not beholden to anything but the people who they live around and grew up around, in my case."
Aiken, 35, said jobs and the economy will be important campaign themes; specifically, emphasizing education as a way to get people back to work, including through adult job retraining programs.
He said he would press Ellmers to explain her voting record that cut funding for military families.
"She didn't have to run on her record last time," Aiken said. "I plan on changing that. I want her to have to talk about and defend some of the things she's done to people in this district."
Aiken said he planned to raise "the vast majority" of his campaign funds from supporters but said he might have to use some of his own money. He still retains a fanatical fan base — known as Claymates — which in recent weeks has promoted his candidacy through an online petition.
A little more than a decade ago, Aiken, who grew up in Wake County, was quietly working on a college degree in special education and working at a YMCA in North Raleigh, with a singing hobby on the side. That changed dramatically in 2003, when he became a contestant on the TV show "American Idol."
That led to several best-selling albums, other TV appearances and a role in the Broadway play "Spamalot." He lives in a $2 million home he had built in a rural corner of the 2nd Congressional District near the Wake, Durham and Chatham county lines.
His entertainment career has made him wealthy, but he has also used the money to establish a $2 million foundation to help children with disabilities.
Over the years, he has weighed in on a number of controversial local issues, ranging from the Wake County school board's opposition to busing for diversity to North Carolina's constitutional amendment banning same-sex marriage. Aiken in 2008 publicly declared that he was gay; he has a partner, and they have a young son who was born through in-vitro fertilization.
Aiken said Tuesday that he doesn't think being gay will be an issue with voters.
"People care about jobs, they care about the economy, they care about being able to pay for college," he said. "That (his sexuality) is an issue that doesn't affect many people in this district or this state."
But it has already become an issue in the election. Ellmers' campaign staff on Tuesday sized up the potential Democratic field this way:
"It speaks volumes to the state of the N.C. Democratic Party that the primary is shaping up to be a choice between the failed Perdue Administration's Keith Crisco, a lawyer who doesn't even live in the district, an activist who's (sic) own party rejected her in the last democrat primary —– and Aiken, a performer whose political views more closely resemble those of San Francisco than Sanford," spokeswoman Jessica Wood wrote in an email. "Renee best represents the values of the voters in the 2nd District and remains focused on fighting for their families."
Andrew Taylor, a political science professor at N.C. State University, said Aiken will have a hard time winning in the conservative district, and because of that, some Democrats think he's the wrong candidate.
"He's going to have to pass the test of people asking him, 'Why are you doing this? Are you serious? Are you really invested in this area?' Those questions are going to have to be answered," Taylor said.
The district, which has been redrawn since Ellmers' election, may be conservative, but it is evenly split along party lines, according to the latest analysis from the State Board of Elections: 36 percent Democratic, 36 percent Republican but with 28 percent unaffiliated. Unaffiliated voters choose which primary to vote in.
But Barnes, who is dropping out of the race, says that Ellmers is vulnerable and that Aiken is the best Democrat for the job.
Barnes, 31, said Tuesday that Aiken's campaign consultants approached him a few weeks ago and convinced him the party's best shot was to try to avoid a bruising primary and marshal forces against Ellmers. He said he would appear with Aiken in the coming weeks.
Neither Crisco nor Morris could be reached for comment on what Aiken's entry into the race would mean for them.
Ellmers faces her own opposition in the primary, from investor and radio talk show host Frank Roche of Cary, who is challenging her commitment to the right. He accuses her of being part of the establishment.
Roche also says Ellmers is vulnerable and told an audience in Pinehurst last month that's why so many Democrats have jumped into the race. When a man in the audience asked Roche if he could beat Aiken, the question drew laughs, but Roche said he considered Aiken a serious-minded person with a real shot at winning the primary.
"My suspicion is if he gets in the race, he's going to win that primary," Roche said. "He'll spend a lot of money, and name recognition is critical."
Roche added that he was confident he could, in fact, beat Aiken in the general election.
Aiken and Ellmers have already tangled. Earlier this week, reacting to news that Aiken was considering entering the race, Ellmers told a Washington radio station, "Apparently his performing career isn't going so well, and he's bored." She then added that he was only the runner-up on "American Idol."
Aiken, asked about her remarks, said he has spent the past decade not responding to criticism. But on Tuesday, he couldn't resist.
"I will say it's pretty sad that I didn't even get a chance to get into the race before the mud started being thrown around," Aiken said. "That's not the kind of campaign I'm going to run. Maybe I should be flattered that she's worried enough she thinks she needs to stomp me down."
Photo: UNICEF up close via Flickr