Clerk Kim Davis Will Be A Lonely Footnote in History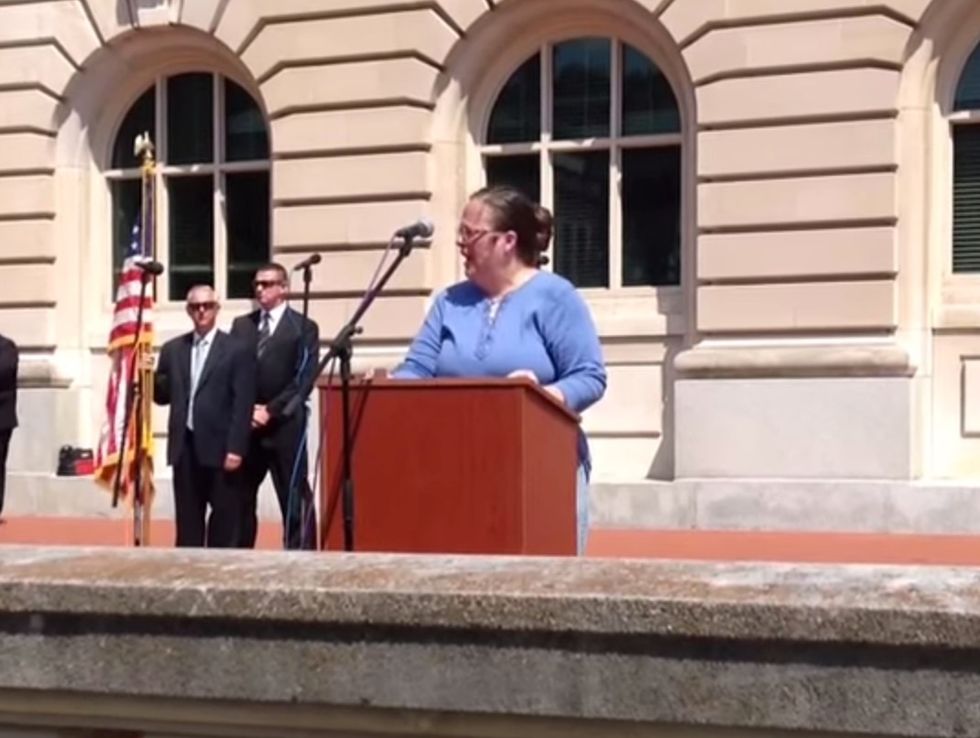 Tricky business, this righteous outrage. You have to be so careful not to sound like a hypocrite while you're deriding hypocrisy. Messes with your sleep.
In the past few days, America's news media — from the largest organizations to the smallest blogs — have made a star of a 49-year-old woman in Appalachia named Kim Davis.
Davis is the Rowan County, Kentucky, clerk who is refusing to issue same-sex marriage licenses. She is declaring a religious exemption for herself in her little patch of our amber waves of grain. And she's an elected official, so no firing her.
I'm angry as all get-out over what Davis is doing, but I can't blame her for relishing the national attention. She's an American woman who, at her age, is supposed to be invisible. But there she is, popping up in everybody's newsfeed on her way to becoming a lonely footnote in history.
After the U.S. Supreme Court essentially told her to knock it off, Davis released an online statement through her new best friends, the far-right Liberty Counsel. An excerpt:
I owe my life to Jesus Christ who loves me and gave His life for me. Following the death of my godly mother-in-law over four years ago, I went to church to fulfill her dying wish. There I heard a message of grace and forgiveness and surrendered my life to Jesus Christ. I am not perfect. No one is. But I am forgiven and I love my Lord and must be obedient to Him and to the Word of God.

I never imagined a day like this would come, where I would be asked to violate a central teaching of Scripture and of Jesus Himself regarding marriage.
A brief interruption here to note what Jesus said about homosexuality.
Absolutely nothing.
Back to Davis:
To issue a marriage license which conflicts with God's definition of marriage, with my name affixed to the certificate, would violate my conscience. It is not a light issue for me. It is a Heaven or Hell decision. For me it is a decision of obedience. I have no animosity toward anyone and harbor no ill will. To me this has never been a gay or lesbian issue. It is about marriage and God's Word.
As that excerpt illustrates, Davis is unreachable regarding her version of Christianity. Ridiculing her faith, her appearance, and her multiple marriages, as so many have, only further convinces her of her rightness. She thinks God wants her to be a martyr. To her and those using her, our ridicule — our persecution — is proof that she is right.
We've been here before in this country, and as we have before, we will soon uproot this obstacle on the road to justice.
NPR's Robert Siegel asked Columbia University law professor Katherine Franke whether Davis' refusal to marry same-sex couples mirrors white officials' refusal to accept racial equality in the 1950s and '60s.
"It's exactly the same situation," Franke said. "I think that certain people in certain places are changing their view on homosexuality … but not everyone is there yet. And some people base their opposition to equality for same-sex couples — or for lesbians and gay men — in religion, but they can't use those values as a justification for not performing public functions.
"So what we're seeing now really in a way mirrors quite clearly what we saw in the 1950s, where many communities were more than happy to close all of their pools and playgrounds and public schools rather than having black children and white children play together. And we saw that resistance pass in a short period of time."
We don't need to mock Davis for justice to prevail. If we are to live our message, that all marriages are equal, then I'd rather treat her with the respect she has denied others. She can believe whatever she wants. Same-sex marriage is the law of the land, including in Rowan County.
Davis is a flawed human, and in that, she has a lot in common with the rest of us. As various news organizations have reported, Davis has been married four times, twice to the same man, and pregnant with twins by a man who was not her husband at the time. Eventually, she turned to God, hoping to find a way out of her mess of a life.
We can point to her circuitous route to redemption and her current state of religious certainty and declare her a fool and a hypocrite. Or we can see her as a woman who has joined that long list of humans looking for a chance to be something other than their biggest mistakes. I'm not going to get into the reasons my name is on the list. How about you?
I am not excusing Kim Davis' bigotry. I just don't want to let it harden my own heart.
I do, however, want to know why it is that the meanest of my fellow Christians claim they get their marching orders from God while the decent ones just keep acting like Jesus, loving everyone as best they can.
I'm going to be thinking about that all evening. I expect it will be a long night.
Connie Schultz is a Pulitzer Prize-winning columnist and an essayist for Parade magazine. She is the author of two books, including …and His Lovely Wife, which chronicled the successful race of her husband, Sherrod Brown, for the U.S. Senate. To find out more about Connie Schultz (con.schultz@yahoo.com) and read her past columns, please visit the Creators Syndicate Web page at www.creators.com.