Climate Change Looms More Terrifying Than Any Fiction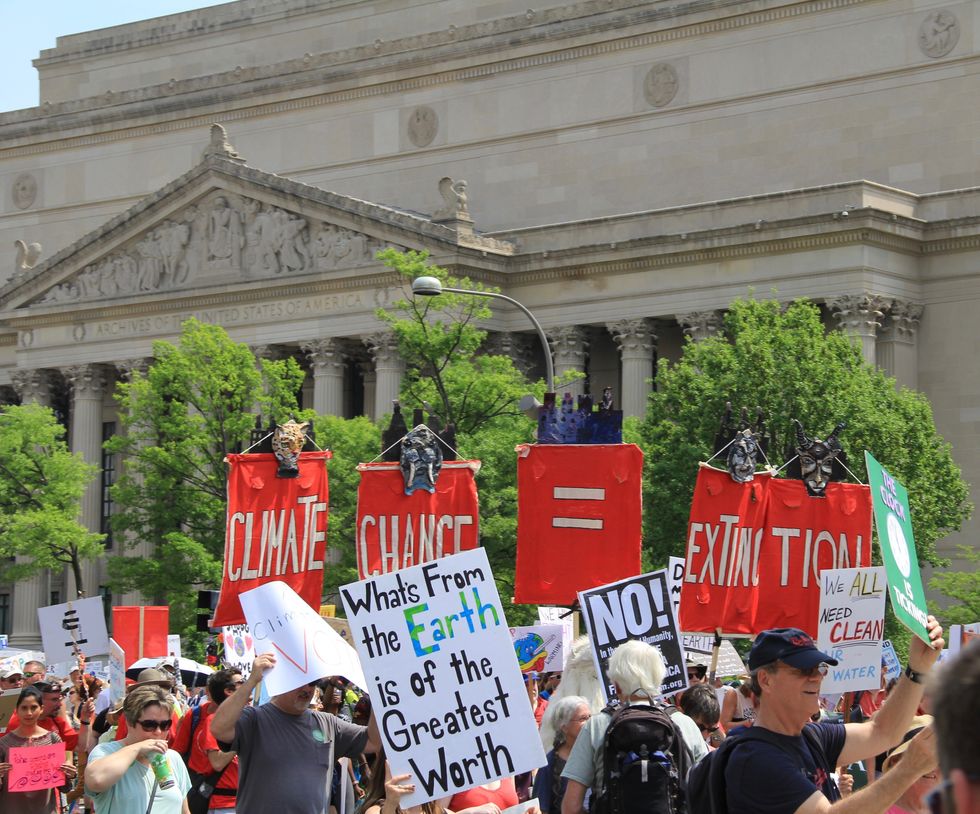 Reprinted with permission fromANDREWS MCME
MOBILE, Alabama — In mid-June, scorching temperatures forced American Airlines to cancel several regional flights from Phoenix. The flights use a small jet, the Bombardier CRJ, which has difficulty achieving lift in very hot, less-dense air.
The temperature in Phoenix soared as high as 120 degrees.
Meanwhile, here on the Gulf Coast, weather forecasters were warning of high winds and flash floods — a result of torrential rainfall. Southern Alabama and Mississippi had already been pelted by days of downpours when Tropical Storm Cindy came ashore and cut a swath across 500 miles, from Texas to Florida.
While intense storms often create tornadoes, they are also capable of generating damaging high winds. A 10-year-old boy visiting from Missouri with his family was killed in a freak accident on an Alabama beach in June when he was struck by a log that had been thrown ashore by a storm surge.
Climate scientists say we can expect more weather extremes — fierce heat, droughts, devastating storms and dangerous flooding — as a result of global warming, which has already reached critical levels. Yes, there is something counterintuitive about this: While droughts and massive wildfires are likely results of climate change, so is flooding from more rainfall. That's because warmer air can hold more moisture.
Yet, we dither. We dispute. We do nothing. In the face of one of the most dangerous threats humankind has ever faced — rivaled only by the threat of nuclear annihilation — American political leaders have decided to behave as if it's nothing more than the mindless plot of a summer blockbuster.
It's not. The evidence of human-caused climate change is clear and convincing. Fifteen of the 16 hottest years on record have occurred in this young century; 2016 broke the record set in 2015, which had broken the record set the year before. Renowned physicist Stephen Hawking has famously predicted that humankind has a century to find another planet to live on or face extinction.
Still, President Donald J. Trump and most of the leaders of the Republican Party insist global warming isn't happening. Climate change is a hoax invented by the Chinese, the president has claimed. Trump pulled out of the historic Paris climate accords that President Barack Obama had helped to negotiate, yanking the United States out of global leadership on a critical issue.
Republican voters, meanwhile, have fallen into line on cue, rejecting science, disputing evidence, parroting the partisan lines they hear on Fox News. It doesn't matter how many droughts and floods and intense storms they experience; they will follow their leaders like lemmings to the cliff.
If there are Republicans left who still believe in science — Sen. John McCain (R-Ariz.) ran in 2008 on a platform that endorsed the need for a tax on carbon emissions — they are afraid to say so now. The Koch brothers and other super-wealthy polluters have bullied them into silence, threatening their political survival if they so much as utter the words "climate change." They've learned from the defeat of former South Carolina Congressman Bob Inglis, a Republican who was beaten by a tea partier in 2010 after he proposed a carbon tax.
This isn't merely dispiriting. It's downright frightening. I had always believed that, given factual information, literate citizens of a wealthy democracy like the United States would behave rationally, acting on that information to preserve their survival. I was wrong.
It turns out that journalist-turned-novelist Omar El Akkad has a much more realistic understanding of human nature than I do. In his searing debut novel, "American War," he casts our current dysfunctional politics into a near-future in which global warming has devastated the United States, but the South refuses to give up fossil fuel, leading to secession and internecine warfare.
The novel is all the more unsettling because it seems to line up so neatly with our troubling reality. In the current issue of the journal Science, climate researchers predict that the southern United States is among the regions that will suffer greatly from global warming. Yet, it is also a region that continues to give Trump enthusiastic support.
It is an irony that history will long note — if there are any historians left to point it out.
(Cynthia Tucker won the Pulitzer Prize for commentary in 2007. She can be reached at cynthia@cynthiatucker.com.)