Climate Talks: Slimmed-Down Draft Proposal Still Leaves Major Issues Unresolved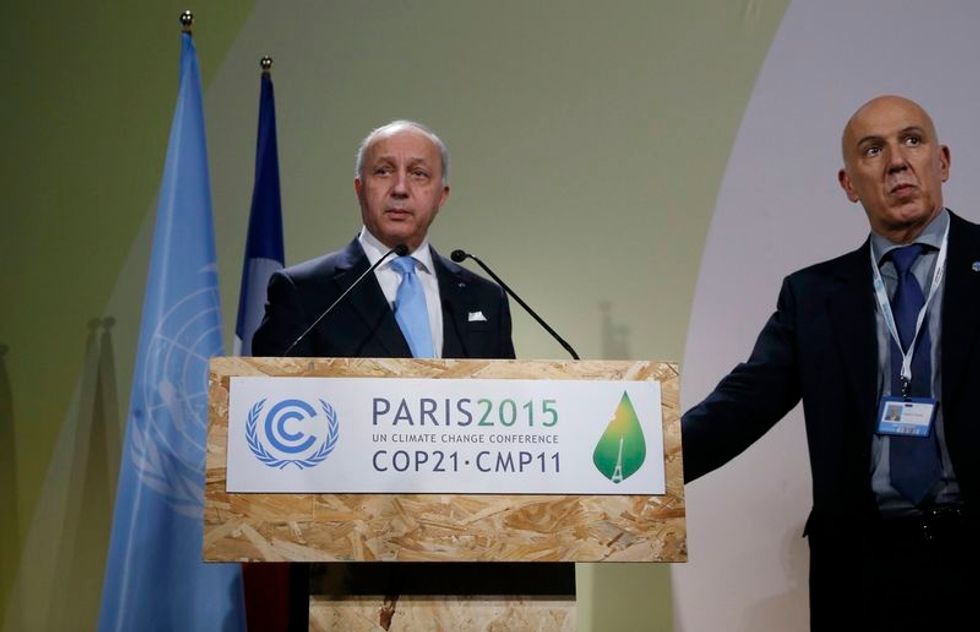 By Alexandra Zavis and Chris Megerian, Los Angeles Times (TNS)
LE BOURGET, France — With time running out to meet a self-imposed deadline, negotiators Wednesday released a new draft agreement on fighting climate change that was slimmer than earlier versions while still leaving major issues unresolved.
French Foreign Minister Laurent Fabius, who is leading the United Nations talks outside Paris, said progress had been made in the last few days but cautioned that "nothing is agreed until everything is agreed."
Since the weekend, the draft has been whittled down from about 50 pages to 29. But it still contains significant amounts of disputed text, along with lists of options for settling areas of contention before the two-week conference is scheduled to wrap up Friday.
Secretary of State John F. Kerry urged participants not to leave Paris without an "ambitious, inclusive and durable global climate agreement."
"If we just continue down the current path, with too many people sitting on their hands, waiting for someone else to take the responsibility, guess what, the damage is going to increase exponentially," Kerry said in a speech at the conference. "To cut to the chase: Unless the global community takes bold steps now to transition away from a high-carbon economy, we are facing unthinkable harm to our habitat, our infrastructure, our food production, our water supplies, and potentially to life itself."
Christiana Figueres, the top United Nations climate official, said the negotiations had provided a "crystallization of political points that still need a lot of work."
These include how ambitious the accord should be, how to address the cost of fighting climate change and how to define the obligations of countries in different stages of development.
Among the key issues left unsettled is whether the goal of the agreement should be to keep the average global temperature rise this century to less than 2 degrees Celsius above pre-industrial levels, or less than 1.5 degrees Celsius, as advocated by some of the countries most vulnerable to climate change.
The draft also does not resolve the question of compensation by nations that got rich using fossil fuels to poor countries now suffering the effects of global warming, including rising sea levels, prolonged drought and extreme storms. Nor does it settle on a mechanism to review the pledges made by countries and verify that they are living up to their commitments.
A total of 186 countries, accounting for more than 95 percent of global emissions, have submitted plans outlining how they intend to reduce their output. But their proposals are not projected to achieve the target of 2 degrees Celsius, the threshold at which scientists believe most of the worst effects of climate change could be avoided. That is one of the main reasons that environmental groups are pressing negotiators to agree to review their targets before a previous agreement expires in 2020.
Many would also like to see a firm commitment in the agreement to phase out the use of coal, oil and other fossil fuels by 2050.
"Right now this draft deal contains wishy-washy language instead of setting a tight deadline of 2050," said Kaisa Kosonen, a climate policy advisor at Greenpeace. "Without a date, it won't have weight."
Recognizing that rising global temperatures already pose "an existential threat" to some countries, Kerry said the United States would in the next five years double the grants it provides to help vulnerable nations adapt to climate change, currently worth more than $400 million a year.
The funds are an attempt to make good on a promise by wealthy nations to mobilize $100 billion a year by 2020 to help developing nations cope with the effects of global warming and transition their economies to cleaner energy sources. But Kerry said developing countries also would need to play their part.
"Make no mistake: If a global community cannot come together and refuses to rise to this challenge — if we continue to allow calculated obstruction to derail the urgency of this moment — we will be liable for a collective moral failure of historic consequence," Kerry said. "That's why we need to act within the next 36 to 48 hours. We need to get the job done."
(Zavis reported from Paris and Megerian from Le Bourget.)
©2015 Los Angeles Times. Distributed by Tribune Content Agency, LLC.
Photo: French Minister of Foreign Affairs Laurent Fabius, President-designate of COP21, (L) tests a microphone during a visit of a conference room on the site of the World Climate Change Conference 2015 (COP21) in Le Bourget, near Paris, France, November 29, 2015. REUTERS/Jacky Naegelen