Climbers Pack Up As Sherpas Say They Won't Go Up Everest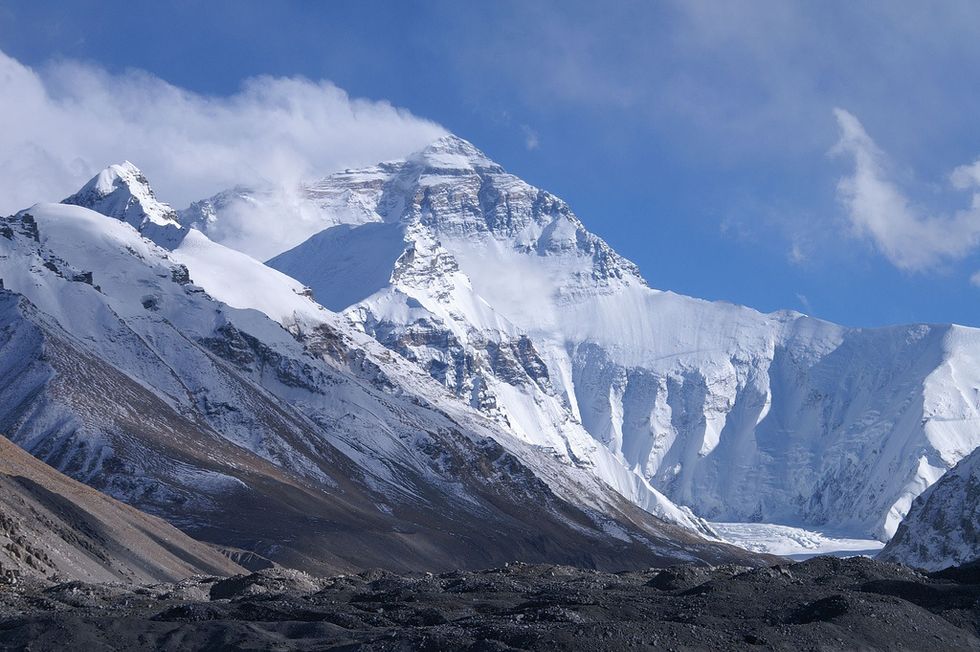 By Shashank Bengali, Los Angeles Times
MUMBAI, India — Scores of mountaineers were departing Mount Everest on Thursday after Nepalese officials failed to break an impasse with anguished Sherpa guides who want to halt climbing following last week's devastating avalanche.
A meeting at Everest base camp between Sherpas and Nepalese government officials ended with no change in the Sherpas' position: Most don't want to scale the mountain this year out of respect for the 16 guides who were buried under the snow and ice Friday, and because of fears of more avalanches.
Even before the meeting, many major expedition teams had called off their climbs in deference to the Sherpas' wishes, and several more followed suit on Thursday. The few foreign teams that signaled they might still attempt to ascend the world's tallest peak when climbing season opens in May were facing a barrage of criticism from the mountaineering community that they would be forcing Sherpas to do so against their will.
"Even without this 'official' closure, the mountain was effectively shut down anyway," Alan Arnette, a veteran mountaineer, wrote on his blog Thursday.
The unprecedented standoff has pitted some trekking companies and the Nepalese government — which earns $3.3 million a year from climbing permits and millions more in Everest-related tourism revenue — against the Sherpas, the small, peaceable Himalayan tribe whose people are the workhorses for the expeditions. As the number of foreign climbers paying as much as $100,000 for a chance to summit Everest has grown in recent years, the Sherpas, who hope to earn $5,000 a year, have begun to agitate for better death and injury benefits.
Nepalese officials insisted that the mountain wasn't closed and any team that wanted to climb could do so.
"The Sherpa community, the guides, they will be ready to continue the climbs," Maddhu Sudan Burlakoti, a Nepalese tourism official, said by phone from Katmandu, the capital. "Because of the avalanche they are missing their relatives. It is a big shadow. In a few days, they will recover."
But many Sherpas said they had already closed the book on climbing in 2014.
"I am heading back. Most of the Sherpa guides, they want to turn back," Tulsi Gurung, who has been climbing Everest for nearly a decade as a guide, said from base camp.
His brother, Ash Gurung, was swept away in the avalanche near the treacherous Khumbu Icefall, where he was part of a team of Sherpas carrying supplies up the mountain in preparation for clients, many of them wealthy foreigners. The body was never found. For Tulsi Gurung, traversing that path this year would be like walking on an open grave.
"He is still there; even his backpack is somewhere in there," Gurung said. "It is a huge danger. I cannot cross Khumbu Icefall. Mentally there is pressure every moment."
For all their mountain-climbing prowess, many Sherpas regard Everest as a mystical creature, and believe that the avalanche was a message not to climb this year. More scientifically, veteran climbers say that the conditions on the Nepalese side of the mountain, the most popular route to the 29,000-foot summit, are visibly more perilous than in previous years.
Retired Los Angeles lawyer Ed Marzec, a client of the Gurung brothers, was among those who called off his Everest expedition this week. As he waited to board a helicopter from base camp Thursday morning, Marzec heard a crack from the mountain above him. He turned and saw a massive chunk of ice slide off the face of Everest and crash, in nearly the same spot as Friday's avalanche.
"The ice doctors, the technical people who set the lines and ladders for all the climbers … they say this is a very unusual year, very dangerous," Marzec said. "Why sacrifice more Sherpas and more foreign climbers' lives? It's best to leave this year alone.
"If you want to preserve the tourist trade and preserve Everest as an attraction, you cannot let an unusual year with unusual conditions go by without taking some action."
The Nepalese government agreed this week to increase some benefits for Sherpas who are killed or injured on the job, although many say that more needs to be done to provide for their families. The government also announced Thursday that climbing permits issued for 2014 would be honored for the next five years.
But some expedition teams were still considering attempting the ascent, placing the team's Sherpa guides in a very difficult position.
"As we see, this is not very safe to continue, but we cannot force them to stop," said Tendi Sherpa, a guide. "The Sherpas can't say, 'I cannot go up.' They have to work for the same team every year. So it is important for the leaders and owners of the companies to think about safety, because the Sherpas will just follow what they say."
Flickr via Rupert Taylor-Price