'Clinton Cash': Yet Another Charles And David Koch Production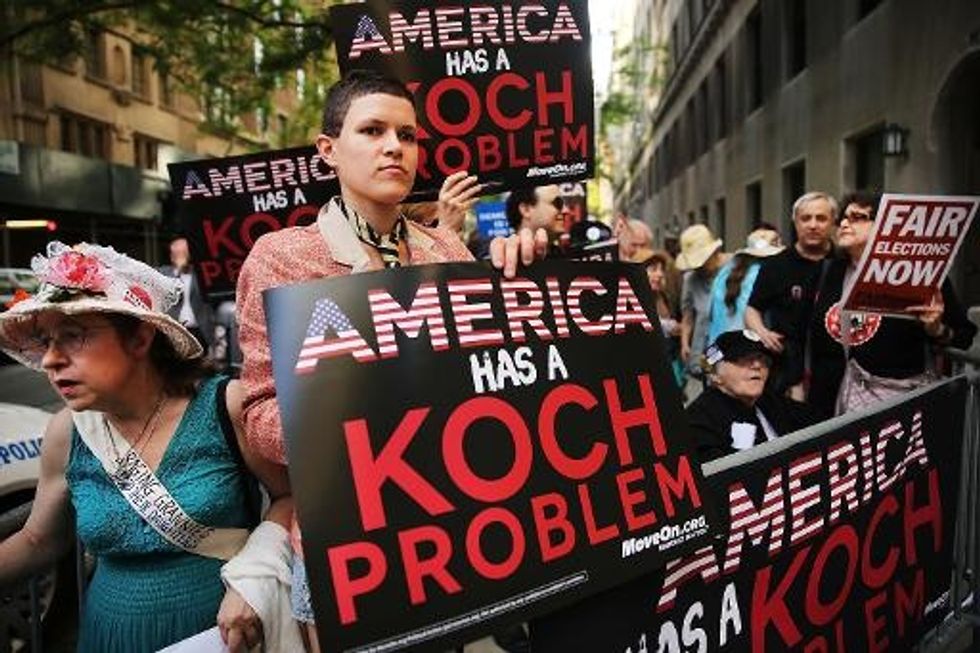 The more closely we look at Peter Schweizer — right-wing author of Clinton Cash and new best friend of the New York Times and Washington Post — the more he appears to be a wholly owned subsidiary of the Koch brothers. Schweizer's forthcoming book on Bill and Hillary Clinton and the Clinton Foundation was supported by a "think tank" called the Government Accountability Institute, which has reportedly received millions from Koch-connected donor funds over the past two years.
Crooks and Liarspoints toward Donors Trust, the huge Koch-funded "dark-money ATM of the right," as a key source of funding that made Schweizer's book possible. He is, after all, the president of the Government Accountability Institute, where tax-exempt money was used to finance a couple of nasty, inaccurate political hits on President Obama during the last election cycle, almost as soon as the "non-partisan think tank" sprang up.
If that isn't suggestive enough, here is video of Schweizer himself, delivering a February 2014 speech at the Charles Koch Institute, an "educational organization" based in Arlington, VA. Its tax-exempt activities are subsidized by the CEO of Koch Industries, Inc. — yes, that Charles Koch.
Maybe the Times and Post editors should have taken a closer look before they leaped into a deal to promote this Kochtopus production. Or did they look and not care?
Update: Not surprisingly, Media Matters for America provides further detail on Schweizer's financing by the Koch brothers, Robert Mercer, and the right-wing billionaire political nexus.
Photo: AFP Photo/Spencer Platt