Clinton Campaign: FBI Must Release Information About Trump's Russia Ties
@reuters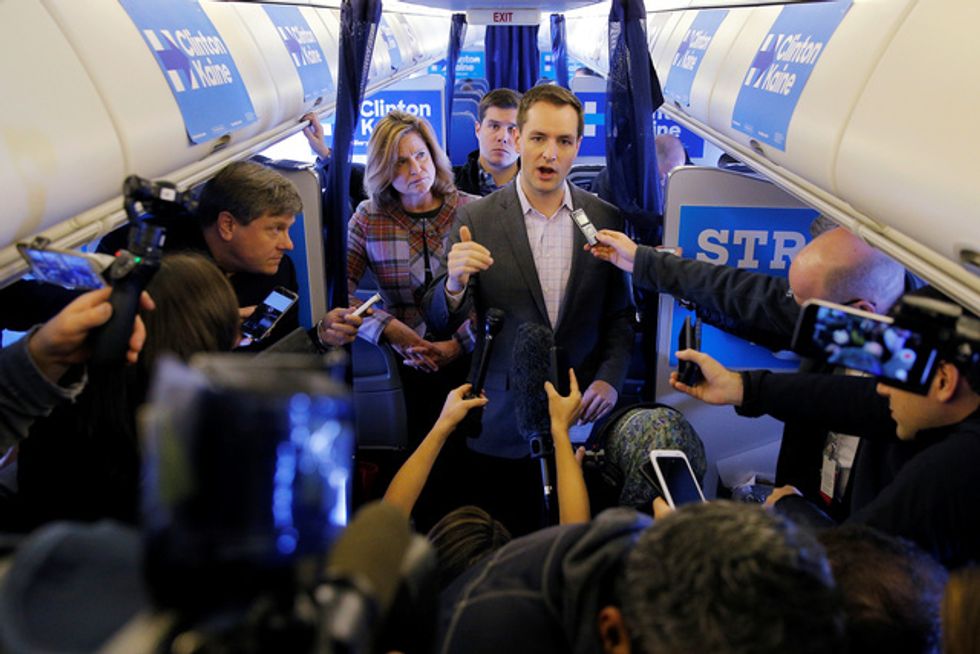 By Roberta Rampton and Mark Hosenball
WHITE PLAINS, New York/WASHINGTON (Reuters) – A top aide to Hillary Clinton on Tuesday urged the FBI to disclose what it knows about any ties between Republican Donald Trump and Russia, accusing the law enforcement agency of unfairly publicizing its inquiry into Clinton's email practices while staying quiet about Trump.
A week before Election Day, the Clinton campaign has been trying to contain damage from FBI Director James Comey's announcement on Friday of new emails that might pertain to Clinton's use of a private server while secretary of state.
Trump seized on the revelation to intensify his criticism of a rival he has long dubbed "Crooked Hillary" and welcomed a slight improvement for him in a new ABC/Washington Post poll on Tuesday.
Clinton campaign manager Robby Mook questioned why the Federal Bureau of Investigation's director had not released any information about its investigation into Russia's role in the U.S. election or ties to Trump and his senior aides.
"If you're in the business of releasing information about investigations on presidential candidates, release everything you have on Donald Trump. Release the information on his connections to the Russians," Mook said on CNN.
"They don't say a thing when it comes to Donald Trump and investigations against him, yet when it comes to Hillary Clinton, for some reason, they are more than happy to talk."
The FBI opened a preliminary inquiry into allegations that Trump or his associates might have had questionable dealings with Russian individuals or businesses, but found no evidence to warrant opening a full investigation, according to sources familiar with the matter.
The inquiry reviewed allegations that Trump or his associates might have engaged in contacts or commerce with individuals subject to U.S. or international financial sanctions or violated the Foreign Corrupt Practices Act.
U.S. intelligence agencies such as the Central Intelligence Agency and the National Security Agency, which generally are barred from investigating or spying on U.S. citizens, did not investigate Trump or his alleged dealings in Russia, according to three sources familiar with the matter.
The Office of the Director of National Intelligence and the Department of Homeland Security recently declared that they had concluded that the Russian government was trying to disrupt or discredit the U.S. presidential election and the broader U.S. political process by hacking into Democratic Party and Clinton campaign emails.
The United States has blamed Russia for cyber attacks on Democratic Party organizations.
An article in Slate said that a group of computer scientists had been alarmed by records showing thousands of apparent connection attempts between a mail server operated on behalf of the Trump Organization and computers inside a Russian company, Alfa Bank in Moscow.
Trump campaign spokeswoman Hope Hicks said the server in question, which had been used to send out hotel marketing material, had been dormant for years.
SHIFTING FOCUS
The Clinton campaign has been furiously pressing the FBI to provide details on the new trove of emails, which Comey said may or may not be significant in the case. Little is publicly known yet about the emails, other than that they were found during an unrelated probe into Anthony Weiner, the estranged husband of top Clinton aide Huma Abedin.
In an effort to shift the focus back to Trump's vulnerabilities, the Clinton campaign released a provocative new ad raising the specter of a possible nuclear war if Trump is elected president. Clinton emphasized the message that Trump has a bad temper and an overly cavalier attitude toward nuclear weapons at rallies in the battleground state of Ohio on Monday.
The FBI spent a year investigating Clinton's use of a private email server, instead of government systems, while secretary of state from 2009 to 2013. Comey concluded in July that while Clinton and her staff had been "extremely careless" in handling classified information, there were no grounds for any charges.
Comey has said he released more information about the investigation than is typical because of election year sensitivities.
"If Director Comey was so concerned about how information would be handled and about the reputation of the FBI, why did he release this letter that was full of innuendo and absolutely no facts?" Mook said on CNN, referring to Comey's letter to members of Congress on Friday.
The New York Times also assailed Comey, accusing him in an editorial in its Tuesday edition of sending "a brief, inscrutable, election-shaking letter" in a "breathtakingly rash and irresponsible decision." (http://nyti.ms/2dYvJ4J)
The FBI announcement 11 days before the Nov. 8 presidential election blindsided Clinton, who had extended her lead over Trump in opinion polls after the release last month of a 2005 video in which the Republican bragged in vulgar terms about groping women.
Opinion polls show Clinton's lead has narrowed slightly since early last week. It was not known if the email controversy would hurt her support.
Clinton held a 5-point lead over Trump in the latest Reuters/Ipsos poll released on Monday, supported by 44 percent of likely voters, compared with Trump at 39 percent.
(Additional reporting by Susan Heavey, Doina Chiacu, John Walcott, and Joseph Menn; Writing by Doina Chiacu and Jeff Mason; Editing by Frances Kerry and Jonathan Oatis)
IMAGE: Robby Mook, Campaign Manager for U.S. Democratic presidential nominee Hillary Clinton, and Communications Director Jen Palmieri (L) talk to reporters onboard the campaign plane enroute to Cedar Rapids, Iowa, U.S. October 28, 2016. REUTERS/Brian Snyder