Clinton Hits Back At Jeb Bush On Iraq And Islamic State
@reuters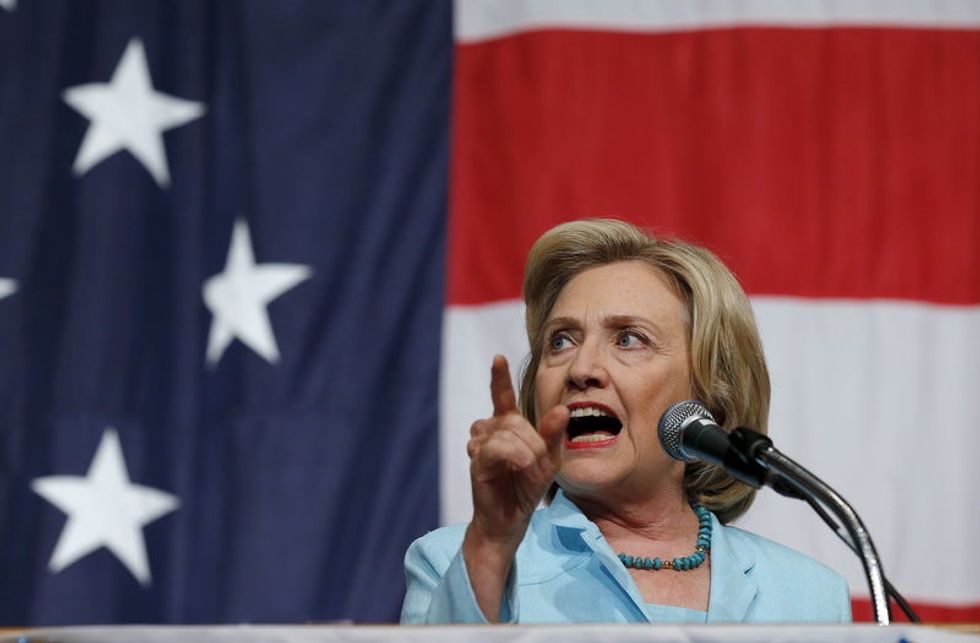 DES MOINES, Iowa (Reuters) — Democratic U.S. presidential candidate Hillary Clinton on Saturday hit back at comments from Republican Jeb Bush that President Barack Obama's policies on Iraq created instability that led to the rise of the Islamic State militant group.
Clinton, who served as secretary of state in the Obama administration, directed the blame toward Bush's brother, former President George W. Bush, who launched the 2003 U.S.-led invasion of Iraq and also signed the agreement for withdrawing U.S. troops, and former Iraq Prime Minister Nuri al-Maliki.
"I find it somewhat curious that Jeb Bush is doubling down on — defending — his brother's actions in Iraq," she said at a press conference during a campaign stop at a state fair. "But if he's going to do that, he should present the entire picture. And the entire picture, as you know, includes the agreement George W. Bush made with the Maliki government in Iraq that set the end of 2011 as the date to withdraw American troops."
Jeb Bush, a leading contender for the Republican nomination in the 2016 presidential election, has said Obama, and by extension Clinton, bungled a chance to leave behind a contingency force of about 10,000 troops when American forces left Iraq in 2011.
Clinton, though, said the Obama administration had worked "to persuade the Maliki government to permit continuing American support for the Iraqi army."
"Maliki did not want a continuing American presence," she said.
In the years following the U.S. withdrawal, militants formed the Islamic State, often called "ISIS," and have waged a violent campaign to take control of major cities in war-ravaged Iraq.
Speaking to reporters at the fair, Clinton gave a glimpse of how she would address the group's advance if she became president.
"This has to be an Iraqi-led mission," she said. "I think we have to do more and I hope we will do more to try to get the whole region together to drive ISIS out of the territory that they occupy, to rescue the people they have enslaved, predominantly women."
(Reporting by Amanda Becker; Writing by Lisa Lambert; Editing by Digby Lidstone, Bernard Orr)
Photo: U.S. Democratic presidential candidate Hillary Clinton speaks at the Iowa Democratic Wing Ding dinner in Clear Lake, Iowa, United States, August 14, 2015. REUTERS/Jim Young