Clinton Returns To Campaign Trail After Pneumonia Bout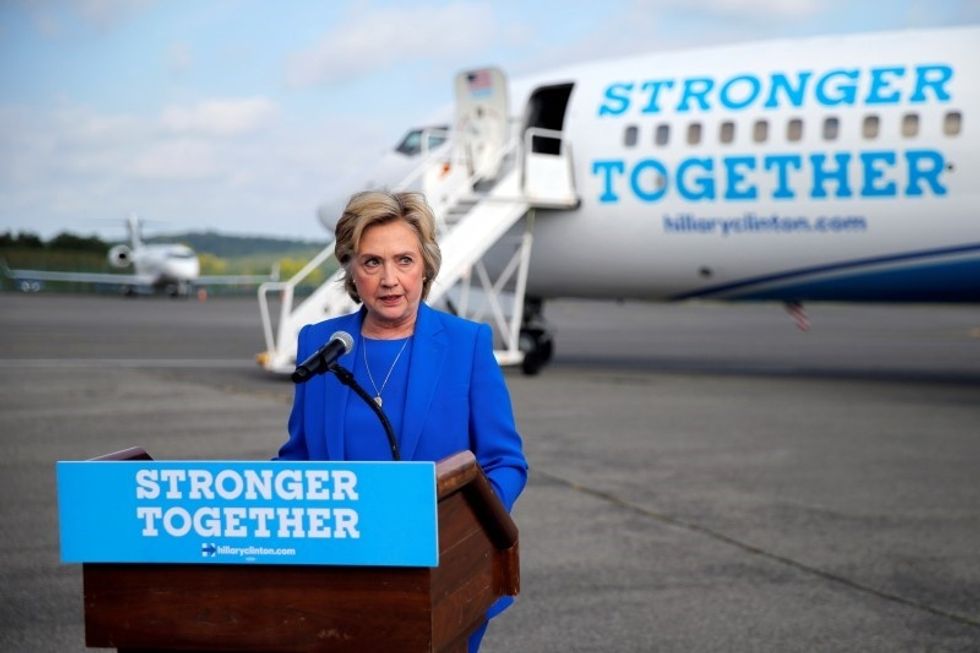 WHITE PLAINS, N.Y. (Reuters) – Hillary Clinton is set to resume campaigning on Thursday after a bout with pneumonia compelled the U.S. Democratic presidential nominee to take an unforeseen break as she and Republican rival Donald Trump entered the critical two-month final stretch before the election.
Clinton will attend a rally in North Carolina and speak at a dinner in Washington after resting at her home in Chappaqua, New York, for three days following a pneumonia diagnosis and falling ill at a Sept. 11 memorial ceremony on Sunday.
The detour forced Clinton to cancel a two-day swing through California and send her husband, former President Bill Clinton, to a Las Vegas campaign rally in her stead. It also interrupted a series of speeches in which she had planned to refocus her campaign on what she would do for the country after a period when she attacked Trump as a dangerous, unprepared candidate.
Top Clinton aide Jennifer Palmieri said on Thursday that "one upside" of the unplanned break was the chance to "sharpen the final argument she will present to voters in these closing weeks."
"Our campaign readily admits that running against a candidate as controversial as Donald Trump means it is harder to be heard on what you aspire for the country's future, and it is incumbent on us to work harder," Palmieri said in a statement.
Clinton's speech in Greensboro, North Carolina, on Thursday will focus on how she plans to make sure "every child has the chance to live up to their God-given potential," Palmieri said.
She will deliver speeches in the coming days on the economy and national service, her campaign said. Last week, she discussed her religious faith in Kansas City, Missouri.
Clinton's pneumonia diagnosis came at inopportune time for the former secretary of state, who spent the bulk of August fundraising in wealthy U.S. enclaves such as the Hamptons and Martha's Vineyard, with only intermittent campaign events.
Her strong lead over Trump in most opinion polls after the party-nominating conventions in July narrowed throughout August. A New York Times/CBS News poll released on Thursday showed Clinton had the support of 46 percent of likely voters nationwide, with 44 percent backing Trump.
Battleground states such as Ohio and Florida are no longer considered likely wins for the Democratic nominee, according to the Reuters/Ipsos States of the Nation project released on Saturday.
Clinton on Wednesday released a letter from her physician, Dr. Lisa Bardack, to dispel rumors about her health. The letter detailed her pneumonia diagnosis and declared her fit for the presidency.
Trump discussed his health in a segment of the "Dr. Oz Show" that will air on Thursday.
(Reporting by Amanda Becker; Editing by Lisa Von Ahn)
Photo: U.S. Democratic presidential candidate Hillary Clinton holds a news conference on the airport tarmac in front of her campaign plane in White Plains, New York, United States September 8, 2016.  REUTERS/Brian Snyder