Clinton And Sanders Enter New Phase In Battle For New Hampshire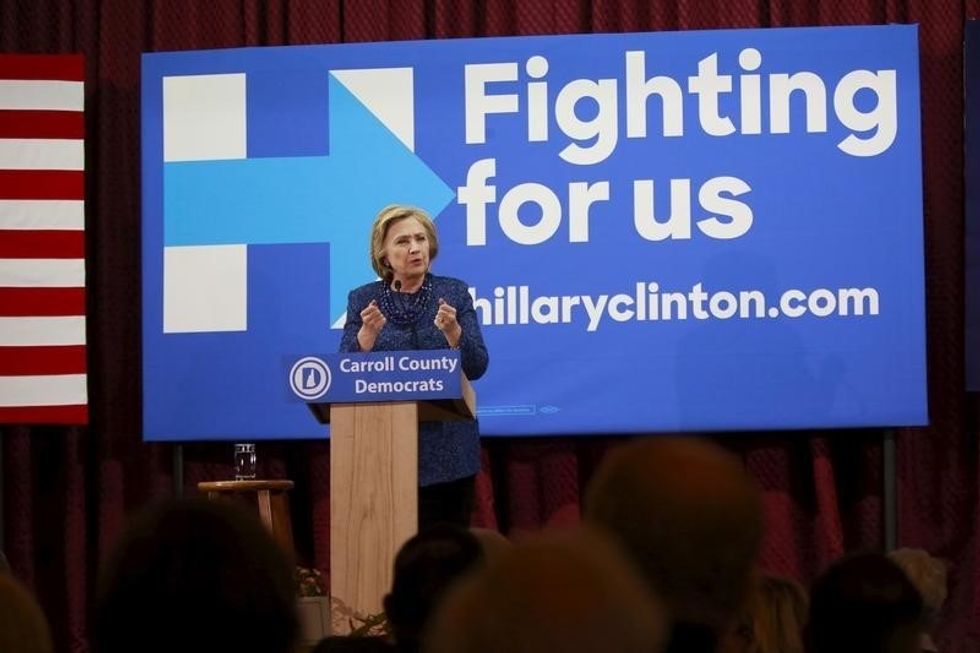 By Jennifer Epstein, Bloomberg News (TNS)
NEW YORK — By the numbers, Hillary Clinton and Bernie Sanders are in more or less the same position in New Hampshire. They've been within a few points of each other in most recent polls, and both have more than 50 paid staffers and about 10 offices in the Granite State.
Behind those numbers, though, are two dramatically different campaigns.
Clinton's team started early, with senior staff in place as she launched her candidacy in April and a staff of a few dozen paid organizers working on her behalf by the summer. Her first ad buy of $1 million came in August and her campaign has since spent millions of dollars more. She's made a dozen trips to New Hampshire, including three in October.
Sanders's campaign, meanwhile, didn't have a state director on the job until August and had about 30 staffers by the end of that month. Its first ad buy (along with a complementary one in Iowa, totaling $2 million) was announced on Sunday, the day after Sanders wrapped up his ninth trip to the state.
Without the same robust structure until the past several weeks, the Sanders operation had been kept afloat by its volunteers. By the time Julia Barnes, the state director, started work, there were already hundreds of volunteers campaigning on behalf of Sanders, posting signs at their grocery stores, talking to neighbors at waste-transfer stations, selling home-embroidered hats featuring the candidate's name and donating the profits to the campaign.
"One of the reasons why we're seeing such success, even having a delay" in launching formal organization efforts well after Clinton, "is we did not — and this is a professional anomaly for me — have to work to manufacture enthusiasm," Barnes said. "It was already there."
Enthusiasm can only go so far (and, to be sure, there's plenty for Clinton, too), argue veterans of President Barack Obama's New Hampshire primary and general election campaigns, who just happen to be Clinton supporters this time around. Early and sophisticated organization gives her an edge, they say.
"There's a key difference between the Clinton campaign and the Sanders campaign in that Clinton made an early investment in recruiting top volunteer organizers, top paid field organizers, political supporters like state senators who make a massive difference," said Sean Downey, a Democratic consultant who was Obama 2012's New Hampshire political director. "At the end of the day, those things count for something and it's one of the many things that's going to make a difference for Clinton at the end."
Clinton's effort on the ground in New Hampshire "looks and feels a lot like the Obama 2008 ground game," said Jim Demers, who was a co-chair for that campaign. "Volunteers are in the offices on a regular basis, they're targeting, canvassing. It really does rival that really aggressive campaign of 2008."
As of Sunday, 5,500 people had volunteered for the Clinton campaign in New Hampshire, and she'd secured the endorsement of nine of 10 Democratic state senators, according to a memo from state director Mike Vlacich marking 100 days until the primary. "We started this campaign in April with a plan and stuck to it," he wrote. "The result is a strong, durable organization built upon lasting relationships."
The Sanders team is still working to build that kind of operation, Democrats in the state say. The campaign has been looking for a data director since July and several key staffers, including communications director Karthik Ganapathy and digital director Melissa Byrne, have joined in the past few weeks. The Clinton campaign's data director started work July 1.
Despite Clinton's early edge and Sanders' surge through the summer months, the race in New Hampshire is now just where smart observers expected it to be: close, and likely to remain that way right up until the Feb. 9 primary.
The latest round of polls, conducted after the first Democratic debate and before Clinton's Benghazi testimony, showed mixed results, with Sanders and Clinton each leading in some. In the Bloomberg Politics/St. Anselm New Hampshire Poll conducted Oct. 15-18, Sanders led Clinton by five points, 41 percent to 36 percent.
"It's going to continue to be a competitive environment in New Hampshire. That's the way New Hampshire is. Every race is competitive," said Vlacich, who joined Clinton's team in April after managing Sen. Jeanne Shaheen's 2014 re-election campaign. "Voters make their decision on Feb. 9 — not tonight."
Barnes also acknowledged the tightness of the race and raised the stakes. "I think New Hampshire is for us a must-win and it's a must-win for them too, quite frankly," she said. (Delegate math suggests that Sanders would likely need the momentum of a strong showing in New Hampshire to stay competitive in the nomination fight, while Clinton would be injured by a loss, but not fatally so.)
Sanders himself is just as definitive. "I think we have an excellent chance to win here in New Hampshire," the Vermont senator told a few dozen supporters who gathered on Friday afternoon to mark the opening of a campaign office on Main Street in Nashua. "I think we can win in Iowa. Then if we win in Iowa and New Hampshire, it opens us for us a path toward victory."
Clinton and Sanders both visited New Hampshire last week and showed off their relative strengths.
While in New Hampshire last Wednesday and Thursday, Clinton spoke to a crowd of about 400, the largest-ever for Politics and Eggs, St. Anselm College's speakers series for presidential candidates, and traversed her way across the sparsely populated northern part of the state.
A Thursday afternoon town hall on rural issues drew 500 to a school cafeteria in Littleton, where the crowd booed a man who asked her how she'd be capable of "ending corruption" given Whitewater, Benghazi and scrutiny of her email server. "I wish you'd go back and read the history of the 1990s," she told him. "I advise you to go back and read my 11 hours of testimony. I hope you enjoy it."
Sanders arrived in the state midday Friday, making a last-minute stop at a senior citizens center in Manchester where a few dozen residents sat in the audience of a multipurpose room while a group of women kept up their card game. That night, he spoke to an audience of 450 at a town hall in Derry, delivering a 68-minute stump speech before taking half an hour of questions on democratic socialism, Syria and his opposition to the death penalty.
His visit during the last two days of October was his first to New Hampshire in five weeks, but was scheduled just as tightly as a standard Clinton campaign swing. It included three town halls, a meeting with the New Hampshire Union Leader's editorial board, an office opening, trips to a senior center and a union hall, plus an unusually personal vignette of retail politicking, as he spent about 20 minutes trick-or-treating with his grandkids.
Both candidates were, in their own ways, making their case to undecided voters and trying to inspire those already committed to them to do more.
They also both have legitimate claims to being the favorite candidate in the state, though it's usually the opposing campaign making the claims.
Sanders supporters cite Clinton's campaigning in the state not just in 2008 but during her husband's first campaign in 1992. Clinton supporters point out that Sanders campaigned in the state ahead of 2012, 2013 and 2014 elections.
"This state has a long history of looking very favorably at neighboring candidates," said Demers. "People forget that Tsongas beat Bill Clinton here. Kerry, Dean, Dukakis all did very well."
"I don't think anyone can overestimate the impact of having a next door neighbor in the race," he added.
"There's a clearly a good connection and familiarity" for Sanders in New Hampshire, Barnes, his state director, acknowledged. "But I don't think that that's necessarily a unique advantage. I mean, Secretary Clinton has been campaigning here for decades…she's spent a lot of time here."
Both sides agree, though, that Clinton had a big head start in building her campaign infrastructure.
Entering the race as the clear front-runner and knowing she'd raise tens of millions of dollars in just her first quarter as a candidate, Clinton created a machine that would pay dividends down the stretch, hiring top talent including Vlacich and several others who worked on Shaheen's 2014 campaign.
Clinton plans to formally file paperwork to get on the ballot on Nov. 9 and, in the days leading up to then, show off some of her big-name supporters. Among others, former Vermont Gov. Howard Dean will attend house parties on Clinton's behalf and former Secretary of State Madeleine Albright will attend a Women for Hillary Event.
But Sanders is making gains, though he sometimes seems surprised by voters' support for him.
While knocking on doors Saturday evening with his grandson and two granddaughters, a woman ran into her house to grab something and returned with the Bernie Bear, a stuffed critter with unruly white hair and a Bernie 2016 button on his suit jacket.
"This is the real thing," Sanders said. "I'm so honored…. Oh my God, this is an experience of a lifetime. That is clearly something that is not going to happen every day."
(c)2015 Bloomberg News. Distributed by Tribune Content Agency, LLC.
Photo: U.S. Democratic presidential candidate and former Secretary of State Hillary Clinton speaks at the "Carroll County Democratic Committee's Annual Grover Cleveland Dinner" at the Attitash Mountain Resort in Bartlett, New Hampshire October 28, 2015. REUTERS/Katherine Taylor