Clinton To Hit Trump On Alt-Right Ties, Trump Camp Dismisses Link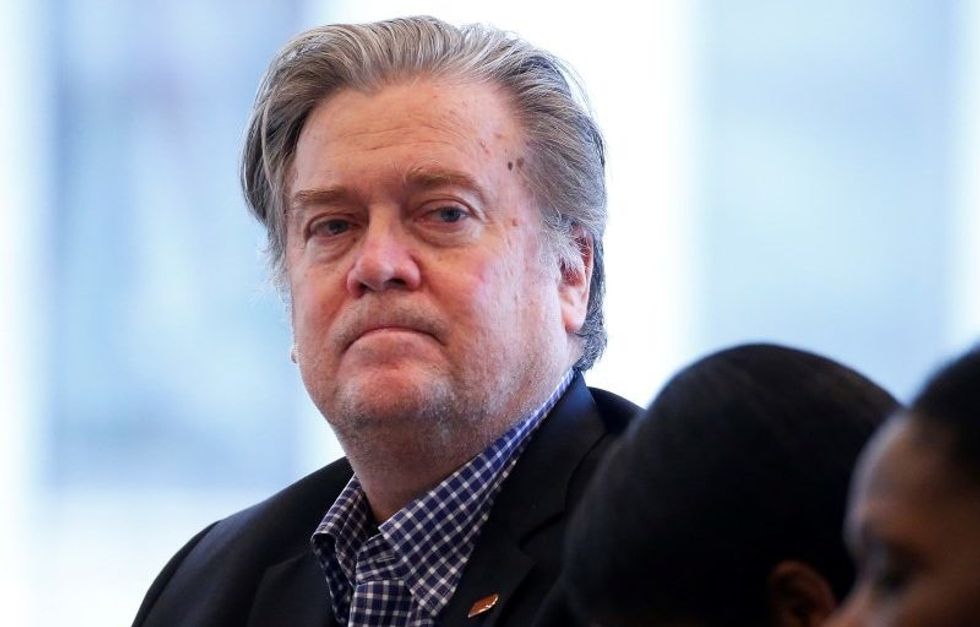 In a speech planned for a Thursday campaign stop in Nevada, Democratic nominee Hillary Clinton will attack Donald Trump on his campaign's ties to the "alternative right," or "alt-right," an emerging branch of conservatism associated with nativism.  Ahead of the speech, Politico spoke to Trump campaign manager Kellyanne Conway, who dismissed claims that the GOP nominee is running with a platform for the alt-right movement, despite hiring Stephen Bannon, the head of Breitbart News and notorious bigot, misogynist and poster boy of the alt-right movement.
Aides told Reuters Clinton's speech will highlight Trump's "divisive and dystopian vision," as indicated by the Trump camp's new team. In a statement released ahead of the speech, Clinton campaign chair John Podesta said, "Trump's newly installed brain trust completes Donald Trump's disturbing takeover of the Republican Party."
Podesta also called out those members of the GOP who may be feeling increasingly reluctant to support Trump: "Republicans up and down the ticket are going to have to choose whether they want to be complicit in this lurch toward extremism or stand with voters who can't stomach it."
Conway told Politico the Trump camp has never discussed the alt-right. "It certainly isn't part of our strategy meetings. It's nothing that Mr. Trump says out on the stump," she continued.
Conway may be purposely ignoring Bannon's comment at the Republican National Convention that Breitbart News is indeed "a platform for the alt-right." The Trump camp seems to believe it can hire an outrightly supportive alt-right nativist and yet still deny any links to the movement.
Trump went so far as to call Clinton "bigot who sees people of color only as votes, not as human beings" at a rally Wednesday. Clinton responded to that comment by stating it was Trump who had taken "a hate movement mainstream."
"He's brought it into his campaign. He's bringing it to our communities and our country," she continued. "I will have more to say about this tomorrow."
Ahead of the speech Thursday, the hashtag #AltRightMeans began trending on Twitter. Some alt-right supporters on Twitter were seemingly sincere in their contributions to the hashtag, tweeting out racist, bigoted or nativist rhetoric, which we won't display here. Others, however, took the opportunity to hit the alt-right movement for its hateful ideals:
#AltRightMeans the slip on your hood is showing

— LOLGOP (@LOLGOP) August 25, 2016
#AltRightMeans loving the KKK but being unable to afford the membership dues

— Soy Juan Miller (@EveryTrumpFan) August 25, 2016
#AltRightMeans "I'm a white supremacist who doesn't have the fortitude to call myself a white supremacist"

— [Over It] in Baldwin (@angryblackhoemo) August 25, 2016
Photo: Stephen Bannon CEO of Republican presidential nominee Donald Trump's campaign is pictured during a round table with the Republican Leadership Initiative at Trump Tower in the Manhattan borough of New York, U.S., August 25, 2016.   REUTERS/Carlo Allegri