Clinton, Trump Edge Closer To Party Nominations, Sanders Softens His Confrontational Tone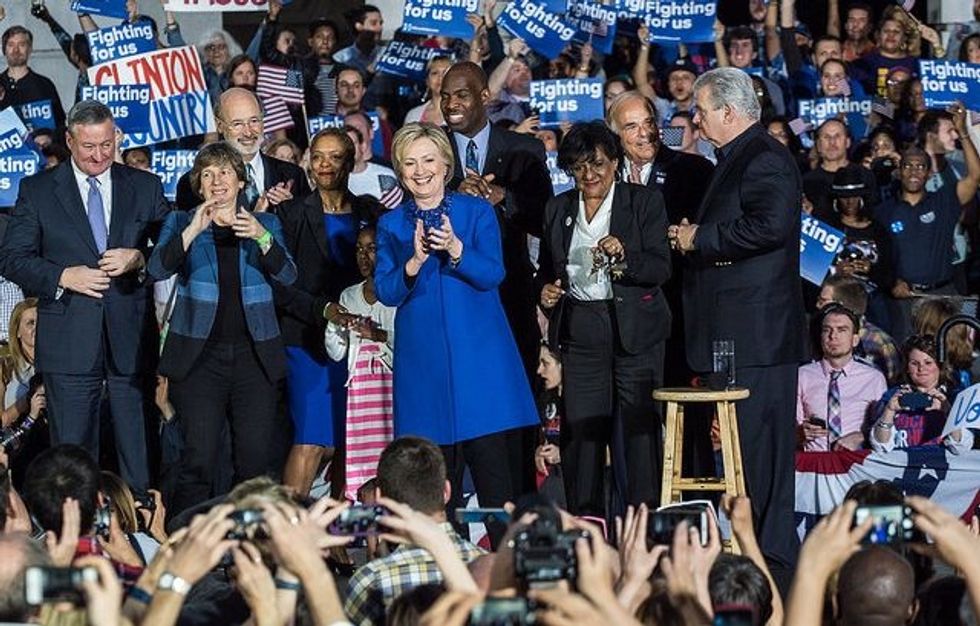 Donald Trump moved closer to the Republican nomination on Tuesday as he swept five mid-Atlantic primaries, while Bernie Sanders slipped further behind Hillary Clinton—despite winning the smallest state, Rhode Island, and promising to keep campaigning to influence the Democratic Party's agenda.
Sanders' top campaign aides said they would meet Wednesday to discuss their plans for the rest of the race—where they vowed to compete in all of the states including California. But they began to telegraph they'd be pleased if the Democratic Party embraced his core proposals such as making public universities tuition free and paying for that with a Wall St. trading tax.
"We are going to continue to work to be the nominee of the party," strategist Tad Devine told NPR, saying they will still try to convince the party that he is a better candidate against Trump—especially if he wins California. But that posture was tempered by the reality that they began Tuesday 240 pledged delegates behind Clinton and ended the day more than 300 delegates behind Clinton.
"Bernie has made it clear that it's very important that the next president be a Democrat," Devine said. "Whatever happens in terms of the outcome of this process, he's going to support the Democratic nominee for president."
Clinton, speaking in Philadelphia after winning Pennsylvania, which had about half of Tuesday's Democratic delegates in play, as well as winning Maryland and Delaware soon after polls closed, praised Sanders and his supporters—more than suggesting she saw herself as the nominee. (In Connecticut, the fifth state voting Tuesday, Clinton led slightly, meaning they would split the delegates.)
"I applaud Sen. Sanders and his millions of supporters for challenging us to get unaccountable money out of our politics, and giving greater emphasis to closing the gap of inequality—and I know together that we will get that done," Clinton said. "Because whether you support Sen. Sanders or you support me, there's much more that unites us than divides us."
"We all agree that wages are too low and inequality is too high, that Wall Street can never again be allowed to threaten Main Street, and we should expand Social Security—not cut or privatize it," she continued. "We Democrats agree that college should be affordable to all, student debt shouldn't hold anyone back."
Tough Night for Progressives
Down the ballot, a handful of progressives running for Congress also had disappointing nights, led by four-term Maryland Congresswoman Donna Edwards' loss to Congressman Chris Van Hollen in a bid for that state's U.S. Senate nomination. Edwards was backed by many progressives who wanted her to be the nation's second African-American woman senator.
One silver lining for progressive primary candidates on Tuesday seemed to be Jamie Raskin, a Maryland state senator and constitutional law professor who was leading in the Democratic primary for the House seat that Van Hollen gave up to run for the Senate. Raskin was running against high-profile candidate Christie Matthews, wife of longtime MSNBC host and Beltway establishment figure Chris Matthews. The winners of Maryland's Democratic primary are expected to be elected in November.
In Pennsylvania, Katie McGinty, an environmentalist-turned-regulator who worked in Bill Clinton's White House, won the Senate primary, putting a strong Clinton ally in the position to challenge one of the most vulnerable Republican incumbents, Sen. Pat Toomey. That race is seen as one of a handful in 2016 where Democrats might retake a Senate majority.
Trump Sweep
But most of all, Tuesday's primaries belonged to Trump. He won handily in Pennsylvania, Maryland, Connecticut, Rhode Island and Delaware—getting more than 60 percent in several states. The delegate math is more complex on the GOP side than the Democratic side, but he ended the day with more than 925 delegates of the 1,237 needed for the nomination on the first vote at the Republican National Convention.
"I consider myself the presumptive nominee," Trump said, replying to press questions after a short speech from New York City. "You know the best way to beat the system is having things like this, where you get record-setting votes, where you get record-setting delegates. I use the analogy of the boxer. When the boxer knocks out the other boxer, you don't have to wait around for a decision."
It also appeared after Tuesday that Ted Cruz cannot win enough delegates in the remaining 10 states that have not yet voted to win the nomination on the first vote, according to media experts tracking delegate totals. Cruz's team said that should he win Indiana's primary next week that Trump will not clear the 1,237 delegates needed for first ballot nomination, launching the first contested national political convention in decades.
That strategy is the latest embraced by the GOP's stop-Trump faction. This weekend, Cruz and John Kasich announced a deal to stay out of each other's way in a few upcoming states—with Kasich staying out of Indiana and Cruz staying out of Oregon—to thwart Trump. However, a day later Kasich made statements casting doubt on that deal, and Oregon media reported that he does not even have a candidate statement in its state primary voter guide.
Steven Rosenfeld covers national political issues for AlterNet, including America's retirement crisis, democracy and voting rights, and campaigns and elections. He is the author of "Count My Vote: A Citizen's Guide to Voting" (AlterNet Books, 2008).
Photo Credit: Flickr/ Hillary For America.