Cliven Bundy Endorses Armed, Illegal ATV Protest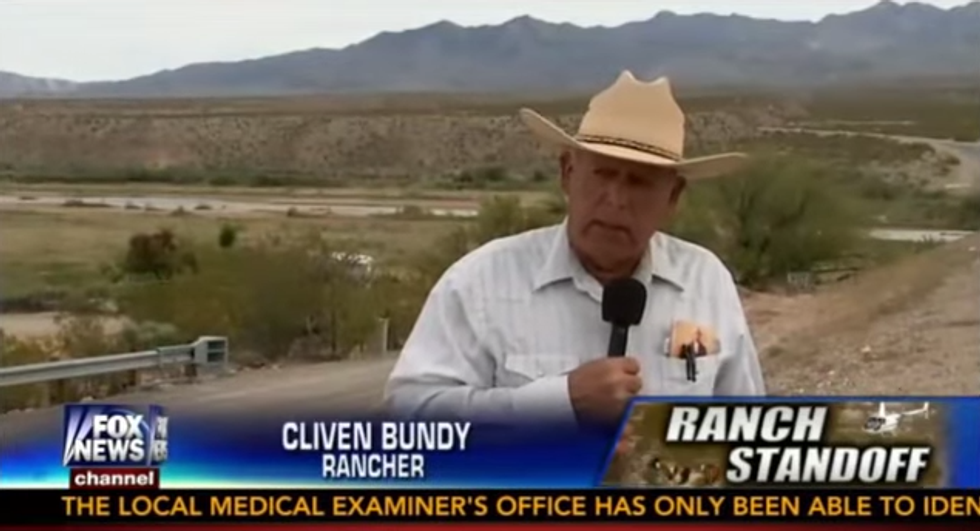 Cliven Bundy, the racist Nevada rancher who became a right-wing hero for refusing to pay more than $1 million in owed grazing fees, won't be surrendering his 15 minutes of fame just yet.
On Saturday, Bundy advised his supporters to take part in another anti-government protest in neighboring Blanding, Utah to take back federally protected public land.
The protest was organized by San Juan County Commissioner Phil Lyman (R-UT), who had called on protesters to join him in "assert[ing] county jurisdiction in the face of federal 'overreach.'"
Bundy agreed and in an email to supporters stated, "We need to help the people of Blanding re-establish who is in control of the land. This is your next stand. Will you be there to help them like you helped us?"
The disagreement over access to Recapture Canyon has been brewing for years. A plan to build a 14-mile path for all-terrain vehicles has been in the works for over eight years, but no real progress has ever been made towards its completion. In December the Bureau of Land Management sought public input on a proposed path, but that was the extent of its effort to move this plan forward and appease the ATV enthusiasts in the area.
While Recapture Canyon is public land open to hikers and horseback riders, the BLM closed the cultural site to any motorized recreational use in 2007 after extensive damage was done to archaeological sites by ATV riders using unauthorized trails.
"Recapture Canyon is public land belonging to all Americans and contains ancient cultural sites and artifacts that are at serious risk of being destroyed or damaged," BLM director Juan Palma said in a news release at the time. Recapture Canyon is the homeland of ancestral Puebloans, and contains archaeological evidence that proves the land was occupied for at least 2,000 years.
At Bundy and Lyman's behest, roughly 200 people, some armed, assembled at a park near the canyon where Lyman proposed taking an illegal ATV ride through the protected land. Some objected, but Lyman declared that the land belongs to the people, and they therefore have the right to ride despite the long-standing law. Bundy's sons Ryan and Aamon were also in attendance. It was Aamon who reportedly urged riders to follow Lyman and take part in the protest.
Protestors mounted their ATVs and followed Lyman through the preserved area of Recapture Canyon against the direct request of BLM director Palma.
Mark Maryboy, a former Navajo Nation Council delegate said, "Those ancient sites are the equivalent to churches. It's very disappointing that they have no respect for Native American culture."
Governor Gary Herbert (R-UT) released a statement saying he would be working with the BLM during its investigations and urged Utahns to "uphold the law and not do anything that could disrupt public safety."
Former BLM director Patrick Shea told The Los Angeles Times that he has always been afraid of violence perpetrated by those with anti-government sentiments. Shea said of these citizen militias, "They're just roaming bands of loners who want to pretend they're 19th-century cowboys. They scare me. If someone gets drunk or angry and decides to use their weapon, then we have bloodshed. And there's always a loose nut who's going to show how much testosterone he has."
People like Bundy and Lyman believe their anti-government views and protests are the beginning of a movement, even comparing their actions to those of Rosa Parks. The precedent that Bundy and now Lyman, an elected public official, are setting is not only misguided but dangerous as well.
Screenshot: YouTube
To keep up with the latest on Cliven Bundy and his supporters, sign up for our free daily newsletter.