No Clues In MH370 Cockpit Transcript As Search Wears On
@AFP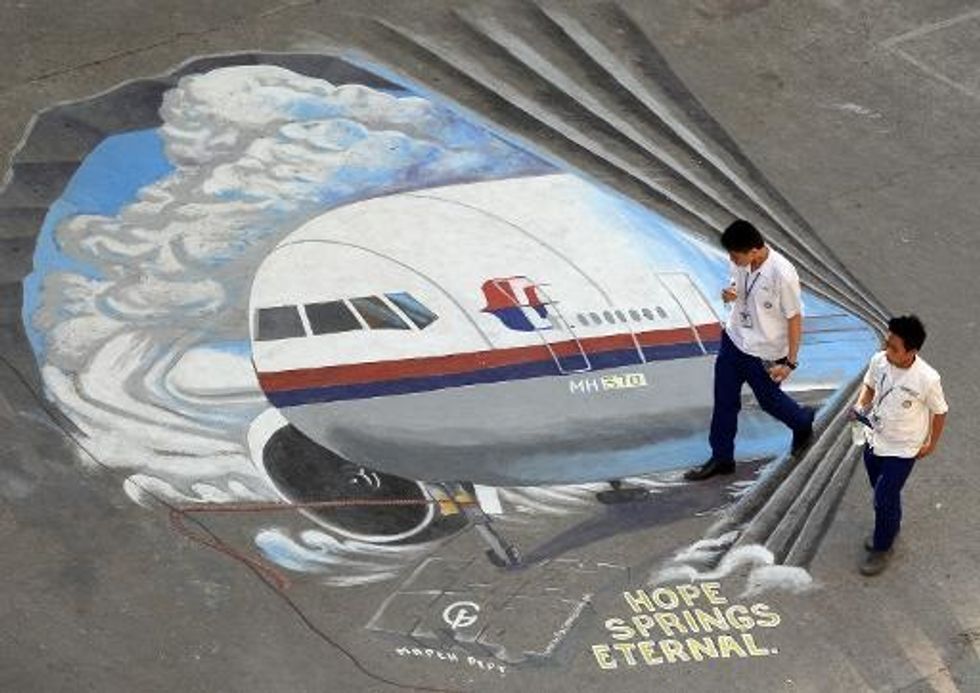 Kuala Lumpur (AFP) — Malaysia revealed the full radio communications with the pilots of its missing flight Tuesday, but the routine exchanges shed no light on the mystery as an Indian Ocean search for wreckage bore on with no end in sight.
The previously unreleased conversations between MH370's pilots and air traffic controllers had been the subject of much speculation as suspicions have focused on whether one or both of its pilots deliberately diverted the plane on March 8 with 239 people aboard.
But they revealed nothing about what happened aboard the ill-fated jet.
"There is no indication of anything abnormal in the transcript," a Malaysian government statement said of the 43 separate transmissions over nearly 54 minutes, which were thick with air-traffic and navigational jargon.
Hours earlier, Australia counselled against expectations of quick success in the difficult task of recovering the Malaysia Airlines plane's "black box" for clues into what might have happened to the jet.
Despite an extensive multinational search in remote Indian Ocean waters southwest of Perth where Malaysia believes the plane went down, nothing has been found that would indicate a crash site.
Retired Australian air chief marshal Angus Houston, who is heading a new coordination center in Perth, called it the most challenging search and rescue operation he had ever seen.
"I say that because the starting point whenever you do a search and rescue is the last known position of the vehicle or aircraft. In this particular case, the last known position was a long, long way from where the aircraft appears to have gone," he said.
He added the search — 10 planes and nine ships from several countries took part Tuesday — "could drag on for a long time."
Malaysia believes the flight, en route from Kuala Lumpur to Beijing, was deliberately diverted by someone on board and flown for hours before crashing.
Pilot Zaharie Ahmad Shah, 53, and co-pilot Fariq Abdul Hamid, 27, have come under intense scrutiny, especially amid conflicting reports about the final words in the cockpit and whether they indicated trouble or an intent to commandeer MH370.
But the transcript gave no hint of either as Malaysian air traffic controllers bid the plane "good night," and instructed the pilots to contact controllers in Vietnam, over which the plane was due to fly.
In the final entry from just after 1:19 am one of the MH370 pilots responded with an innocuous, "Good night, Malaysian Three Seven Zero."
Malaysia Airlines had said previously the last words were believed uttered by First Officer Fariq, but the statement said the ongoing investigation was yet to confirm that.
Shortly after the final message, communications were cut and the Boeing 777 vanished from civilian radar.
Tuesday's developments meant another day of frustration for anguished families desperate for firm information on what happened to their loved ones.
The battery-powered signal from the plane's black box — which records flight data and cockpit voice communications that could indicate what happened to the plane — usually lasts only about 30 days.
Australian vessel Ocean Shield, fitted with a U.S.-supplied black box detector, left Perth on Monday for the search zone but is three day's sail away.
Australian Defense Minister David Johnston admitted there was only a slim chance the black box would be found since the crash location remains unknown.
"We've got about a week (left), but it depends on the temperature of the water and water depth and pressure as to how long the battery power will last," he told Australian radio.
Authorities are scouring a massive expanse of ocean for debris. If found, they plan to analyse recent weather patterns and ocean currents to track back to where the plane went down.
Malaysian Prime Minister Najib Razak is expected in Perth on Wednesday to tour the air base being used as a staging post.
Malaysia's handling of the crisis, marked by piecemeal and occasionally contradictory information, has been widely questioned, especially by disconsolate relatives of the 153 Chinese nationals aboard.
Many of them have alleged incompetence or even a cover-up by Malaysia, straining ties between the two countries, but the rhetoric has eased off in recent days.
A survey released Tuesday by Merdeka Center, Malaysia's leading polling firm, said less than half of Malaysians — 43 percent — were satisfied with the government's handling of the crisis, while 50 percent were dissatisfied.
The question was posed between March 13 and March 20, before many fed-up Malaysians began to hit back against the foreign criticism, particularly from China.
International Air Travel Association (IATA) head Tony Tyler said, in the wake of MH370, the industry should implement improvements in how aircraft are tracked in flight.
"We cannot let another aircraft simply vanish," he said in a statement at an aviation conference in Kuala Lumpur.
AFP Photo/Ted Aljibe