CNN Is Paying Stephen Moore To Lie To Its Viewers About Health Care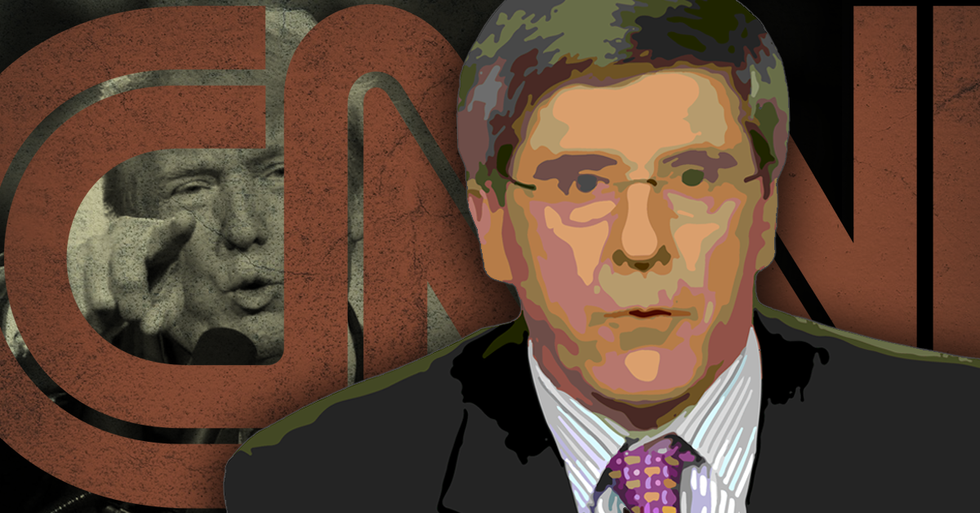 Reprinted with permission fromMediaMatters.
Discredited economic pundit and former Trump campaign adviser Stephen Moore continues embarrassing CNN during news segments with his supposed policy expertise. Media Matters compared two of Moore's recent appearances — one in which he appeared alongside a credentialed policy expert, and one in which he faced only an ill-prepared network host — and found distinct differences in the tone of each discussion. These differences demonstrate the dangers of news outlets continuing to rely on unscrupulous hangers-on from the Trump administration to comment on policy issues.
Over the years, Media Matters has chronicled Moore's shoddy predictions, intentional misinformation, and misleading claims. Despite ample evidence of Moore's gross incompetence as an economic analyst, CNN still hired him in January under the guise of "senior economics analyst" to serve as a sort of in-house surrogate for the Trump administration. Moore has spent his time at CNN undermining his colleagues and embarrassing his network while ceaselessly parroting the Republican Party's agenda. His shameless defense of the president's unfounded reasoning for withdrawing from the Paris climate accord even led Columbia University economist Jeffrey Sachs to blast CNN on its own program for maintaining a relationship with the pundit.
Moore's two appearances late last week underscore how problematic he is as an employee of a news network and reveal how CNN ought to handle his future appearances.
During the July 13 edition of CNN's Anderson Cooper 360, Moore was interviewed alongside University of Chicago economist Austan Goolsbee about the Republican-led Senate's floundering proposal to repeal and replace the Affordable Care Act (ACA). Moore opened the segment by endorsing an amendment authored by Sen. Ted Cruz (R-TX), which experts believe would restrict coverage options and increase costs for Americans living with pre-existing conditions. He misleadingly blamed the ACA for increasing health care costs — prices are actually "rising at historically low levels" since the law went into effect — and encouraged the use of so-called "catastrophic" insurance policies, which provide limited packages to young individuals at low cost and are considered inadequate by health care experts. Luckily for CNN viewers, Goolsbee — a former chairperson of the Council of Economic Advisers and college debate champion — was there to provide pushback to these false and misleading claims:
Compare Goolsbee's repeated fact-check of Moore's misstatements to another Moore appearance in which CNN did not host an economic policy expert to counter the conservative pundit.
On the July 14 edition of CNN's Wolf, Moore sat for an interview with guest host Jim Sciutto, the network's chief national security correspondent, to discuss the same topics and was allowed to promote his right-wing agenda virtually unchallenged. Moore falsely claimed that catastrophic health insurance plans could save middle-class families thousands of dollars and got away with an unsubstantiated guess that politically, the GOP bill's reduction of insurance premiums outweighs the fact that it would strip coverage from 22 million people. When Sciutto questioned him about the fact that repealing ACA would harm millions of Americans who receive Medicaid, Moore promoted the right-wing lie that "Medicaid is one of the worst insurance systems" and low-income Americans would be better off without it. Sciutto did not challenge Moore when he falsely claimed that the ACA repeal process in 2017 is "déjà vu all over again" compared to how the law was passed in 2010 when, according to Moore, then-President Barack Obama "had to buy those last couple of votes in Senate to get there." In reality, the ACA passed 60-39 with the support of every Democrat in the chamber, whereas the current Senate bill has yet to get 50 supporters among 52 Republican senators:
Moore's partisan talking points can be easily unraveled by competent analysts and experts; his attempt to promote the same right-wing fallacies about health care was rebutted by health care expert Andy Slavitt during the July 10 edition of New Day. In fact, his dissembling can be easily countered if the interviewer is adequately prepared. But since Moore is a professional misinformer who has spent years honing his craft, if an interviewer is ill-prepared, the segment can quickly devolve into Moore amplifying his routine talking points, which serve only his conservative political agenda.
Header image by Sarah Wasko / Media Matters