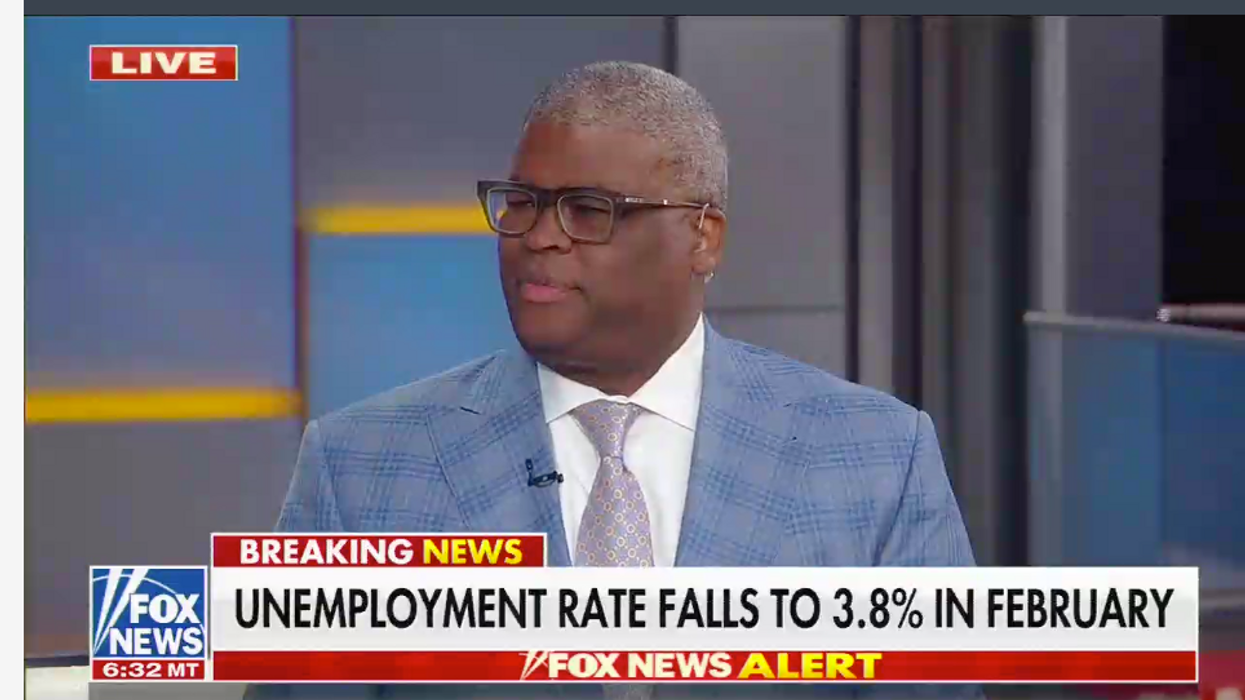 A strong monthly jobs report from the Bureau of Labor Statistics (BLS) beat expectations last week, but Fox & Friends struggled to characterize it, absurdly claiming that the numbers reported by the government had missed expectations while arguing with no evidence that the data were unreliable.
On March 4, the BLS released its initial jobs report for February 2022, which showed the economy creating 678,000 jobs last month as the national unemployment rate fell slightly to 3.8 percent. The report also included substantial positive revisions to the jobs estimates for December 2021 and January 2022, showing job creation over that period to be "92,000 higher than previously reported." The topline job creation number for February easily exceeded expectations reported by MarketWatch and Reuters, which forecast 400,000-440,000 jobs created last month.
None of these facts were good enough for the team at Fox News, which honestly seemed almost unprepared to discuss the breaking news. The Fox & Friends studio at first struggled with audio issues when returning from commercial break, and then flashed a red upward arrow on screen seeming to indicate that the unemployment rate had climbed last month (the rate actually fell 0.1 points). After correspondent Carley Shimkus finished reporting the numbers, noting twice that the monthly jobs report beat expert expectations, all three co-hosts — Pete Hegseth, Brian Kilmeade, and Ainsley Earhardt — fumbled their transition to discussing the jobs report with Fox Business host Charles Payne.
The absurdity continued during Payne's supposedly expert commentary, as he claimed without any evidence or reasoning that he "thought it was going to be a higher number," saying the report was "really weird." When pressed by co-host Pete Hegseth about the fact that the report actually beat expectations, Payne doubled down, falsely claiming "everyone thought it was going to be higher." As Payne listed off made-up expectations and unnamed sources who thought the economy would add 770,000 or more jobs last month, a graphic again flashed on-screen demonstrating that the 678,000 jobs added last month were more than the 400,000 "predicted" by economists.
PETE HEGSETH (CO-HOST): Charles Payne is here, host of Making Money on Fox Business, who is going to help us break down these numbers. Your reaction, Charles?

CHARLES PAYNE (FOX BUSINESS HOST): I thought it was going to be a higher number, I really did. Now, this is not unusual that they missed, and this is really weird. Let me just explain to the audience.
HEGSETH: Okay now, higher number – this is a higher number than expected?
PAYNE: Than consensus, right. But, everyone thought it was going to be higher. I saw some folks on Wall Street at 770, and some even higher than that. Just so you understand how this consensus things [sic] works. Last month, it was 300,000 better, but the month before that they missed it by 200,000, the month before that they missed it by 340,000. In August of last year, they missed it by 515,000. Forget about it, go back to April 2020, and they missed it by 2.2 million. You know, so, the consensus thing, let's look past that for a moment.
We've got almost 11 million job openings, we're still not at the participation rate we were at just before the pandemic. So, this is a good number, but it could have been even better than this. For me, what's more important is participation, I don't know what that is just yet, because we want people coming back to the labor force, right. Also, wages. Now, wages were expected to go up 5.8 percent. Normally that's good, but we're going to find out next week that inflation, during this same time period, probably up more than 8 percent. So that means any raise you got was evaporated.
Throughout Payne's commentary, he seemed confused about how the BLS reporting process works, and he ignored a key component of the entire process by which numbers are revised over time. For example, Payne said that the previous jobs report for August 2021 had missed its expectations by 515,000 jobs, totally ignoring the fact that subsequent revisions had made up for half that gap.
Payne also struggled to explain how economic forecasters form "consensus" expectations, and complained about low labor force participation rates, even though the report he held in his hand showed an increase in that rate from month-to-month.
Eventually, the Fox & Friends team got their footing and returned to the bread and butter misinformation we've come to expect from Fox News. Unable to coherently describe the economic data in front of their eyes, the team pivoted to complaining about President Joe Biden's energy policies and mocking teenage climate activist Greta Thunberg for somehow contributing to both increased gas prices and Russian aggression in Ukraine.
Fox's almost comical hot takes on the routine data release stand as a reminder that the Fox News propaganda machine will never miss an opportunity to cast the economy in a negative light, so long as it reflects poorly on Democrats.
Reprinted with permission from Media Matters