House Republicans Target Bob Mueller, FBI With Fox News' Uranium One Smear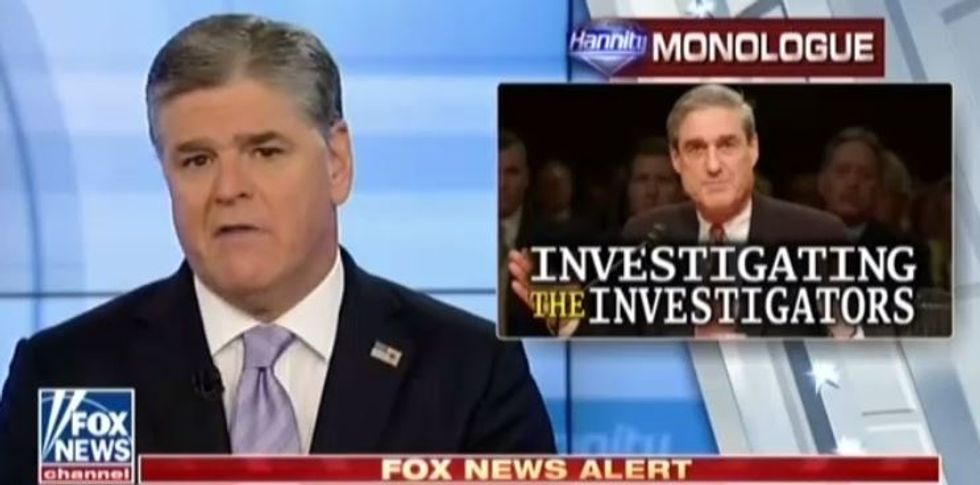 Reprinted with permission from MediaMatters.
Taking their cues from Fox News host Sean Hannity, three Republican congressmen introduced a resolution in the House demanding special counsel Robert Mueller step down from his role of investigating possible collusion between associates of President Donald Trump and agents of the Russian government.
On November 3, Politico reported that Reps. Matt Gaetz (R-FL), Andy Biggs (R-AZ), and Louie Gohmert (R-TX) introduced a measure that "while nonbinding, would put the House on record as describing Mueller … as unfit" to lead the Trump-Russia investigation, "because of his relationship" with former FBI Director James Comey, and his handling of an FBI investigation in 2010 when he was the head of the bureau. The representatives claimed that Mueller and the FBI are compromised because of their supposed neglect to adequately investigate "a seven-year-old sale of uranium production facilities to Russian interests," according to Politico, which right-wing media falsely believe was inappropriately approved by then-Secretary of State Hillary Clinton:
"[B]e it Resolved, That House of Representatives expresses its sense that Robert Mueller is compromised and should resign from his special counsel position immediately," the resolution states.

[…]

Mueller, they note, was presiding over the FBI at the time the agency was investigating a Russian bribery and extortion scheme connected to the uranium deal, but the agency declined to notify Congress of its investigation and prevented a confidential informant from notifying lawmakers.

"Any thorough and honest investigation into the corruption of American-uranium related business must include investigating the willful blindness of the FBI and its leaders," according to the resolution.
The demand for Mueller's resignation from lawmakers in Congress comes after months of attacks leveled by pro-Trump media. But their conspiratorial focus on Mueller's supposed involvement in a uranium deal reveals the extent to which many Republicans may be taking their cue from Fox News, particularly Sean Hannity.
Just three weeks ago, right-wing journalist John Solomon authored a flimsy article in The Hill, which revived the debunked Uranium One conspiracy theory. Hannity rushed to amplify the story, claiming the real collusion was between Clinton and Russia while impugning Mueller's character. As recently as October 24, Hannity encouraged Congress to call on Mueller to testify about his "past role" in the Uranium One story, adding "there's no way the American people can trust Robert Mueller to investigate anything Russia related, to be fair and impartial, it's impossible because of his past role in this. He should resign immediately, tonight." In a November 1 tirade, Hannity hyped "massive conflicts of interest coming from the special counsel, Robert Mueller, and his team" calling them "beyond shocking" and "beyond disturbing." Hannity alleged that the special counsel investigation "has become a partisan witch hunt that is now rotten to the core" before attempting to tie Mueller to the alleged uranium plot. Hannity also suggested that Mueller might have an ax to grind with Trump after not being chosen to replace Comey at the FBI.
Fox News has became fully invested in stoking the conspiracy theory, despite the fact that none of the right-wing talking points about it are true — and they are embarrassingly easy to fact check. Rep. Biggs himself appeared on the October 28 edition of Fox News' America's News HQ and falsely suggested Mueller had "a conflict of interest" in investigating Trump because "he's tied back to the original Uranium One scandal."
The recent right-wing hysteria around Uranium One is peculiar given that it first gained public attention in April 2015 with the publication of Republican opposition researcher Peter Schweizer's deeply flawed anti-Clinton oppo dump. Schweizer falsely alleged that Clinton used her position to promote the sale of American uranium assets to state-owned Russian entities in exchange for donations to the Clinton Foundation. Those allegations were quickly debunked after reporters began reviewing the sale (hint: Clinton played virtually no role) and Schweizer was later forced to admit part of his argument was a lie. But Fox News never gave it up. Indeed, just last night, Hannity told Schweizer that he was proud to have hosted the first interview for Schweizer's discredited book while boasting about his constant recent coverage of the Uranium One story.
Previously, Fox hosts and guests have baselessly accused Mueller of leaking damaging information about the Trump-Russia inquiry to the press in hopes of building up the public's distrust in him. Now, in the wake of key members of the Trump campaign team getting indicted, Trump's conservative media sycophants seem to hope that the bogus Uranium One conspiracy theory will succeed in derailing Mueller's efforts.