Trump Drives Misleading News Coverage 140 Characters At A Time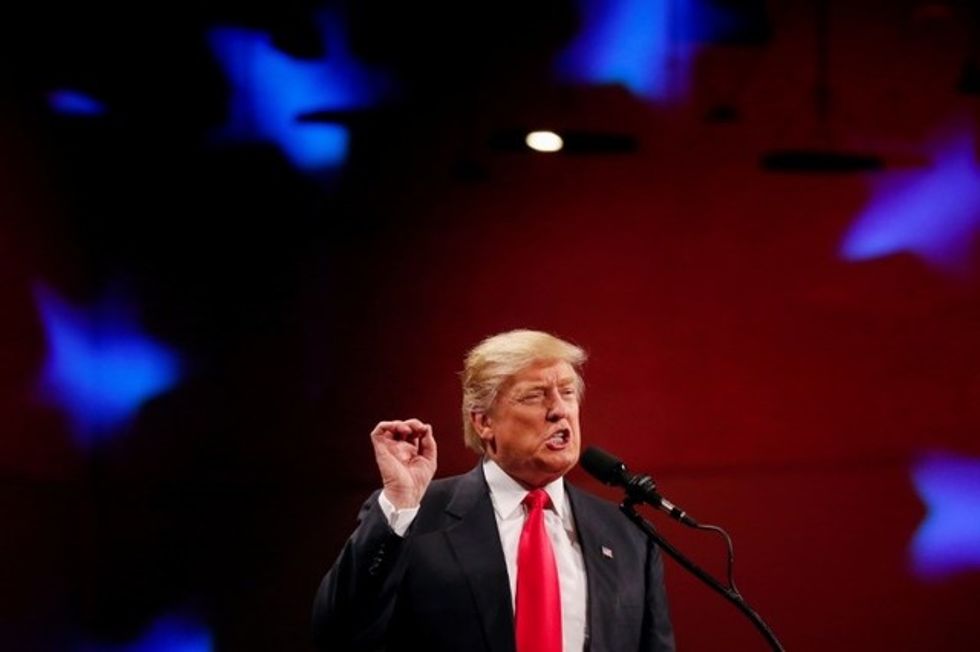 Reprinted with permission from Media Matters.
Since his victory, President-elect Donald Trump has used his Twitter account to generate positive news about himself across the spectrum of media platforms, implanting misleading narratives about his business and economic acumen into national news — sometimes for days at a time. Reports on the tentative nature of jobs he had supposedly "saved" at an Indiana factory offer a perfect example of why journalists should be wary of treating the president-elect's boasts as newsworthy.
On November 30, Fortune magazine reported that Trump had struck a deal with Indiana-based appliance manufacturer Carrier to provide taxpayer-funded incentives to the company if it agreed to keep several hundred jobs in the United States. In a tweet, Trump boasted that he would soon meet "the great workers of Carrier," proclaiming that "they will sell many air conditioners!" Broadcast and cable news outlets heaped praise on the president-elect's "symbolic coup." In a December 1 speech at the Carrier facility in Indianapolis, Trump took credit for saving "over 1,100 jobs" and said the number of jobs kept safe "is going to go up very substantially."
A few days later, the flimsy Carrier story had completely fallen apart.
Initial reports detailed how, in exchange for a multimillion dollar handout, the manufacturer was only keeping some jobs in Indiana — the rest were still going to Mexico. By December 6, Chuck Jones, the president of the United Steelworkers (USW) Local 1999, was irate that hundreds of union jobs were still scheduled to be outsourced after Trump had promised to save them, according to The Washington Post. "For whatever reason," said Jones, the president-elect "lied his a– off." During a December 7 interview with CNN, Carrier employee T.J. Bray compared the farce to "a dog and pony show" and expressed his disappointment that "we are still losing a lot of workers."
On December 9, CNNMoney reported that some of the millions of taxpayer dollars doled out as part of the Carrier deal "will be invested in automation" that will soon "replace some of the jobs that were just saved." According to Carrier, automation is the only way they can compete with low-cost labor in Mexico. CNNMoney correctly reported that the sharp decline in American manufacturing employment is "thanks in large part to more efficient factories." Workforce automation has been a fact of life since the 1800s, but that point was obfuscated by Trump, who misled workers at Carrier and around the country, many of whom think they are losing their jobs to free trade and immigration.
The days-long saga of news outlets cutting through the spin on this Carrier deal, which included the president-elect attacking Chuck Jones on Twitter, resulting in Jones receiving death threats from Trump supporters, follows a familiar pattern.
Trump tweeted that he had single-handedly kept a Ford plant from moving to Mexico, on November 17. Conservative media outlets rushed to give him credit and many mainstream outlets followed suit, but, upon further investigation, it turned out that Ford's decision had nothing to do with Trump. The plant "was never moving to Mexico" to begin with and no jobs were on the chopping block.
On December 6, Trump tweeted that "costs are out of control" on what he claimed was a "more than $4 billion" contract between Boeing and the U. S. government to update Air Force One. Trump concluded his tweet with "Cancel the order!" As Trump's tweet drove news coverage, Boeing shares plunged more than 1 percent — an almost $1 billion hit to the company's market capitalization. Hours later, a fact-check from The Washington Post revealed that almost every word in the tweet was exaggerated, false, or misleading but the damage had already been done. Trump's intervention set such a dangerous precedent that even Fox News' Karl Rove was aghast.
Later on December 6, Trump staged an impromptu press availability in the elevator lobby of Trump Tower with Japanese telecommunications mogul Masayoshi Son. In a brief statement and corresponding tweets, Trump claimed credit for landing a $50 billion investment commitment that would create 50,000 jobs and national media spent the rest of the day praising him. ThinkProgress editor Judd Legum predicted that Trump's "formula for manipulating the public" through "substance-free tweets" and fawning media would succeed because "people will have largely moved on" by the time reporters uncovered the details. He was right. The next morning, reports from The Wall Street Journal, CNBC, and CNN showed that Trump may have had little influence on the deal.
The problem of media amplifying his misinformation isn't confined to economic policy. A November 27 tweet falsely claiming Hillary Clinton received "millions" of illegal votes generated so much media attention that it has become gospel for many Trump supporters. PolitiFact, which traced the illegal voter conspiracy to Trump ally and 9/11 truther Alex Jones, rated the claim "False", calling it "obscenely ludicrous."
The fact that Trump's boasts always seem to crumble in the face of modest scrutiny is a telling sign. Media outlets need to stop letting Trump's tweets dictate and drive the news cycle and stop accepting his self-promotion at face value.
IMAGE: U.S. President-elect Donald Trump speaks at the USA Thank You Tour event at the Iowa Events Center in Des Moines, Iowa, U.S., December 8, 2016. REUTERS/Shannon Stapleton/File Photo