Coca-Cola Takes Heat For Funding 'Energy Balance' Group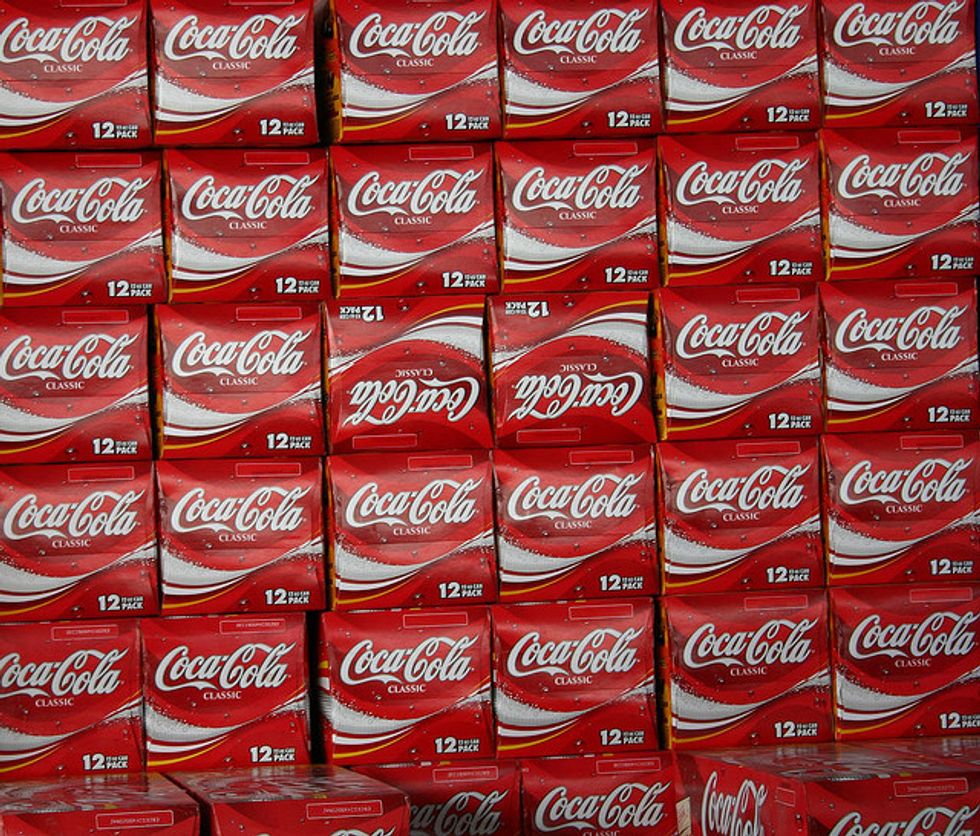 By Leon Stafford, The Atlanta Journal-Constitution (TNS)
ATLANTA — Coca-Cola found itself on the defensive Monday after a report said the beverage giant had been secretly funding a "scientific" group that says Americans are getting fatter because of a lack of physical fitness — not sugary drinks.
The group, Global Energy Balance Network, bills itself as a not-for-profit "dedicated to identifying and implementing innovative solutions — based on the science of energy balance — to prevent and reduce diseases associated with inactivity, poor nutrition and obesity."
But a New York Times report said the group did not reveal that its operations are financially backed by Atlanta-based Coke.
Coke did not directly respond Monday but said it supports efforts to cut Americans' calorie consumption.
Health officials and those who link consumption of sugary drinks to obesity and diabetes said the lack of transparency is part of a growing trend among some companies attempting to influence public opinion through scientific expertise.
Other examples include the American Council on Science and Health, the International Food Information Council and the Center for Consumer Freedom, author and blogger Vani Hari, also known as the Food Babe, wrote in a July blog on "hired" experts.
"They are trying to hijack the narrative, to cause confusion," said Dr. Mark Hyman, a physician with the UltraWellness Center in Lenox, Mass., and author of several books on diet and controlling blood sugar.
Coke has struggled to stop a domestic decline in consumption of its carbonated brands — such as Coke, Diet Coke and Sprite — which peaked in the late 1990s but have suffered as consumers switch to waters, teas and energy drinks because of obesity and health concerns.
The brands have seen an uptick in interest in smaller, 7.5-ounce and aluminum-bottle versions, which helped Coke report second-quarter profits of $3.11 billion, up from $2.6 billion a year earlier.
In a statement, Coca-Cola did not address the Times report that it funded the GEBN, but said it has joined with the American Beverage Association, the Alliance for a Healthier Generation and others to help every person reduce calorie consumption by 20 percent by 2025.
"Coca-Cola supports finding solutions to obesity, including funding scientific research. We recognize that moderation and diet play a pivotal role in managing health and weight in combination with exercise. In fact, we continue to take steps to help people manage their calories — whether it's through the introduction of smaller-sized packs, front-of-pack calorie labeling or innovation through new products such as Coca-Cola Life," the company said.
In a video on the Global Energy Balance Network's site, exercise scientist Steven Blair, of the Arnold School of Public Health at the University of South Carolina, said there is a need to find out what is actually causing the obesity epidemic and that more data is necessary.
"Most of the focus in the popular media and in the scientific press is 'Oh, they are eating too much' … blaming fast food, blaming sugary drinks and so on. And there's really virtually no compelling evidence that that, in fact, is the cause."
The Times story said Coke donated $1.5 million to start the GEBN last year and that its website, gebn.org, is registered to Coke headquarters in Atlanta.
Coke registered the website because network members did not know how, James Hill, a University of Colorado School of Medicine professor who is president of the group, told the Times.
"They're not running the show," he told the Times. "We're running the show."
The Times also said that since 2008, Coke provided close to $4 million for various projects for Blair and Gregory Hand, dean of the West Virginia University School of Public Health. Both are founding members of the organization.
Michael Jacobson, executive director for the Center for Science in the Public Interest, compared the tactics used by such groups to those employed by the tobacco industry when it was under fire.
"Professors routinely sell bits of their souls to companies, but it really should be an embarrassment to them," he said.
Joseph Agnese, an analyst for S&P Capital IQ, said he was neither shocked by the story nor does he think it will hurt Coke. He thinks the public has become accustomed to corporations using various tactics to spin information in their favor.
"People somewhat expect it," he said.
Photo: Coke is trying to hijack the conversation away from its allegedly harmful products, say many health and obesity experts and a section of the public. Kristin Andrus/Flickr