'Cocaine Congressman' Trey Radel Resigns; Bitter GOP Primary Ahead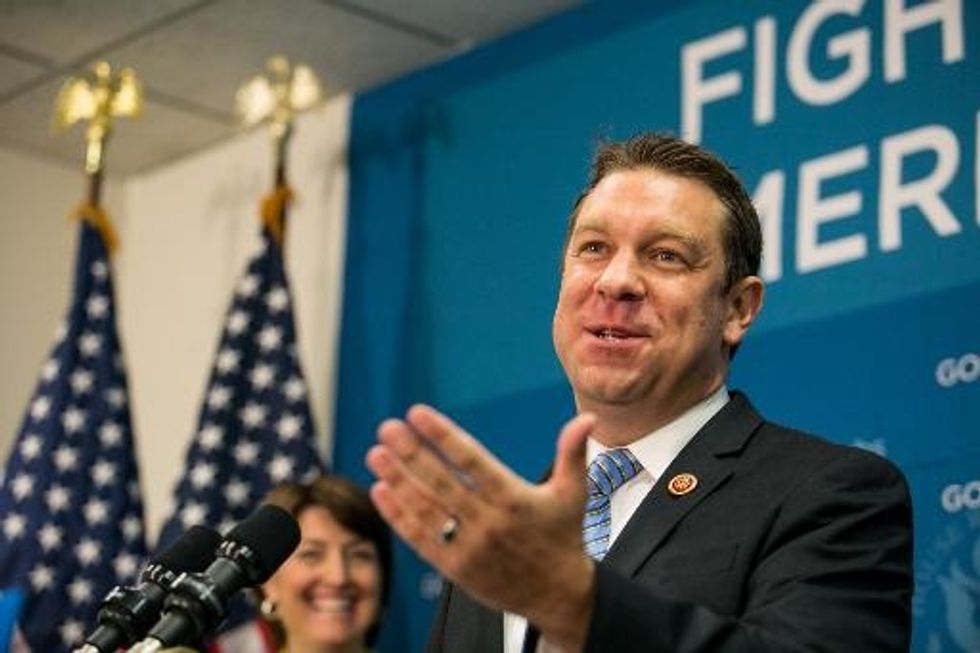 by Marc Caputo, The Miami Herald
MIAMI — In the fallout from his cocaine bust last year, Fort Myers, Florida, Congressman Trey Radel (R-FL) submitted his resignation Monday because, he said, he couldn't escape the "serious consequences" of his actions.
"While I have dealt with those issues on a personal level," Radel wrote to U.S. House Speaker John Boehner, "it is my belief that professionally I cannot fully and effectively serve as a United States Representative to the place I love and call home, Southwest Florida."
Radel, who will officially leave office at 6:30 p.m., announced he was quitting just as a House inquiry into his cocaine use started to get under way. Governor Rick Scott will call a special election to fill the vacancy.
In a sign of a looming and acrimonious intra-Republican Party squabble, candidates and potential candidates had already started jockeying to run for the seat. And they and their surrogates are already attacking each other.
Since last week, a Republican political committee and the state GOP have been feuding over rival ads involving announced candidate Paige Kreegel and Florida Senate Republican leader Lizbeth Benacquisto, who is expected to run for District 19.
Benacquisto is spending about $500,000 in her state Senate campaign money on ads.
That prompted a political committee called Values are Vital, which backs Kreegel, to counter with its own ads attacking her as "bait-and-switch Benacquisto." The committee accuses her of trying to boost her name ID and get around a federal ban on spending corporate donations, which fill her Senate account, for congressional campaigns.
Last week, the Republican Party of Florida weighed in on Benacquisto's behalf and told local TV stations to pull the "patently false" ads from Values are Vital, which is a so-called "SuperPAC."
The committee, in turn, defended the spots and attacked the state party for trying "to chill the First Amendment Rights of Values Are Vital … regarding the motivations underlying Senator Benacquisto's recent advertising campaign."
Former Congressman Connie Mack has talked to others about potentially running for the Fort Myers-based seat he used to have and former candidate Chauncey Goss hasn't ruled out a bid, either. Both Goss and Kreegel, a former state representative, ran against Radel and lost in 2012.
The congressional seat is solidly Republican. Mitt Romney won it with 61 percent of the vote in 2012, when the GOP presidential candidate lost statewide to President Obama by about a point.
Radel's resignation comes months after he was arrested for buying more than 3.5 grams of cocaine from an undercover cop in Washington in October.
Nicknamed the "cocaine congressman" thereafter, the 37-year-old political newcomer had planned to stay in his seat and rebuffed calls for him to step down from Scott, the state and local GOP and local newspapers.
By quitting, Radel effectively ends the House investigation into his drug use.
A group that filed a congressional complaint against Radel, Citizens for Responsibility and Ethics in Washington, issued a press statement noting the "suspicious timing" of his resignation. It called on Congress to investigate more.
"Who introduced the first-term lawmaker — who lived in Washington less than 10 months — to his drug dealer?" the group's executive director, Melanie Sloan, said in a written statement.
"Further, we know Rep. Radel shared his cocaine with others," she said. "Who, exactly? Given his short tenure in D.C., Rep. Radel most likely spent his free time with other members of Congress and Hill staff."
But Republicans in Washington and Florida, are focused for now on replacing Radel, not investigating.
From the district to Tallahassee to Washington, Benacquisto's potential candidacy has garnered a significant amount of buzz compared to Kreegel and the other potential candidates.
She plans to fly this week to Washington to meet this week with Republican strategists and financiers.
Relatively well-known in the area and telegenic, Benacquisto represents much of the congressional district already and is the only well-known potential female candidate in a party that is struggling to attract more women to its male-dominated ranks.
Kreegel, a physician, said he wanted to represent the district to tackle "Obamacare, to Washington's out-of-control spending, to the breaches of national security."
Both Kreegel and Benacquisto said Radel made the right call.
"I will consider the best way I can be of service to Florida and our region," Benacquisto said. "This includes talking to my neighbors, my friends, and my family to seek their guidance moving forward."
AFP Photo/Drew Angerer