Cocktail Culture: Meditation By Other Means
@FromaHarrop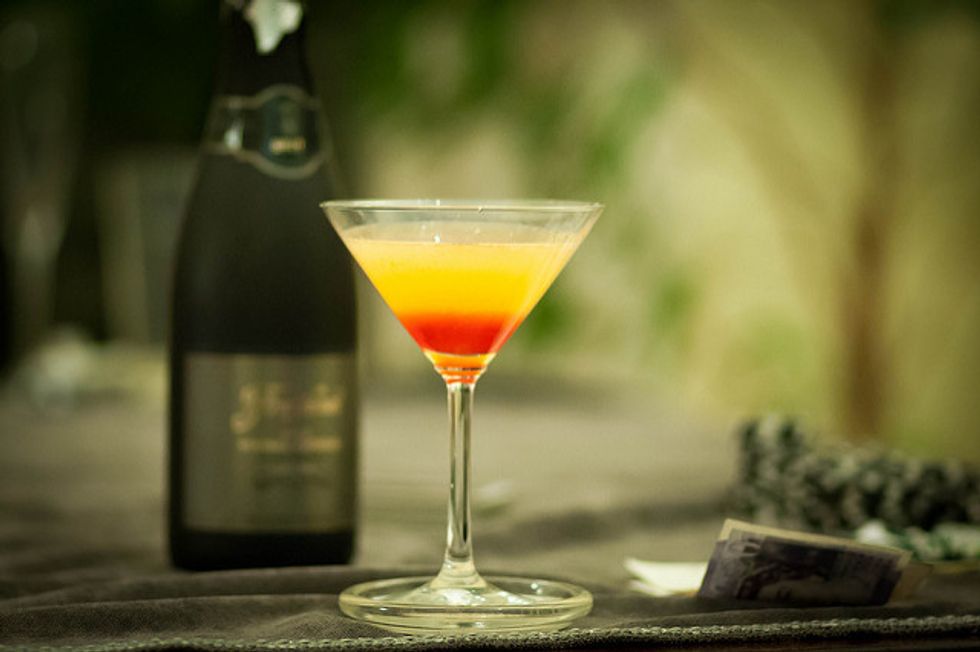 Stressed Americans seeking calm through decluttering and meditation might add a third activity: the cocktail hour. Whether at home or out, the cocktail hour usefully separated the workday from a presumably free evening.
The TV series Mad Men revived interest in this grown-up ritual. While showing the social benefits, it didn't ignore the downside of providing cover for alcoholism. In any case, no one was off in a corner snorting some white powder.
Cocktail culture required a certain dressing up out of respect for other participants. At its best, it bathed in beauty, taste and predictability. And those choosing not to ingest alcohol could share in the camaraderie.
The word "cocktail" appears in an 1803 issue of The Farmer's Cabinet as a drink "excellent for the head," but the mixing of distilled spirits and juices reached its apex in the 20th century. Prohibition (1920 to 1933) got it really going. Adding other ingredients cut down on the vile taste of bathtub gin.
Another kind of mixing in that era was of genders. Prohibition was the first time that respectable ladies and gentlemen could drink together.
In his 1948 classic, The Hour: A Cocktail Manifesto, Bernard DeVoto wrote, "The speakeasy was quietly decorated and happily illuminated, and both the pretense of secrecy and the presence of women enforced quiet behavior and good manners."
DeVoto was a great historian of the West. Here he let loose as a cosmopolitan snob.
Trigger warning! DeVoto's view of gender equality is delightfully retro to his fans but no doubt offensive to some feminists. His advice to a woman wanting to attract a man:
"He will equate sound liquor with sound gal and the second round will do things to your figure that Elizabeth Arden could not do for you in three months."
Country music singer Mickey Gilley expressed similar thoughts with greater wit in Don't the Girls All Get Prettier at Closing Time.
A wonderful overview of the aesthetics can be found in the book Cocktail Culture: Ritual and Invention in American Fashion, 1920-1980. Today's interest in cocktail culture, it explains, "attests to a nostalgia for the glamour and role playing of earlier eras."
The first cocktail fashions reflected the gaiety and novelty of coed drinking. Hollywood of the 1920s and '30s covered the women in satin dresses and non-subtle jewelry.
In the 1935 movie Roberta, Fred Astaire introduces a Paris collection of cocktail outfits as follows: "'Tis the hour for dry martinis. The Ritz bar is serving caviar and weenies. Madame is there. And from Roberta, she has something 'too divine' on."
The "cocktail hat" became a big hit during the Great Depression because women could more easily afford a hat than a dress. The cocktail hat was characterized by a small silhouette, feathers, a veil and sparkles.
In the 1950s, cocktail culture moved to suburbia, becoming less formal and more American. Women wore flowered cotton dresses, men Hawaiian shirts. Florida and California offered their own mid-century vision, centered on patios and swimming pools.
But even though cocktail napkins were decorated with silly pictures and recipes, the napkins were still made of cloth. And men didn't dream of going tieless to a sophisticated cocktail lounge.
Like many other civilizing influences, drinks at 6 went downhill in the 1960s. Proprietors of today's surviving elegant drinking establishments have to tell patrons "no jeans."
So put away the mobile devices and flush the illicit drugs down the drain. Cocktail culture is analog, and analog, we read, is again cool.
Said DeVoto at his wisest, "This is an hour of diminishing, of slowing down, of quieting." Sounds like meditation, doesn't it?
Follow Froma Harrop on Twitter @FromaHarrop. She can be reached at fharrop@gmail.com. To find out more about Froma Harrop and read features by other Creators writers and cartoonists, visit the Creators webpage at www.creators.com.
IMAGE: Adrian Scottow/Flickr