Coffee In Hand, Washingtonians Eagerly Return To Work
@AFP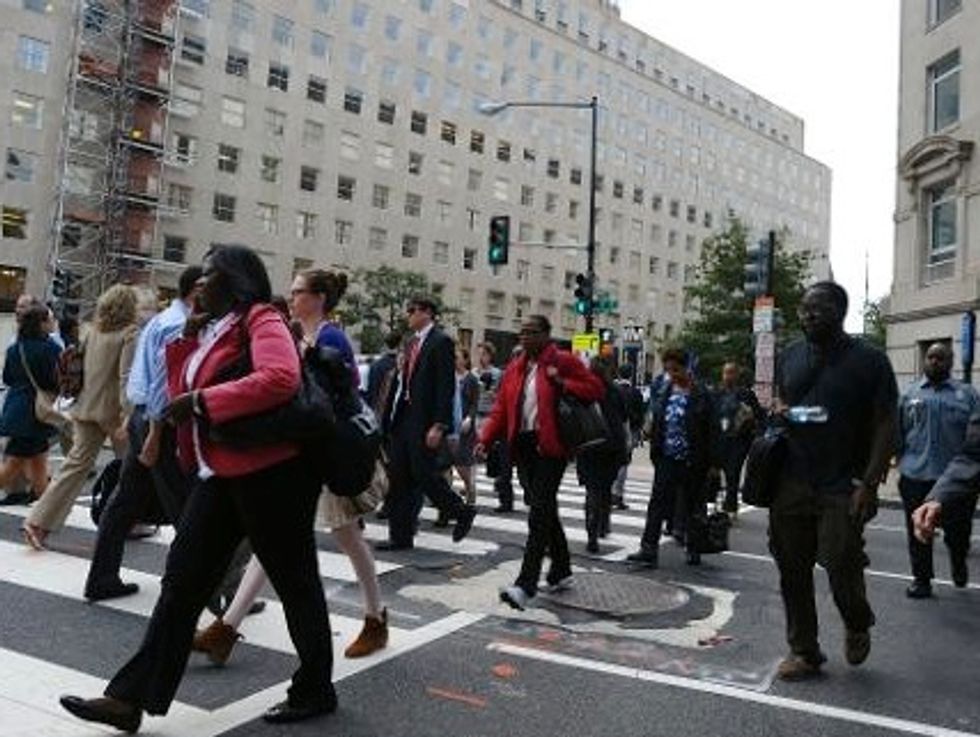 Washington (AFP) – Cups of coffee in hand, Washington bureaucrats went back to work Thursday to a glad-handing welcome from Vice President Joe Biden as tourists eagerly thronged the U.S. capital's reopened museums.
"It was hard not knowing when I was going back to work," said a young woman in the uniform of the National Park Service, the agency that manages parks and historic monuments.
"Ware here to serve the American public and all the visitors that come to the parks. It was hard not to be able to do that."
Around her, the U.S. capital resumed its work-a-day rhythms, the morning after an agonizing, last minute deal was reached to end a 16-day shutdown of the federal government.
Office workers in coats and ties or skirts and heels poured out of the Metro and rushed through the security gates at government offices.
Jeff Harris, who was furloughed from his job at the Environmental Protection Agency, joked he had been in training for early retirement.
"It was very unproductive," he said. "I kept thinking I have tomorrow, why do it today, and tomorrow never really came."
On hand to greet the returning EPA employees was Biden, all smiles as he handed out muffins.
"Welcome back, everybody," he said. "And I hope everybody walks away with a lesson, that this is unnecessary, and I hope we can regain the trust of the American people."
Jean, a woman in her thirties arriving at the Commerce Department, was a little wistful now that the shutdown was over.
"I actually enjoyed spending more time with my family," she said. "
"It was nice to be home with my girls when they got home from school, to send them off to school without being rushed, … time for more exercise, lunches with friends."
Now comes the hard part, she said. "This is an extremely busy month for us and so being behind by more than two weeks is going to be very challenging."
Outside the Museum of American History, Walter Sanders and his wife were overjoyed.
"We are blessed. It's open," said Sanders, who had traveled from North Carolina to visit Washington many museums and monuments.
Janet Woodward, of Perth, Australia, said she was looking forward to "a museum feast" during her remaining three days in Washington.
Some tourists strolled through the World War II Memorial, which itself became a mini battleground during the shutdown when veterans broke down barriers closing it off to the public.
Dave Jessop came from Halifax, Canada to see it and wound up cooling his heels for a few days. But he was confident the shutdown wouldn't last.
"They can't default on the debt," he said, referring to the October 17 deadline on which the United States would have run out of authority to borrow money to fund its operations had it not been for the deal put to bed Wednesday night.
As he entered the EPA, Harris had this message for the lawmakers: "Hopefully, you won't repeat this in three months."
AFP Photo/Jewel Samad