Colin Kaepernick Can't Get A Job: What Are The Ramifications For Social Protest?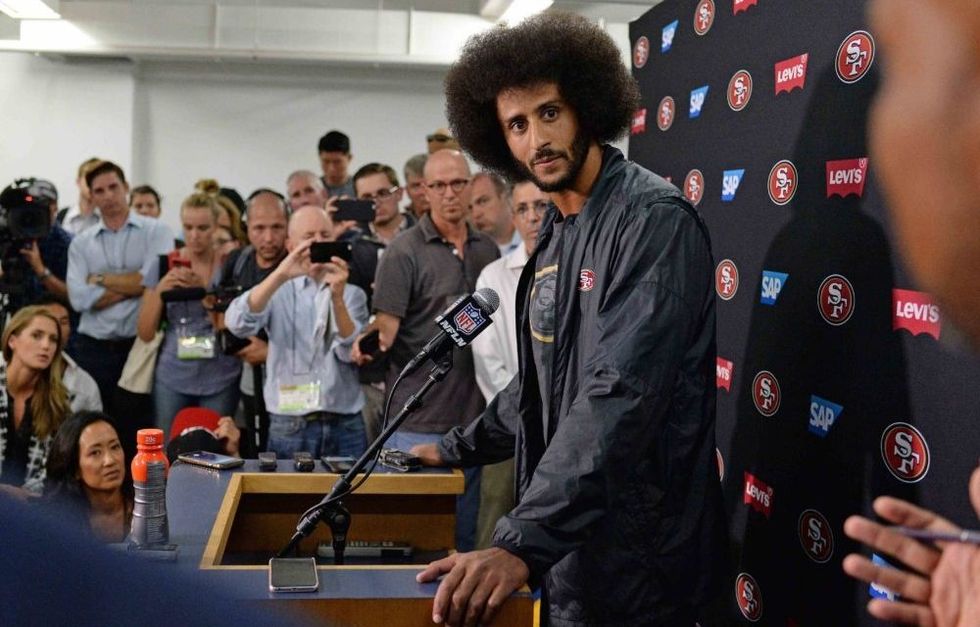 Reprinted with permission from AlterNet.
Before the #CharlottesvilleSyllabus, quarterback Colin Kaepernick was teaching kids essential lessons about white supremacy and racial injustice. The awful events in Charlottesville were a confirmation that Kaepernick was correct when he chose to kneel rather than stand while the national anthem played and Old Glory flew in the air. The racists who gathered weren't just waving Nazi flags and Confederate flags; they also waved American flags. But for students, particularly Black and Brown kids in our urban schools, the message of Kaepernick's protest isn't just that we live in an unjust society but that there's a high price for speaking out.
In almost all major American cities, Black and Latino students attend public schools where a majority of their classmates qualify as poor or low-income. These students are taught that displaying "grit" and working hard is what will guarantee their academic success and ultimately lift them out of poverty and allow them to participate America that has been advertised to them. So what does it teach them when Kaepernick remains without a job while lesser caliber quarterbacks are being signed? His critics often invoke a "merit" argument to justify what's happened to him. As a football fanatic, I can tell you exactly how Kaepernick's performance stacks up next to the other quarterbacks signed by teams during the off season—which is how I know that the critics' argument is without merit. Meanwhile the lesson that our students take away from Kaepernick's saga is that no matter how good you may be, voicing calls for justice will carry with it repercussions.
A recent study found that traditionally marginalized youth who grow up believing that America is a meritocracy pay a price. As they enter their middle school years, their self esteem drops and they're more likely to engage in risky behaviors. That's because what they see around them doesn't correspond with the mythology they've been sold: that working hard and persevering lead inevitably to success. As writer Melinda Anderson explains: "For those marginalized by the system—economically, racially, and ethnically—believing the system is fair puts them in conflict with themselves and can have negative consequences." Ironically Colin Kaepernick provides students with the sort of teachable moment that could protect them later on, but only by demonstrating to them that the system is unfair.
As an educator, I often wonder why we, as educators, have a problem being honest with kids who grow up disadvantaged. Why don't we teach our students about the mechanisms of our systematically racist institutions so they will challenge them and, ideally, overcome them? Why is it so hard for us to challenge the role that race places in the institutional spaces we work in, whether traditional public schools or charter schools? Much is made out of the achievement gap between White students and traditionally marginalized students. Educators march into their offices and classrooms daily attempting to figure out innovative and impactful ways to increase student proficiency and student academic growth. Yet I question if a score on a piece of paper can measure the readiness of a disadvantaged student to attack systemically oppressive mechanisms that concentrate poverty, crime, joblessness, pollution and mass incarceration within their communities. The impact of teaching social justice to students of color and low-income students is evident. The lessons these students learn about the history and the politics surrounding their circumstances empowers them to overcome it and do something about it.
If we are not teaching our students the importance of standing up for justice, Mr. Kaepernick is. Through his visible statement of resistance and his Know Your Rights Camps, he communicates to young people that there is more to life than material gain. For Black and Brown children who are presented with athletics as "a way out" of poverty, Kaepernick teaches that sports is more than a pathway to riches; sports provides a stage for athletes to become activists and advocates for the voiceless and the unheard. Unfortunately, as Kaepernick teaches Black and Brown students one lesson, NFL owners are teaching them another: that currency comes before conviction, profit before progress. At a time when activism against racial injustice is urgently needed, the NFL owners are communicating to young people that there is a high price to be paid for speaking out.
Many practitioners are guilty of a similar sort of crime. We teach students of color and low-income students to focus on their work and not let their circumstances and the environment surrounding them get in the way of their academic success and life goals. We teach compliance and law and order, and we call it good behavior. We even utilize a Pavlov-like system of rewards and punishments to condition our students' responses, as if we were training animals for a conditioned response. It sounds good but it's not authentic. We must teach in order to empower students to understand their circumstances and their environment so that they may change it for themselves and for those who walk behind them. Colin Kaepernick has something to teach teachers too. We must reach our students by transparently acknowledging their identity and the world they live in, and teach them their history and the truth of what led to the circumstances they find their communities in. And we must empower our students to speak truth to power; to break the chains of systemic racism. We must teach for their liberation.
I love watching football. Even more, I enjoy throwing the pigskin in my backyard with my son on sunny afternoons. Just last season, my son was coming into the consciousness of football culture, from complaining about quarterback play to chanting a team fight song. This season, I'm pressing pause on his familiarity with the culture. I personally will not watch any NFL football until the League expresses solidarity with Kaepernick's cause. As far as I'm concerned, his place on a roster cannot absolve the NFL of appeasing their White fan base at the expense of their Black fans, and more importantly, their Black players. I am aware that my lone decision won't force the hands of NFL owners to sign Mr. Kaepernick, or get them to rethink their right-wing politics, particularly since the President has shown an unwillingness to denounce white supremacy and racists of every faction.  What matters is what I teach my children and my students. Through my actions, I can show them that conviction must come before currency, and that progress is more important than  profit or pleasure. My son may not understand my decision right now, but as his father I must lead by example. We educators must also lead by example, exposing our students to the truth in order to to liberate them so that they can go on to help liberate us.
Although Kaepernick is absent from an active NFL roster, his presence looms large over every stadium where an NFL game is played. Marshawn Lynch of the Oakland Raiders and Michael Bennett of the Seattle Seahawks have both refused to stand during the playing of the national anthem, while the Philadelphia Eagles' Malcolm Jenkins raised his fist in the tradition of Tommie Smith and John Carlos during the NFL preseason. Bennett has let it be knownthat he will continue his protest through the entire season, citing the the events of Charlottesville. But it is Kaepernick who speaks to our students. They are watching him. They are watching us as well.
Rann Miller directs the 21st Century Community Learning Center, a federally funded after-school program located in southern New Jersey. He writes the Urban Education Mixtape Blog. Follow him on Twitter @UrbanEdDJ.