College Bowl Games Become Corporate Money Games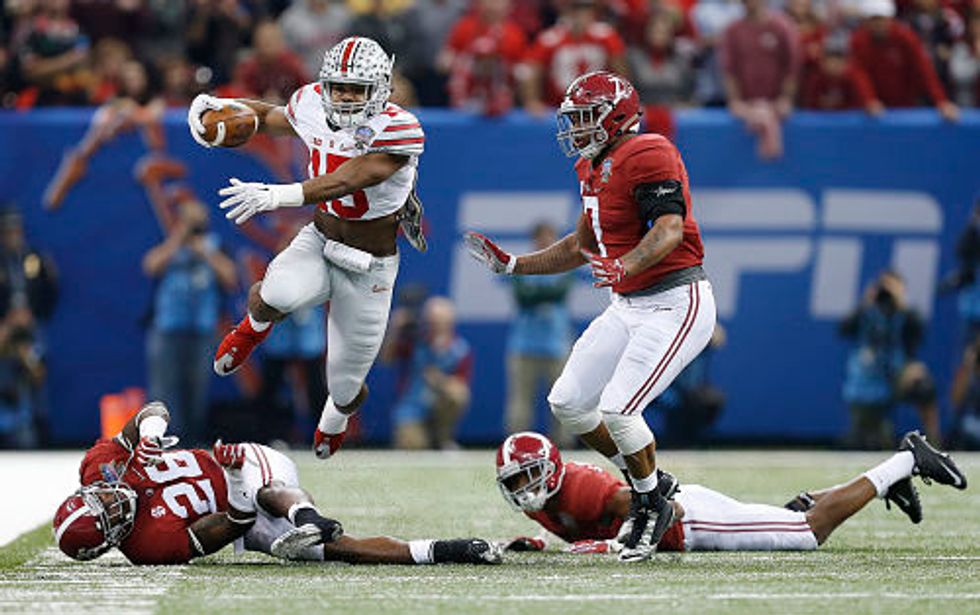 Growing up in Texas, I learned that God and guns were important, but football — well, football was the real religion, the essence of life itself.
So I can understand the hyperbolic exuberance of a radio hypester in Montgomery, Alabama, who declared that the Dec. 20 Camellia Bowl was "going to be the biggest event Montgomery has ever had." Really — bigger even than Rosa Parks refusing to give up her seat to a white passenger on one of the city's buses in 1955, igniting America's historic civil right movement? Maybe not that big, but still, this game must be a rich part of Montgomery's history, a product of civic pride and the flowering culture, right?
Not exactly. It's actually a TV production, created and owned by ESPN, the all-sports channel based in Connecticut. The bowl's less-than-historic debut drew two low-tier teams, one with a mediocre 7-6 season record, and the other with a more-mediocre record of 6 wins and 6 losses. Even Montgomery's mayor admitted that the town was hardly awash in excitement about the Camellia Bowl. But the game had a corporate sponsor and could count on bulk purchases of tickets by other corporations. So who needs fans, when the real play is about programming for ESPN, TV exposure for the corporate sponsor and tax-deductible entertainment for corporate ticket buyers?
The Camellia fabrication is hardly unusual in today's galaxy of corporate bowl games. Of this season's holiday matchups, 11 are owned by ESPN. And forget team spirit — corporate sponsors are in it for themselves, promiscuously hopping from one bowl to another. In the current go-round, 12 bowl games find themselves in the arms of different corporate partners from less than a year ago.
From Dec. 20 through Jan. 12, a record 39 football "classics" will have been televised, allowing bleary-eyed, beer-sedated gridiron fanatics to binge on what amounts to a nonstop buffet of plays, replays and sports clichés. On just the first day of the bowl blitz, there were five games on the telly, from 10 a.m. to midnight. So you could've had brunch, lunch, dinner, happy hour and midnight snacks without ever leaving your La-Z-Boy. Is this a great country or what?
Still, football tradition just isn't what it used to be. Rather than reflecting a sense of place and local pride, the new bowls are money hustles, owned by whatever no-place corporation has a few million tax-deductible ad dollars to buy the game and use it as a gaudy billboard to hype the corporate brand. Thus, we're blessed with the likes of not only the Camellia Bowl, but the GoDaddy, Bitcoin, Quick Lane, Advocare V100 and Taxslayer bowls. Then there's the Duck Commander Bowl — a made-for-TV event sponsored by a TV show! And what sense of place are we to get from the Outback Bowl, a chain of steakhouses that celebrate Australia, where "football" means soccer or rugby?
Meanwhile, the proliferation of bowls has produced an embarrassing deterioration in the level of team excellence that these contests claim to celebrate. Of the 76 teams awarded bowl slots this season, roughly half came from the deep ranks of football mediocrity — 20 barely had winning records, 11 lost as many games as they won, and one actually had a losing record. It's hard to hide the silliness of chanting, "We're the champs," when your team has 6 wins and 7 losses.
Bowl games these days are redefining the concept of "hustle" in sports. They no longer exist for the game itself, the players, the schools or the ideal of sportsmanship. Rather, they're just another piece of our culture that's been purchased for the enrichment and self-aggrandizement of corporate interests. Instead of sponsors simply bringing the games to us, the games now bring us to the sponsors.
To find out more about Jim Hightower, and read features by other Creators Syndicate writers and cartoonists, visit the Creators Web page at www.creators.com.
Photo: Ohio State Buckeyes running back Ezekiel Elliott (15) leaps over Alabama Crimson Tide defensive back Landon Collins (26) on his way to a 54-yard run in the first quarter of the Allstate Sugar Bowl and college football playoff semifinal on Thursday, Jan. 1, 2015 at Mercedes-Benz Superdome in New Orleans. (Eamon Queeney/Columbus Dispatch/TNS)