Colleges Reject Charge That Freshman Reading Lists Have Political Bias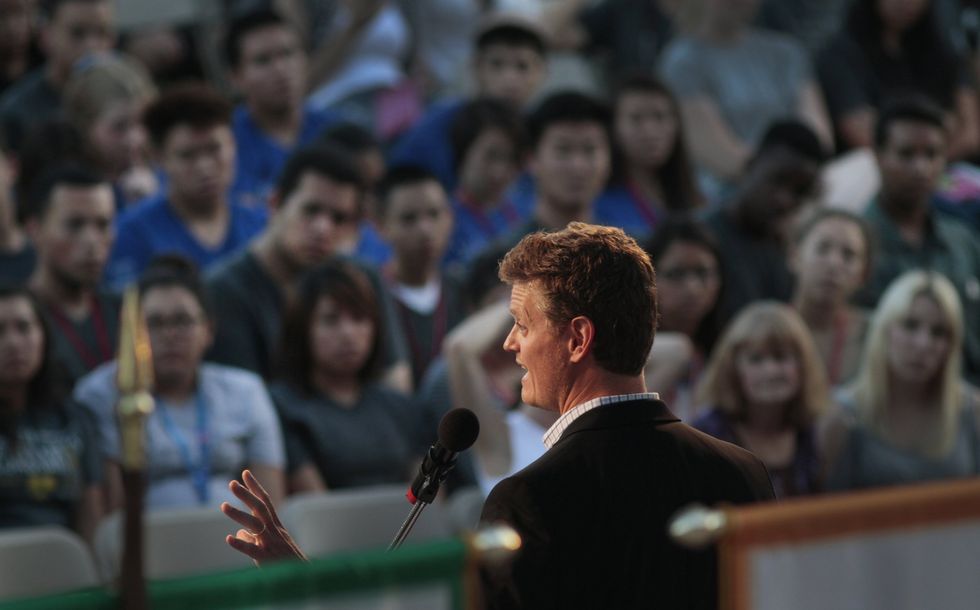 By Larry Gordon, Los Angeles Times
Freshmen at colleges around the country for years have been assigned to read the same books as a way to bond at orientation and to encourage intellectual interactions rather than just social ones
.
But this year, some of the reading selections are under attack.
In South Carolina, for example, the state Legislature tried to cut funding for two state universities that selected books with gay themes.
The conservative Young Americans for Freedom compiled a list of books it contends offer only left-leaning perspectives, including "Americanah," a novel by a celebrated Nigerian writer that was picked this year at Pomona College, Penn State, Duke University, and Macalester College.
The National Association of Scholars had another beef. It advocates the classics and argued in a recent report that by frequently selecting contemporary literature, "colleges are implying that students have little to learn from the past. Or perhaps they simply think students' attention spans are too limited for them to want to pick up such a book and read it on their own."
The group suggested schools should instead assign such alternatives as James Fennimore Cooper's "The Last of the Mohicans," Ralph Ellison's "Invisible Man," Shakespeare's plays, and selections from the Bible.
Colleges deny any political intent. They say they seek high-quality books that provoke debate and that they are encouraging it as an academic experience among all the other events and parties during those first few days on campus. Since many schools invite authors to campus, classics by long-dead writers don't fit the bill and there are other opportunities to study them, colleges say.
A common book "is a tangible bond but it has intellectual heft as opposed to just wearing the school colors," said Cheryl Spector, director of academic first-year experiences at California State University, Northridge, where this year's common reading is "The Postmortal," a futuristic novel by Drew Magary about possible immortality and a cure for aging.
Critics misunderstand the programs' goals, she said: "The fact is we are not trying to pick literary masterpieces primarily, although we don't mind it if we hit them. But we do want engagement with students. We want to invite them to a love of reading."
Nearly 40 percent of colleges ask students to participate in such readings, according to a recent survey by the Association for Orientation, Transition, and Retention in Higher Education.
At Pomona College, Chimamanda Ngozi Adichie's "Americanah," a novel about Nigerians who immigrate to the United States and Britain and return home, was selected from 40 nominated books by a panel of faculty, students, and others. Copies were mailed to incoming freshmen's homes.
Pomona's dean of students, Miriam Feldblum, said Young Americans for Freedom badly mischaracterized the book. The novel, she said, offers multiple perspectives of racial topics and American and Nigerian societies and emphasizes that people should not make assumptions about culture and history. Beyond its cross-cultural themes, it's a good book for young people because it examines long friendships and life's unexpected turns, she said.
The college aims for political balance, Feldblum said, pointing to the 2008 selections of autobiographies from both presidential candidates, Barack Obama and John McCain.
During Pomona's orientation recently, freshmen gathered in an auditorium to watch an online TED (Technology, Entertainment, and Design) talk by Adichie. (She is to lecture in person on campus next month.) They then broke into smaller groups to discuss the novel. History professor Samuel Yamashita coaxed his group to grapple with characters, plot and issues concerning cultural barriers and romance. Some students were talkative and others reluctant at first but most eventually participated.
Later, freshman Lauren Bollinger praised the reading effort as "another step to unite the freshman class, socially and academically." She said current books like "Americanah" were more likely to trigger interaction than the classics assigned in high school.
Besides, she said she probably will major in English, and the classics will be "a big part of my education."
In South Carolina, legislators originally sought to cut funding from the College of Charleston for assigning "Fun Home," an illustrated memoir by lesbian writer Alison Bechdel, and the University of South Carolina Upstate for "Out Loud: The Best of Rainbow Radio," a compilation of gay-themed stories. After much protest over academic freedom, lawmakers instead required the schools to devote $70,000 — the cost of the reading programs — to teaching about the U.S. Constitution and other founding documents.
The goal should be introducing students to college-level readings, particularly as campuses reduce core-course requirements, said Ashley Thorne, an official at the National Association of Scholars and the main author of its report, "Beach Books." Too many common readings are new books about those overcoming adversity or aiding others, which leaves no room for more challenging works that have been "tested by time," she said.
Colleges, however, emphasize that it's also instructive and exciting for students to have the authors on campus. At Cal State Northridge, for example, Magary addressed the freshman Convocation and spoke more about creativity and overcoming youthful mistakes than about details of his 2011 novel.
Colorado College this year embraced a classic, Shakespeare's "Hamlet." While that might please traditionalists, the school also invited a theater troupe to perform a satirical send-up of "Hamlet," including puppets and a goldfish in a bowl symbolizing tragic heroine Ophelia.
Students still grappled with issues of "loss, grief, revenge, and isolation," said Regula Meyer Evitt, an associate dean. Behind the royal successions and murders, freshmen found relevance in a play about "a guy who is miserable at home and wants to go back to college and a young woman who is terribly in love with him."
Photo: Los Angeles Times/MCT/Lawrence K. Ho
Interested in national news? Sign up for our daily email newsletter!