With A Torrent Of Blather, Collins Chooses Kavanaugh — And Trump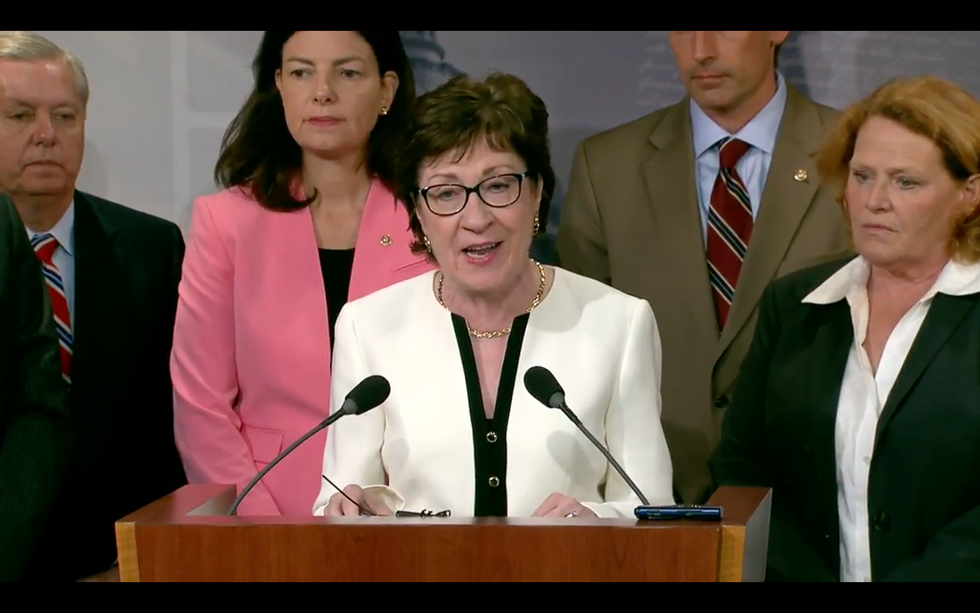 Reprinted with permission from Shareblue.
Sen. Susan Collins (R-ME) joined her fellow Republicans — and rejected the pleas of her Maine constituents, particularly women — to announce she would vote to confirm Brett Kavanaugh to the Supreme Court.
Protesters in the gallery of the Senate pleaded with Collins to "vote no," but she turned her back on them and millions of Americans.
"I will vote to confirm Brett Kavanaugh," she said Friday after an extremely long speech.
Collins paid lip service to what she called the "compelling" testimony of Dr. Christine Blasey Ford, who described in excruciating detail how Kavanaugh tried to rape her, but ultimately, Collins dismissed those allegations and sided with Kavanaugh and the rest of the Republican Party.
With the announcement of her support for Kavanaugh, Collins, despite her repeated claim to support reproductive rights, is casting a vote that will surely undo those protections.
For Collins, the protests didn't matter. The groundswell of opposition across the country and in her home state fell on deaf ears.
From early in the process, Collins lashed out at critics who said support of Kavanaugh undermined her supposedly moderate stance. Despite the serious underlying issues, she remained dismissive throughout the entire proceedings.
Newspapers in her home state said Kavanaugh was unfit for the court, but she simply did not care.
Instead of listening, Collins did what conservative ideologues like Majority Leader Mitch McConnell, Sens. Orrin Hatch, Lindsey Graham, and others wanted her to do. They backed Kavanaugh to the hilt, praising him even as details of his alleged hostility surfaced.
Even after former justice John Paul Stevens said Kavanaugh's vitriolic appearance before the Senate had disqualified him in his eyes, Collins was undeterred.
Trump smeared Ford at a campaign rally, and Collins said she was "appalled"… and then she backed Kavanaugh anyway.
After it all, Collins turned her back on women, on Maine, and on America.
She sided with Brett Kavanaugh and has forever added his legacy to hers.
Published with permission of The American Independent.