Collins Complains 'Dark Money' Undermined Her Support In Maine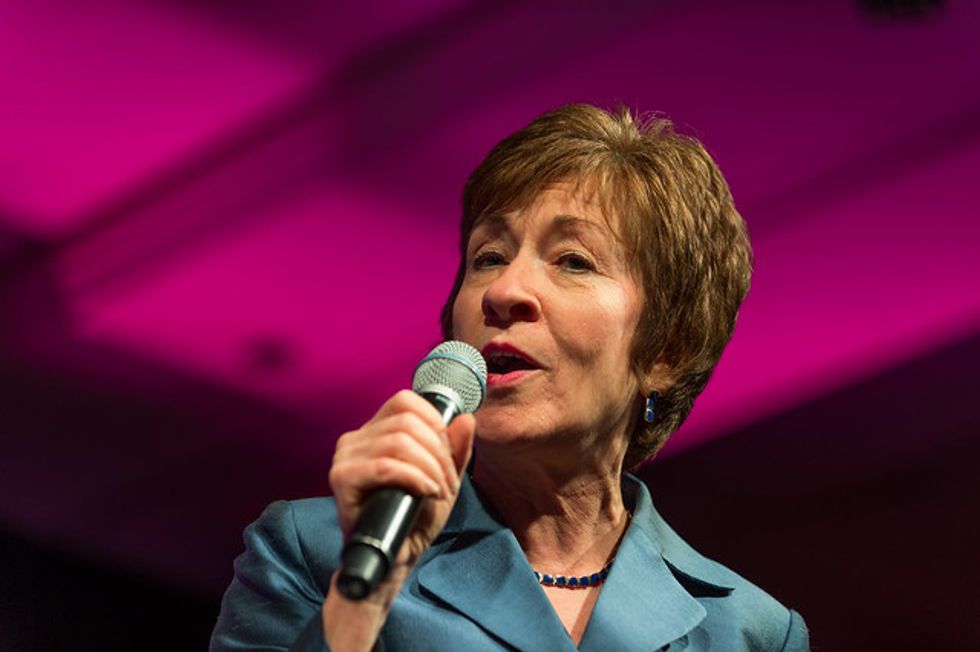 Maine voters have begun to sour on Republican Sen. Susan Colllins, and as a result her approval ratings are down by double-digits over the last two years.
On Sunday, Collins blamed the precipitous drop on unnamed "dark money" groups, instead of her support for the Trump administration and Supreme Court Justice Brett Kavanaugh.
"The divisiveness of our country and the unceasing attacks by dark money groups in Maine have clearly had an impact," Collins told Bloomberg in an interview about her political future.
She expressed hope that Mainers will "really focus on the [reelection] race" next year and that "I'll be fine."
Collins is the second most unpopular senator in the country, behind Senate Majority Leader Mitch McConnell. Collins' current 45 percent approval rating is 33 points lower than the 78 percent rating she had four years ago.
"Since Trump entered the White House, her approval rating has dropped 16 percentage points," the Boston Globe noted.
Collins' decline has occurred in tandem with her support of Trump and the Republican agenda. A study from Congressional Quarterly found that Collins voted with Trump 93.3% of the time — in league with conservatives like Sens. Ted Cruz (R-TX) and John Kennedy (R-LA).
Collins also was out front in supporting Kavanaugh's Supreme Court nomination, despite credibleevidence that Trump's pick had sexually assaulted a teenager when the two were in high school.
Collins was also a backer of the Republican tax scam passed in 2017, which contained provisions attacking the Affordable Care Act, legislation that Collins has claimed to support.
Collins' support of Trump hasn't helped her at home either. Since Trump took office, support in Maine has declined by 19 points. He lost the state to Hillary Clinton in 2016.
Collins' decision to blame her woes on dark money is also being questioned, thanks to her own reliance on out-of-state money.
The senator set up a joint fundraising committee with Sen. Lindsey Graham (R-SC), one of Trump's closest allies (and a golfing buddy). Thousands of dollars flooded in.
"She's come to rely more and more on corporate PACs and out-of-state donors – and instead of trying to fix the problem, she is trying to defend the status quo," Maine Democratic Party Chair Kathleen Marra said in a statement.
Marra added that Collins has been "voting more with Trump and special interests more than ever on bills that give corporations tax breaks while raising health care premiums and threatening protections for pre-existing conditions."
Collins' voting record and decisions in office have moved closer to Trump, while her state — which was never Trump country — has drifted further away from him.
There is ample evidence that voters in Collins' state are unhappy with the decisions she's made in recent years, but instead of taking responsibility for her record, she's blaming her problems on "dark money."
Published with permission of The American Independent.