Comey: If Trump Weren't President, He'd Be Indicted
@FAWFULFAN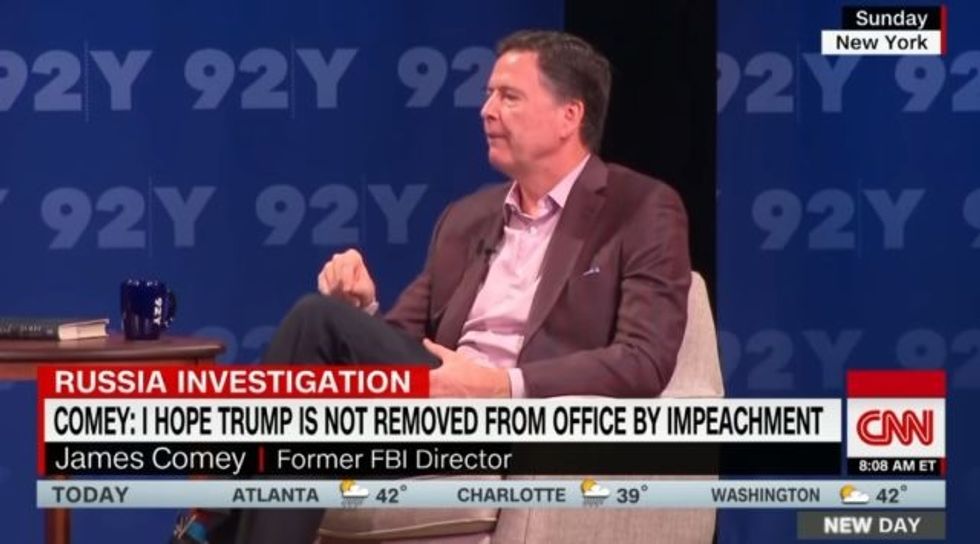 Reprinted with permission from AlterNet.
The latest court filings against President Donald Trump's former attorney and fixer Michael Cohen directly implicate Trump in the scheme to pay off women he slept with ahead of the 2016 presidential election — which prosecutors with the Southern District of New York say constitutes a federal crime.
This raises a huge question: did Trump himself commit a felony?
According to former FBI Director James Comey in an interview with NBC's Kasie Hunt, it is unclear — but Trump should count himself lucky he is president right now.
"Is the President of the United States right now an unindicted co-conspirator?" asked Hunt.
"We don't know," said Comey, who was famously fired by Trump last year in an attempt to shut down the Russia investigation. "Not in the formal sense that he's been named in an indictment, where you could actually say that this defendant and named others, or others by pseudonym, conspired together, and that's how you formally name someone as an unindicted co-conspirator. But if he's not there, then he's certainly close, given the language in the indictment, in the filing that the crimes were committed at his direction."
"So if Trump wasn't the president, someone went to court, Southern District of New York, sponsored information that they directed a crime, what would happen to that person?" asked Hunt.
"Well, that person would be in serious jeopardy of being charged," said Comey. "Because the government wouldn't make that sponsoring allegation if they weren't seriously contemplating going forward with criminal charges. Now, where it stands here I can't say."
Watch below:
Jim Comey on MSNBC at the 92nd Street Y said that Trump would be "in serious jeopardy of being charged" if he wasn't president. pic.twitter.com/mWZvAupPDV

— andrew kaczynski (@KFILE) December 10, 2018
The indictment of a sitting president is uncharted territory. A 1973 memo from the Justice Department's Office of Legal Counsel, and cited in subsequent DOJ opinions, argues the president cannot be indicted, only impeached, and Trump counsel Rudy Giuliani has claimed special counsel Robert Mueller told him he intends to honor this precedent. But the Constitution is not actually clear on this, and it has never been tried in court. Making matters even more complicated, federal prosecutors reportedly think the statute of limitations would allow Trump to be prosecuted as a private citizen in 2021 if he loses reelection in 2020.
Regardless of what happens next, the country finds itself in an extraordinary situation due to Trump's reckless disregard for the law — and the American people deserve accountability.
Matthew Chapman is a video game designer, science fiction author, and political reporter from Austin, TX. Follow him on Twitter @fawfulfan.