Comey Ignored Attorney General, Violated Policy In Announcing Email Review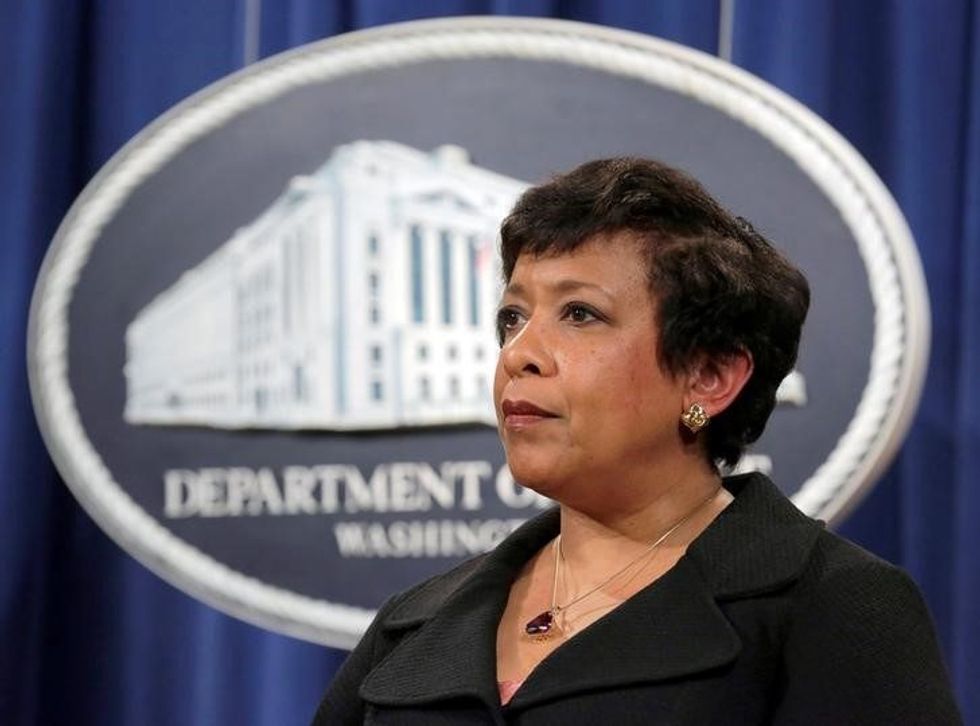 Reprinted with permission from AlterNet
FBI director James Comey was told by top Justice Department officials not to make any public statement about renewing the investigation into Hillary Clinton's private email server, because it violated DOJ policy on commenting on ongoing investigations, various national news outlets reported Saturday.
"Director Comey understood our position. He heard it from Justice leadership," the Washington Post's source said. "It was conveyed to the FBI, and Comey made an independent decision to alert the Hill. He is operating independently of the Justice Department. And he knows it."
Attorney General Loretta Lynch told Comey not to break DOJ policy—laid out in federal prosecutor guidelines—of not commenting on open investigations or making any statement potentially influencing election outcomes, the New Yorker's Jane Mayer reported, also citing DOJ sources.
"Lynch expressed her preference that Comey follow the department's longstanding practice of not commenting on ongoing investigations, and not taking any action that could influence the outcome of an election," Mayer wrote. "The F.B.I. director is an employee of the Justice Department, and is covered by its policies."
Comey, a Republican appointed three years ago by President Obama, sent a letter Friday to Republican House Committee chairmen saying that a computer taken from disgraced former New York City Congressman Anthony Weiner, in an investigation into alleged sexual contact with a minor, contained emails between then-Secretary of State Clinton and Weiner's wife, Huma Abedin, a longtime top Clinton aide who has since separated from Weiner.
The FBI director would not disclose what was in the Clinton-Abedin emails on the computer, prompting some observers to wonder if they were duplicates of the thousands that have been examined by the FBI to see if Clinton mishandled classified information as Secretary of State. In July, Comey said Clinton had been careless in using a private server, but there was no basis for recommending a prosecution. The finding enraged House Republicans and GOP presidential nominee Donald Trump.
Comey sent a letter to the FBI explaining his actions on Friday, saying he felt compelled to add to the public record surrounding the email inquiry. He seems to think he is taking the high moral ground and not throwing the FBI into the middle of one of the most volatile presidential campaigns in memory with less than two weeks to go to Election Day.
"Of course, we don't ordinarily tell Congress about ongoing investigations, but here I feel an obligation to do so given that I testified repeatedly in recent months that our investigation was completed," Comey wrote. "I also think it would be misleading to the American people were we not to supplement the record. At the same time, however, given that we don't know the significance of this newly discovered collection of emails, I don't want to create a misleading impression. In trying to strike that balance, in a brief letter and in the middle of an election season," he wrote, adding, "there is significant risk of being misunderstood."
Clinton responded Friday by abruptly holding a press conference and demanding the FBI disclose what was in the emails. As she was doing that, an immediate chorus of criticism arose from former DOJ officials who are steeped in the department's public disclosure policies.
The former director of the DOJ's public affairs office, Matthew Miller, issued a stunning 12-part series of tweets that slammed Comey violating DOJ policy:
"I wrote a piece in July on why Comey's public comments about Clinton were such an inappropriate abuse of power. He flagrantly violated DOJ rules with his press conference. Then went on to break new ground discussing details of the case to Congress… Followed by quickly releasing FBI 302's, something they rarely do, and which I doubt they will do for future high-profile cases… Each time, he either violated or seriously stretched DOJ rule & precedent. Press conference was the original sin, & it begat the rest… But today's disclosure might be worst abuse yet. DOJ goes out of its way to avoid publicly discussing investigations close to election… Not just public discussion either. Often won't send subpoenas or take other steps that might leak until after an election is over… Why? Because voters have no way to interpret FBI/DOJ activity in a neutral way. Who is the target of an investigation? What conduct?… This might be totally benign & not even involve Clinton. But no way for press or voters to know that. Easy for opponent to make hay over… Which takes us back to the original rule: you don't comment on ongoing investigations. Then multiply that times ten close to an election… For whatever reason (& there are many theories), Comey continues to ignore that. But only for Clinton… FBI is undoubtedly investigating links between the Russian hack, Manafort, & the Trump campaign. But aren't commenting on it. Good! … They shouldn't be commenting on investigations! But that should apply to all. Instead Clinton consistently treated differently/worse."
The impact of Comey's intentional interference in the presidential campaign is hard to gauge. Polling analyst Nate Silver, at fivethirtyeight.com, tweeted Comey's statement—even before anyone knows whether there is anything substantially damaging or not—and was prompting "betting markets" to shave one percentage point off Clinton's lead in the polls.
It is too soon to know the impact this may have—it could just prompt Democrats to work harder than ever to turn out their base after such an obvious act of political sabotage. But the impact may be felt more on U.S. Senate elections, where Democrats are in much closer races with Republicans, according to polls, and Clinton's coattails were expected to help Democrats retake the Senate majority.
What will happen next in this developing story is anybody's guess. There has never been a similar precedent in a modern presidential election when the FBI director, acting unilaterally, disobeys his boss—the U.S. Attorney General—and injects the agency and an unrelated investigation into smearing a presidential candidate on the eve of an election.
IMAGE: Attorney General Loretta E. Lynch at Department of Justice headquarters in Washington, U.S., May 9, 2016.      REUTERS/Joshua Roberts/File Photo