GOP Candidates Vow To Restore Confederate Traitor Names To Army Bases
@LauraClawson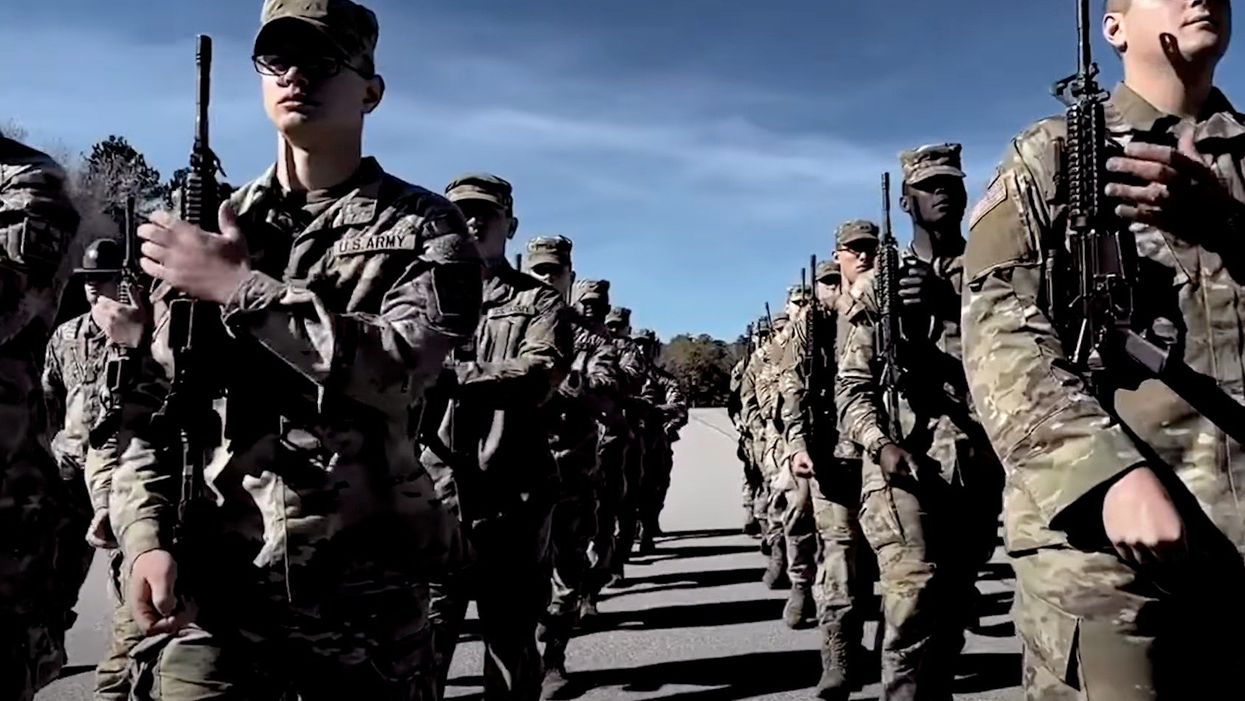 The U.S. Army officially renamed a Louisiana base on Tuesday, a move to honor a Black World War I hero rather than a Confederate traitor against the U.S. The former Fort Polk is now Fort Johnson, just as, 10 days earlier, Fort Bragg became Fort Liberty. Republicans are not taking these changes well.
On Friday, Florida Gov. Ron DeSantis pledged that, if elected president, he would rename Fort Liberty, restoring Braxton Bragg's name to honor. "It's an iconic name and an iconic base, and we're not going to let political correctness run amok in North Carolina," DeSantis said at the North Carolina GOP Convention. The next day, Mike Pence sounded the same notes at the same event, saying, "We will end the political correctness in the hallways of the Pentagon, and North Carolina will once again be home to Fort Bragg."
There's no word yet on whether Fort Polk was "iconic" enough to deserve this level of outrage, but presumably, that will come when DeSantis, Pence, and other Republicans campaign in Louisiana.
Bragg was "widely considered among the least successful military leaders" of the Civil War, according to Military.com. He was so unpopular that a 2016 book about him had the title "Braxton Bragg: The Most Hated Man of the Confederacy." By contrast, Leonidas Polk, the general after whom Fort Johnson was previously named, was extremely popular with his troops—but, like Bragg, known as a poor military leader. His "military qualities were lacking," the American Battlefield Trust politely puts it. He had "an ineptitude for logistics," according to NCpedia.
Even if you set aside the whole "fought against the United States to preserve slavery" thing (which you emphatically should not), are these the generals you want your Army bases to honor?
Fort Johnson is named after Sgt. William Henry Johnson, who was on the front lines in World War I with one other soldier when they were attacked by a German raiding party of at least 12 soldiers. When his fellow soldier was at risk of being taken prisoner by the Germans, Johnson "exposed himself to grave danger by advancing from his position to engage an enemy soldier in hand-to-hand combat," according to the Army's biography of him. "Wielding only a knife and being seriously wounded, Johnson continued fighting, took his Bolo knife and stabbed it through an enemy soldier's head."
In renaming the base, Brig. Gen. David Gardner said, "Sgt. Henry Johnson embodied the warrior spirit, and we are deeply honored to bear his name at the Home of Heroes." But while Johnson's courage made him briefly famous—he received France's highest military honor and former President Theodore Roosevelt called him one of the "five bravest Americans" to serve in the war—he was denied a Purple Heart and a pension despite injuries that made it difficult for him to work. He died 11 years later, at 32, and was initially thought to have been buried in a pauper's grave. It took decades for historians to discover that he had been buried in Arlington National Cemetery with full honors. Johnson's name is a perfect one to replace that of a Confederate traitor, as his story shows not just outstanding courage but the ways the nation failed Black service members.
It will be interesting to see if, or maybe it's when and how, Republican presidential candidates come out to argue that Johnson is a less worthy figure to honor than Leonidas Polk, a slaveholder as well as an incompetent general. In Fort Bragg, DeSantis and Pence have the easy out of it not having been named after another human being whose record can be compared to Bragg's—and as we know, liberty is one more thing that Republicans claim to honor while in reality crapping all over it.
Reprinted with permission from Daily Kos.