Confronted Over Abortion Bans, Pence Says Democrats Push 'Infanticide'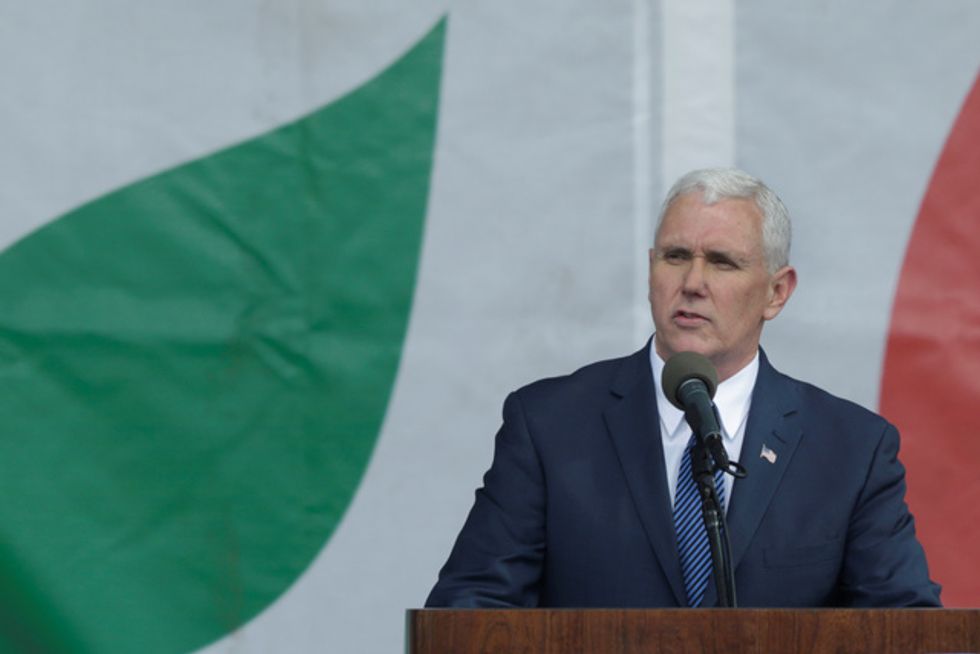 Mike Pence resorted to telling lies about abortion at a joint press conference in Canada Thursday after Canadian Prime Minister Justin Trudeau criticized the GOP for their recent actions to restrict women's health care.
Before the meeting, Trudeau, who is pro-choice, said he would raise concerns about anti-choice legislation enacted by Republicans when meeting with Pence.
He explained how he approached the topic with Pence at the press conference:
I highlighted to the vice president that there was a significant amount of concern amongst Canadians on the new anti-choice laws being passed in American — a number of American states… Canadians and this government will always be a staunch defender of women's rights and a woman's right to choose.
Instead of defending the Republican position in a straightforward manner, Pence chose to use the international venue to promote abortion lies about Democrats.
"Our administration has taken steps to stand for the sanctity of life, at home and abroad," Pence said. "What we found troubling is the Democratic Party in our country and leaders around the country supporting late-term abortion, even infanticide."
Pence's claim is untrue.
No Democrats have supported infanticide or passed legislation on the topic. What Democrats have done is pass measures that allow women and doctors in extremely rare occurrences to make medical decisions to save their lives.
Pence has based a significant amount of his political career pushing for restrictions on women's rights. Pence and his fellow Republicans, including Trump, are now twisting facts and using the "infanticide" label to help bolster their side. It's a tactic to demonize women, and it also has the side effect of encouraging anti-choice terrorism.
Meanwhile, Republicans are running away from unpopular anti-choice legislation passed in states like Alabama that would force rape and incest victims to give birth no matter what the woman wants.
Americans support the right to an abortion, and the Republican position is unpopular and has repeatedly been on the losing end of the political spectrum.
Faced with a respectful rebuke from Trudeau, Pence could do no better than to keep up his lies and deception on the world stage.
Published with permission of The American Independent.
IMAGE: Vice President Mike Pence speaks at the annual March for Life rally in Washington. REUTERS/Yuri Gripas