Congress Must Act To Save Central States Pension Fund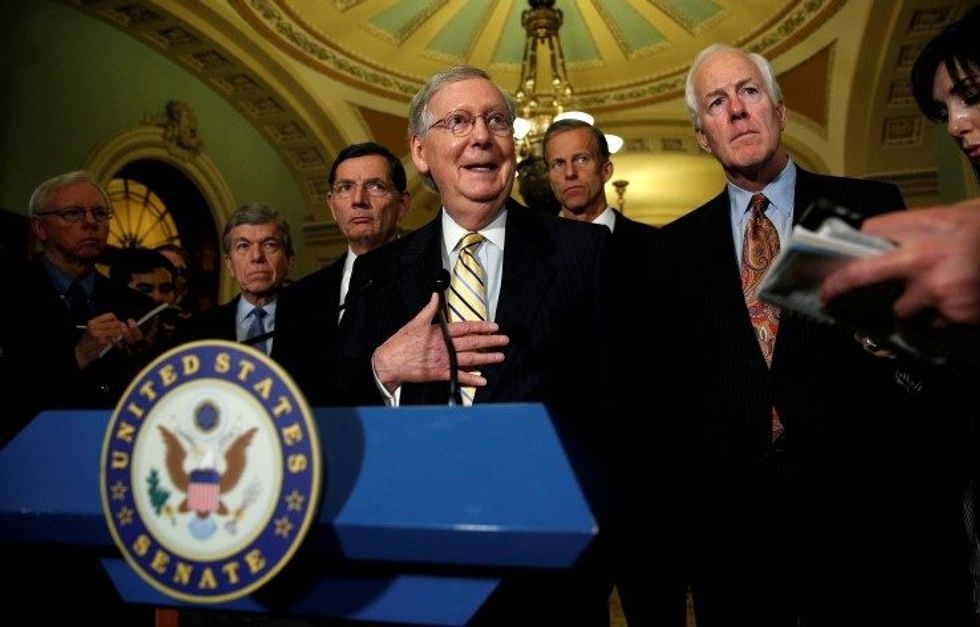 There are two ways to tell the tale of the Central States Pension Fund.
There's the numbers story: an actuarial tale of how a pension fund that was supposed to cover the retirement years for nearly half a million Teamsters wound up headed for insolvency.
And then there's the human tragedy: aging workers fearful that pensions they earned through decades of labor are gone.
Either way, this is the ultimate in a bureaucratic kicking the can down the road.
Nearly a month has passed since the U.S. Treasury Department said "no" to a rescue plan to shore up the finances of the failing Central States Pension Fund, which covers some 400,000 participants. The idea was that by cutting benefits for some retirees now, some up to 60 percent, the fund could stave off insolvency. The shorted checks were to start in July. But Treasury said no deal, arguing that the plan didn't meet regulations, and the cuts were scrapped.
It was cause for a momentary sigh of relief for the retirees, who had filled auditoriums in cities nationwide to plead their case with federal officials.
But the Central States Pension Fund is still predicted to be insolvent within 10 years. And the fund is the canary in the mineshaft for similar multi-employer pension funds also at risk.
In late May, the overseer of the pension fund pretty much threw up his hands and said Congress needed to save the retirees, floating the idea of a bailout. It was explained that too much time has passed, and the trustees, actuaries and lawyers can't figure it a new way to save the fund from insolvency that would satisfy government regulations.
"Therefore, there will be no new rescue plan," was the wording on the one-page announcement by the executive director of the Central States Pension Fund.
For the 400,000 people whose pensions are managed by the fund, many of them already aging and ailing, there will be no escaping the devastating effects of this decision to do nothing.
If the fund goes bust, mortgages won't be paid. Prescriptions won't be filled. Utility bills and grocery shopping will be a regular hardship.
In recent weeks, a handful of Democratic senators made pressed Senate Majority Leader Mitch McConnell to do something before Congress takes its summer break.
Fat chance.
Unions are involved here, and Republicans like nothing better than showing contempt for unions. Never mind that union corruption in the 1970s is merely where the fund began to unravel. A consent decree involved the courts, Wall Street firms and other trustees into the management of the fund. Congressional decisions affecting the trucking industry through deregulation had a massive impact, as companies that had once paid into the fund went bankrupt.
Congress dealt a huge blow two years ago when it struck down an enshrined American ideal. Money earned for a pension can't be pulled out from under you like a rug once you retire. That promise, once codified in law, was upended by the passage of the Kline-Miller Multiemployer Pension Reform Act of 2014, which was tucked into a must-pass omnibus bill. President Obama signed it. The new law allowed for the proposed cuts that were to begin in July.
Several bills have been introduced to help repair that damage. One would repeal the 2014 provisions allowing cuts to pension checks. Another tries to control the excessive pay and bonuses given to executives of troubled pension funds, if they issue cuts to retirees. Talks are on-going about closing federal tax loopholes and redirecting some of the money to shore up the multiemployer fund pensions.
Something must be done here, because the risks are great if Central States fails. It could take down the multiemployer arm of the Pension Benefit Guaranty Corporation, the federal government's multiemployer pension insurance program. That fund is in trouble too.
Where will this saga end? Here's a prediction.
Nothing will happen until Congress is embarrassed into action. Central States or some other fund teetering on edge will go bust. Media will highlight retirees without their hard-earned pensions. We'll find these seniors moving in with their children when they lose their homes, forgoing doctor's appointments to save money and embarrassed to be asking for help from local food pantries.
Congress will act when it is desperate enough to stave off the uncomfortable images of grey-haired men with canes suffering because of broken promises. But by then more pension funds will be in trouble and any congressional action might be little more than plugging holes in a sinking boat.
(Mary Sanchez is an opinion-page columnist for The Kansas City Star. Readers may write to her at: Kansas City Star, 1729 Grand Blvd., Kansas City, Mo. 64108-1413, or via e-mail at msanchez@kcstar.com.)
(c) 2016, THE KANSAS CITY STAR. DISTRIBUTED BY TRIBUNE CONTENT AGENCY, LLC