Congress Negotiates As Deadline Nears For Government Spending Bill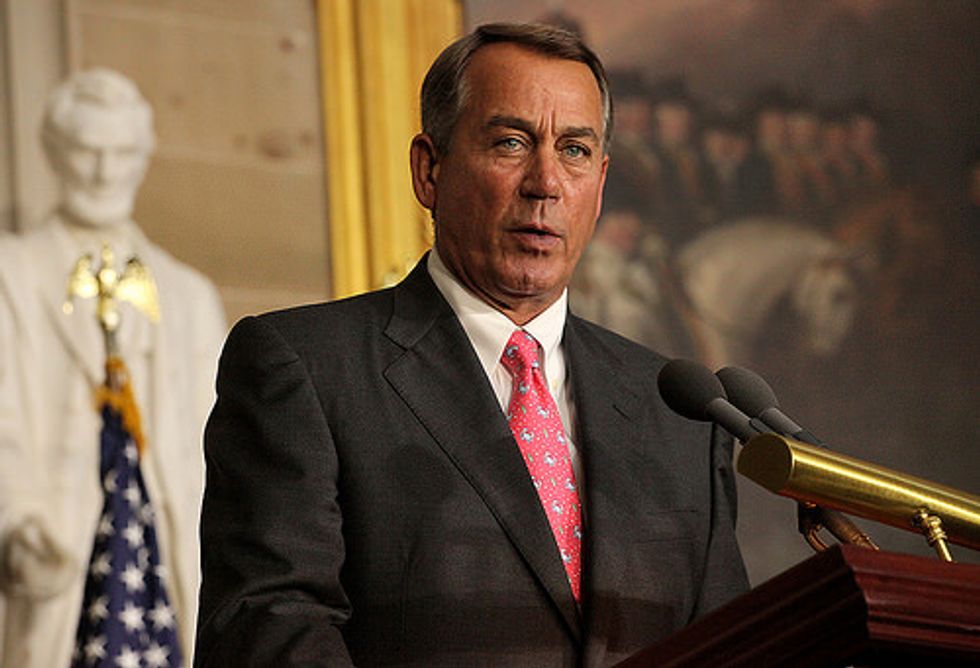 By Lisa Mascaro, Tribune Washington Bureau (TNS)
WASHINGTON — Congress is pushing Thursday's deadline to fund the government to the brink as lawmakers engage in last-minute horse-trading that may require a 48-hour stopgap measure to keep federal offices from temporarily shutting down.
The $1.1 trillion funding bill, stalled amid Republican efforts to halt President Barack Obama's immigration actions, is just one of several major pieces of legislation congressional leaders are trying to usher through in the final days of the lame-duck session. Lawmakers are set to leave Washington by week's end for the holiday break.
A must-pass defense bill also faces criticism after leaders attached a massive public lands package that has been met with objections from key conservatives and some leaders in the environmental community.
The eleventh-hour crunch is no surprise for Congress, where lawmakers often become the most industrious only when faced with a looming deadline.
But with the House not likely to vote until Thursday — hours before the midnight deadline when money runs out — the standoff could become exactly the kind of tense economy-rattling drama that lawmakers hoped to avoid.
Late Monday, negotiators were expected to unveil details of the spending bill, which would keep most of the government running through Sept. 30.
That would give lawmakers just a few days to peruse what will surely be an inches-thick bill stuffed with numerous add-ons. Provisions to restrict access to abortion, reduce funds to protect sensitive sage grouse habitat, loosen rest requirements for truck drivers and tweak the 2010 Dodd-Frank financial overhaul law were all among those being debated.
The bill is likely to cap defense spending at $585 billion, including $5 billion to fight Islamic State terrorists. The remainder would go to non-defense accounts.
House Speaker John A. Boehner (R-OH) has struggled to round up support from his Republican majority to pass the bill because conservatives in his party complain it does not do enough to block Obama's plan to defer deportation for up to 5 million immigrants who are in the U.S. illegally.
To win support from hard-liners, funding for the Homeland Security Department will be extended only until early next year, allowing the new Congress to revisit the issue when Republicans take majority control of both chambers.
But the speaker will probably still need Democratic votes from Minority Leader Nancy Pelosi's side of the aisle — a prospect that did not sit well with conservative groups.
"Here we are with a massive omnibus bill that's going to be unveiled 36 hours before they vote on it," said Dan Holler, spokesman for the conservative group Heritage Action, which is urging lawmakers to reject the measure. "This is not why they came to Washington: to fund a bunch of these programs. They came to fight it."
Even if the House approves the spending bill by Thursday's midnight deadline, a temporary measure may be needed to keep the government running while the legislation makes its way through the Senate.
But first the Senate is struggling to pass a separate defense bill, which was overwhelmingly approved by the House last week in a bipartisan vote.
The legislation includes 1 percent pay raises for the troops and sets Pentagon policy through fiscal 2015. It ran into resistance after leaders attached the public lands measures.
Environmentalists have split over the lands package, with some groups welcoming new designations for wilderness and conservation areas. Others oppose the legislation because of key provisions — including a land swap in Arizona that would allow development of a copper mine in an area treasured by Native Americans and the transfer of public land in Alaska's Tongass National Forest to the Sealaska Corp., which would allow the cutting of rare old-growth forest.
"We think the bad provisions outweigh the good provisions," said Athan Manuel, director of the Sierra Club's lands protection project.
The defense bill may also run into resistance over what some see as lackluster protections for victims of military sexual assaults.
Sen. Kirsten Gillibrand (D-NY), a vocal advocate for sexual assault victims in the military, has not publicly said whether she will try to block the defense bill if greater protections are not included.
Senate Majority Leader Harry Reid (D-NV) has warned this will be a "long, long week," and that senators need to be ready to stay in town to complete their work. "Everyone should be prepared."
Photo: Talk Radio News Service via Flickr