Congress Is Ready To Pass Keystone, But Is Pipeline Even Viable?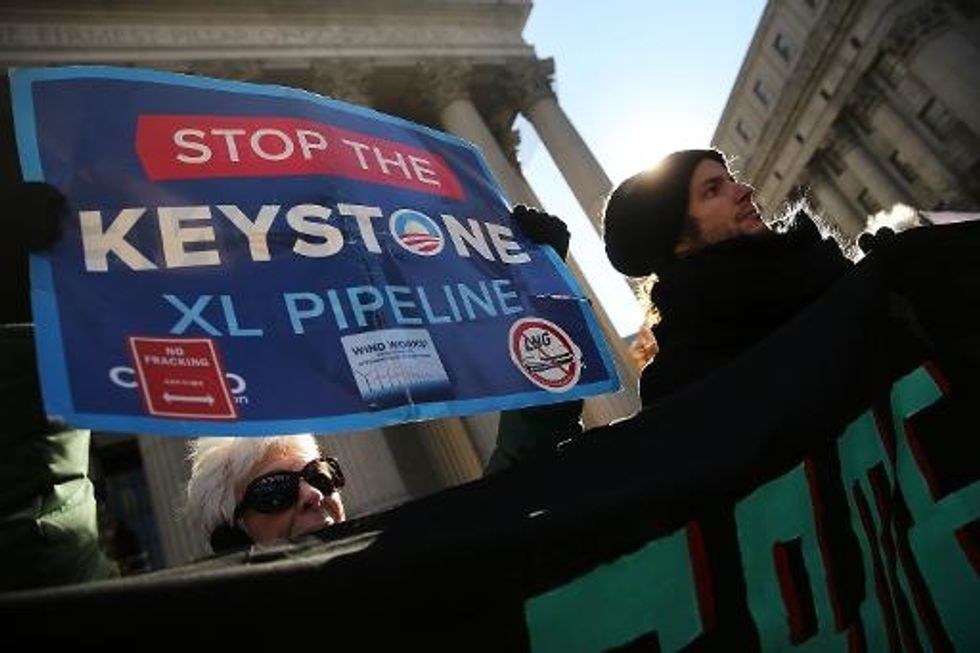 By Sean Cockerham, McClatchy Washington Bureau (TNS)
WASHINGTON — The battle over the Keystone XL pipeline, the nation's noisiest referendum on energy and the environment, is reaching a climax in Congress after six years.
The new Republican-controlled Congress has put the 1,179-mile Keystone XL first on its agenda, with Senate Majority Leader Mitch McConnell (R-KY) calling the pipeline a "shovel-ready jobs project." A bill forcing the president's approval of the project is expected to pass the House of Representatives this week and the Senate as soon as next week.
President Barack Obama plans to veto the bill, despite his own State Department downplaying the environmental damage. The president, who's expressed doubts about the economic benefits, said he was waiting for a Nebraska court ruling on the route and a final State Department ruling before deciding whether Keystone should go.
Amid the theatrics, there are debates over how many jobs Keystone would create and what impact it would have on the economy and climate change. And the worldwide oil glut raises questions about whether the pipeline to bring Canadian crude to the U.S. Gulf Coast is needed or even viable.
The global oil market has changed dramatically since the project was proposed more than six years ago. U.S. oil production has soared in the meantime, helping to create a global oversupply that's driven oil prices down by more than 50 percent since June.
It's particularly expensive to drill the heavy oil-sands crude that would flow through Keystone from the province of Alberta, and the low oil prices make financing new drilling operations much more difficult. The global energy research firm Wood Mackenzie forecasts that $59 billion worth of Canadian oil and gas projects might be delayed over the next three years as a result of a plummet in investment.
"If I were TransCanada right now I would not be in a rush to build this pipeline," said Chris Lafakis, senior economist for Moody's Analytics.
Tapping the thick Alberta crude produces more planet-warming gases than conventional sources of crude, and environmental groups have made blocking the pipeline their national obsession.
But during the years of often-overheated political rhetoric from both sides, the energy markets have changed. Oil companies got tired of waiting for Keystone and increasingly turned to rail to ship crude. Cost estimates for the pipeline skyrocketed, and energy investors are reeling from the massive drop in oil prices in recent months.
"Right now with oil prices down and a glut of oil on the global marketplace, the answer is no, we don't need Keystone right now," said Phil Flynn, senior market analyst at the Price Futures Group in Chicago.
But Flynn, a Keystone supporter, added that energy markets might change again and the pipeline would be cheaper and safer than shipping the crude to refineries by rail.
"If you look at the big picture of where global demand for oil is going to probably go in the next 10 to 20 years, it's going to be needed somewhere down the road," Flynn said.
But even Brookings Institution energy expert Charles Ebinger, also a Keystone supporter, said the crash in oil prices meant TransCanada might need to postpone the project should it receive the long-awaited federal approval to go ahead and start building.
"I think there's a strong chance there would be a delay in construction," Ebinger said.
TransCanada and its allies in Congress, however, are refusing to acknowledge a possibility that the project has lost even some of its luster.
TransCanada spokesman Shawn Howard said the pipeline was meant to last for the long term and that decisions weren't made based on "short-term views or changes in commodity prices."
"There is demand now and for decades to come for oil … pipelines are the safest and most efficient and cost-effective way to move large volumes of oil longer distances," Howard said in an email.
Alberta oil producers are increasing production despite the supply glut, and some major new projects planned in the oil sands are moving ahead because billions of dollars already have been sunk into them.
But other planned projects are at risk of delay and might end up canceled, said Lafakis, the senior economist for Moody's Analytics. Lafakis said he put the break-even price for Canadian oil sands projects at $75 to $85 a barrel. Prices dipped below $50 this week.
"The smaller projects, especially from medium- and small-sized players in Canada, those are the first that will be cut as a result of those investments no longer being economical," Lafakis said. "Like the U.S., there will be a reduction in Canadian output."
Meanwhile, the rhetoric is heating up on both sides in Congress, leaving some analysts shaking their heads at how Keystone XL has become so hyped. The proposed pipeline would carry up to 830,000 barrels of oil a day from Canada's oil sands and the Bakken formation of the Great Plains, while growth in U.S. oil production over just the past three years has already added more than triple that amount to the world market, said Robert Bryce, a senior energy fellow at the conservative Manhattan Institute research center.
"Clearly, the economics are threatening the project," he said. "There's no doubt the Republicans in Congress are going to pass a bill that intends to force approval. But they can't make the pipeline get built."
AFP Photo/Spencer Platt