Congressional Black Caucus Sees Leverage In Steve Scalise Protests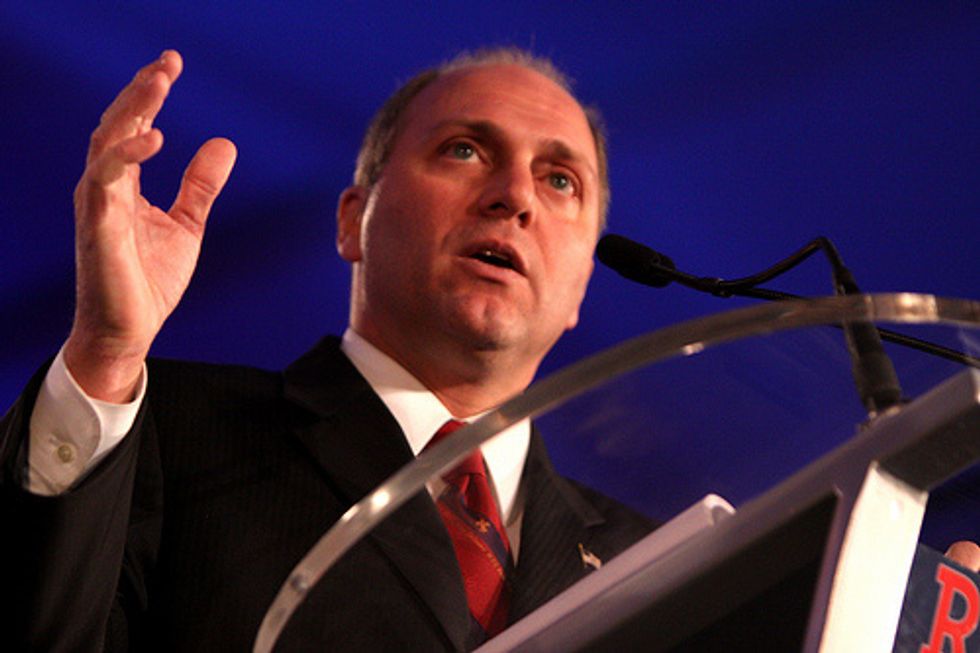 By Hannah Hess, CQ-Roll Call (TNS)
WASHINGTON — Members of the Congressional Black Caucus see opportunity in the scandal that inspired a heart-shaped "KKK + GOP" sign outside a recent Capitol Hill Club fundraiser for House Majority Whip Steve Scalise.
Revelations that the Louisiana Republican rejected a 1996 resolution in apologizing for slavery — six years before his 2002 address at a meeting of white supremacists — "disgusted" CBC Chairman G.K. Butterfield, but the North Carolina Democrat says he doesn't want to dwell on it.
"Obviously, at this point the question is how can we use these missteps to create a relationship with (Scalise) that can benefit our communities going forward — and the jury is still out on that," Butterfield said in an off-the-floor interview about controversy surrounding the House's No. 3 Republican.
Unlike the progressive demonstrators who showed up for the Jan. 13 donor meeting, the CBC is not calling for GOP leaders to strip Scalise of his leadership post. Butterfield said that decision lies with the conference.
Some lawmakers suggested new leverage with Republican leadership on criminal justice legislation or funding for low-income minority communities. But the primary focus appears to be revamping the Voting Rights Act.
"We need an inclusion revolution," said Rep. Elijah E. Cummings (D-MD), who wants to see the GOP pressed to "make right" what the Supreme Court "destroyed" in its June 2013 ruling. Cummings said he is not necessarily worried about Scalise stepping aside.
But Greg Billings, a Washington resident who joined the ten-person protest, told CQ Roll Call he thinks Scalise deserves the boot.
"It's OK to keep him in the House — because he was elected — but he shouldn't be a leader with influence over policy," Billings said, clutching a sign depicting Scalise with former Ku Klux Klan leader David Duke. The current hullabaloo was kicked off with last month's revelations that Scalise, as a state legislator, spoke to a Duke-founded white supremacist European-American Unity and Rights Organization in 2002.
Rep. Sheila Jackson Lee (D-TX) said she appreciates the vigor of the protest groups who feel violated and hurt, but refrained from criticizing the Republican leaders who have rallied behind Scalise.
"They simply have to ask themselves a question: Is this their representative? If that is the case, that's what their face will be to America," she said. Jackson Lee has invited Scalise to lead his party on reauthorizing the Voting Rights Act — a popular suggestion from CBC lawmakers — and criminal justice reform, and attend the "Bloody Sunday" march in Selma, Ala.
"But we hope you'll come with a changed attitude and actions to speak to America," Jackson Lee added.
Former CBC Chairwoman Marcia L. Fudge (D-OH) said she would like to see Scalise sponsor a VRA amendment or "involve himself in the discussions about the police shootings of black boys and men."
At least 11 black lawmakers, including Fudge, will travel to Ferguson, Mo., on Sunday to commemorate the legacy of Martin Luther King, Jr., and galvanize the local community around voting access.
Neither Fudge nor Butterfield said they had heard from Scalise directly as the controversy unfolded. A spokesperson in Scalise's office did not respond to an inquiry about potential support for VRA legislation.
"He has not reached out to me, nor have I reached out to him," Butterfield said.
Outside of Congress, civil rights groups have announced they will target both the funding and staff that fuel the Republican Party during the RNC winter meeting in San Diego. Presente.org will call for corporate donors to cut their ties. ColorofChange.org is planning to target staffers with ads related to the KKK asking: "Is this your GOP?"
Photo: Gage Skidmore via Flickr